Flag Half Staff Notice – in honor of victims of Nashville, Tennessee shooting (posted 3/27/2023)
Wyoming Governor Mark Gordon
CHEYENNE, WYOMING - At the direction of the President of the United States, Governor Mark Gordon has ordered both the United States and Wyoming flags to fly at half-staff immediately in honor and remembrance of the victims of the tragedy in Nashville, Tennessee. The flag should be flown at half-staff until sunset March 31, 2023.

A Presidential Proclamation follows:

A Proclamation on Honoring the Victims of the Tragedy in Nashville, Tennessee

As a mark of respect for the victims of the senseless acts of violence perpetrated on March 27, 2023, in Nashville, Tennessee, by the authority vested in me as President of the United States by the Constitution and the laws of the United States of America, I hereby order that the flag of the United States shall be flown at half-staff at the White House and upon all public buildings and grounds, at all military posts and naval stations, and on all naval vessels of the Federal Government in the District of Columbia and throughout the United States and its Territories and possessions until sunset, March 31, 2023. I also direct that the flag shall be flown at half-staff for the same length of time at all United States embassies, legations, consular offices, and other facilities abroad, including all military facilities and naval vessels and stations.

IN WITNESS WHEREOF, I have hereunto set my hand this twenty-seventh day of March, in the year of our Lord two thousand twenty-three, and of the Independence of the United States of America the two hundred and forty-seventh.
JOSEPH R. BIDEN JR.
_________________________

Editor's Note: According to news reports, on the morning of Monday, March 27, 2023, a 28-year-old woman entered a private Christian school in Nashville, Tennessee and allegedly shot and killed three children and three adult staff members. The children were reportedly all age 9, two girls and a boy. The adults killed were two women and a man. The school was for children from preschool through sixth grade, on the grounds of the Covenant Presbyterian Church. Police officers shot and killed the female assailant within about 15 minutes of when the shooting began. No information was available for a possible motive for the attack.

---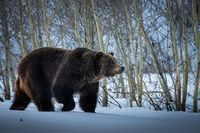 NPS Photo/C. Adams, taken April 2019

First grizzly bear sighting of 2023 in the Jackson Hole area (posted 3/23/2023)
Interagency media release
JACKSON, WYOMING— Early in the evening on March 22, the first grizzly bear of 2023 was observed in Grand Teton National Park. As bears become active this spring, Bear Wise Jackson Hole reminds residents and visitors to secure attractants of any kind and be bear aware.

Adult male grizzly bears typically emerge from hibernation in March, while females with young typically appear between April and early May. The first grizzly bear sighting of 2022 in the Jackson Hole area occurred on March 13 in Grand Teton National Park. When bears emerge from their dens, they search for any available foods and often scavenge animals that died during the winter.

Seeing a bear in its natural habitat is an awe-inspiring experience. However, living and recreating in bear country requires awareness and actions on our part to keep bears and people safe. As the grizzly bear population expands within the Greater Yellowstone Ecosystem, bears continue to disperse across their historical range but also into more populated areas. All of Teton County is now in occupied grizzly bear habitat.

Properly storing all attractants to ensure that a bear does not obtain a food reward is crucial to keeping bears wild. Once a bear becomes conditioned to human foods, risks to the bear and humans increase and management options become limited. Whether you have lived in Teton County for decades or are visiting the area for a day, please do your part to help protect bears.

If you are a resident:
- For those who may be leaving the valley for spring break, please look around your homes and yards for any unsecured attractants and secure them before you leave.
- Store all garbage in bear-resistant containers or in a secure building.
- Secure livestock feed, chicken coops, pet food, compost, and beehives. Electric fences are effective for securing many of these attractants.
- Hang birdfeeders in a way that makes them inaccessible to bears.
- Help your neighbors create a bear-wise community to protect bears (and all wildlife).

If you are visiting a national park or national forest:
- Never leave your food unattended unless it is properly secured.
- Keep a clean camp and adhere to all food storage orders. Store all attractants, including coolers, cooking gear, toiletries, and pet food, inside a bear box or a hard-sided vehicle with the windows rolled up.
- Do not eat or cook in your tent, and never keep food or other scented items in your tent.
- Properly store garbage until you can deposit it into a bear-resistant dumpster.
- If you see a bear, please give it space, and always stay at least 100 yards away. If you choose to watch or photograph the bear, use a spotting scope, binoculars, or telephoto lens. Park in designated areas and never block travel lanes.
- Follow the directions of staff in places where bears are sighted.
- Please respect all wildlife closure areas.

If you are exploring the backcountry:
- Be alert and aware of your surroundings.
- Make noise, especially in areas with limited
visibility or when sound is muffled (e.g., near streams or when it is windy).
- Carry bear spray, know how to use it, and keep it readily accessible.
- in groups of three or more people.
- Do not run. Back away slowly if you encounter a bear.

As interagency partners, Bear Wise Jackson Hole, Teton County, the Town of Jackson, and U.S. Fish and Wildlife Service will continue our collective efforts to proactively prevent conflicts between bears and people in the Jackson Hole area. Together, as a community, we made tremendous progress last year. Let's keep up the great work. By securing attractants and taking appropriate precautions while living in or visiting bear country, we can keep bears wild and people safe.

Bear Wise Jackson Hole was established in 2006 as a local chapter of the Wyoming Bear Wise Community Program and is a partnership between Wyoming Game and Fish Department, Grand Teton National Park, Bridger-Teton National Forest, and Jackson Hole Wildlife Foundation working collaboratively with the Town of Jackson, Teton County, and U.S. Fish and Wildlife Service. Our objective is to minimize the accessibility of unnatural attractants to bears and educate residents and visitors about bears and conflict prevention.

---
Rocky Mountain Power grants support western Wyoming arts and cultural organizations (posted 3/16/2023)
Funding helps organizations deliver creative education and enrichment in the local community
Rocky Mountain Power
Arts and cultural organizations play an essential role in maintaining healthy and resilient communities. To support their vital work, the Rocky Mountain Power Foundation is donating more than $246,000 in new grant funding across the three states it serves.

The grants will help fund projects ranging from traveling music and theater programming in schools to museum access for students, and from Asian and Native cultural events to free music events for communities.

"These groups foster creative expression, inspire young minds, nurture well-being, and help us look at the world in new ways," said Sharon Fain, Rocky Mountain Power vice president, Wyoming. "We're honored to support the incredible work they are doing."

This recent round of grants focused on art and culture is one of the foundation's four annual grant cycles.

The following nine grants totaling $32,500 were given to local organizations supporting communities in western Wyoming:

Actors' Mission for the renovation of the community theater building which provides free plays and meals for all community members.

Crossing the Threshold LLC to support the research and development phase of "Crossing the Threshold: A Hero's Journey," a documentary film about returned war veterans and how we deal with trauma as a country.

Lander Children's Museum to initiate a STEM-based story time program focusing on STEM content for children through age 5 that will use stories, songs, rhymes and fingerplays to help promote early literacy, science and mathematical understanding.

Oyster Ridge Music Festival to benefit the two-day festival, provided free for the entire community.

Pinedale Fine Arts Council to help expand the Fringe Age Groups program that provides art activities, including a ukulele program, for seniors, dementia care patients and pre-kindergarten students.

Rotary Club of Kemmerer for a splash pad project at Diamondville Park that will include buddy benches to foster inclusion and will offer library boxes where visitors can borrow books.

Roundhouse Restoration Incorporated for the Music in the Air at Depot Square project that will bring a summer concert series to Evanston.

The SHACK for a performing arts initiative to bring musicians for a concert at this drop-in community youth center in Greybull.

Museum of the Mountain Man for the 2023 Living History Days event, which provides a three-day, hands-on living history experience for 1,000 fourth-grade students.

About the Rocky Mountain Power Foundation:
The Rocky Mountain Power Foundation is part of the PacifiCorp Foundation, one of the largest utility-endowed foundations in the United States. The foundation was created by PacifiCorp, an electric utility serving 2 million customers in six Western states as Rocky Mountain Power (Utah, Wyoming and Idaho) and Pacific Power (Oregon, Washington and California). The foundation's mission, through charitable investments, is to support the growth and vitality of the communities served by Rocky Mountain Power and Pacific Power. Established in 1988, the PacifiCorp Foundation has awarded more than $60 million to nonprofit organizations. For more information, visit www.rockymountainpower.net/foundation.

---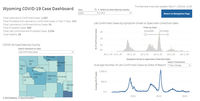 COVID-19 cases drop in Wyoming in 2023 (posted 3/11/2023)
Pinedale Online!
Cases of COVID-19 have dropped significantly across Wyoming in 2023, the 4th year of the pandemic. The Wyoming Department of Health reports 2,256 lab-confirmed and probable cases through March 7, 2023 and 28 deaths in the state attributed to the virus. Wyoming hospitals report 19 people still in the hospital with COVID-19 across the state as of March 7th. St. Johns Medical Center in Jackson had one COVID-19 patient as of March 7th.

Sublette County has had 16 total lab-confirmed and probable cases over the 2-1/2 months into the year and zero deaths in 2023. Neighboring county to the north, Teton County, has had 101 total lab-confirmed and probable cases and zero deaths. Sweetwater County to the south of Sublette County has had 73 lab-confirmed and probable cases and 2 deaths in 2023 as of March 7.

The COVID-19 virus is believed to have begun as early as December 2019, with cases starting to rise in the US in mid-January 2020. Data recording on the Wyoming Department of Health website began on February 11, 2020. The first case in Wyoming was reported on March 11, 2020 in a woman in Sheridan County who had recently traveled domestically. National health concerns grew very quickly. On March 20, 2020, Wyoming Governor Mark Gordon closed all public schools in the state through April 3rd (they remained closed until May 15th). On March 24, Yellowstone National Park closed to visitors. On April 13, 2020, Wyoming became the last state in the U.S. to report its first death from COVID-19. On December 9, 2020, Wyoming issued an indoor mask mandate. Restrictions on group gathering size, social distancing, and business operations followed and the mask mandate continued during 2020 into early 2021, and ended on March 16, 2021.

There appear to have been three waves of the virus over the past three years in Wyoming. The first wave with a lot of cases was October/November 2020 with the peak in mid-November 2020 with 940 cases reported in the state. The first vaccines were administered in Wyoming in mid-December 2020. Things settled down for many months, then another smaller wave of cases returned in August/September/October 2021 with peak cases of 603 on September 20, 2021. After a short lull, a huge one-month spike in cases hit in January 2022 with the peak on January 24 with 1839 cases in Wyoming, the most cases per day during the entire pandemic. The three waves were generally attributed chronologically to the alpha, beta, and omicron variants of the virus, although other variants were noted in testing results. Another three months went by in early 2022 with minimal activity, then another small wave hit Wyoming in the summer, June/July/August 2022, with the peak on July 5th with 407 confirmed COVID-19 cases. September through December 2022 had a steady low-level number of cases across the state. In all of 2023, the 4th year of the pandemic, new case reporting in the state has been in the 10-45/day range.

Over the course of the three-years-plus of the pandemic, there have been 2,004 deaths in Wyoming attributed to the virus. As of the time of this article, the last death in Wyoming was reported on February 26, 2023. No one age 18 or under has reportedly died from COVID-19 in the state. The Wyoming Department of Health reports that 80% of COVID-19 related deaths in Wyoming were in people age 60 and older, many of whom already had health conditions known to put people at higher risk of severe illness.

The Johns Hopkins website, which has provided daily national and world-wide COVID-19 tracking information for three years, stopped collecting data as of March 10, 2023. They reported 103.8 million cases in the US over the course of the pandemic and 1.1 million deaths. They report nation-wide 81.82% of the country's population have received at least 1 vaccine dose.

Sublette County has had 16 COVID-19 cases so far in 2023, with 54 interspersed days January-March 9th with no cases reported; 8 of the 16 cases in Sublette County were recorded between February 1 to March 9th. As of February 23, 2023, 39% of Sublette County's entire population has been fully vaccinated, and 44.7% has received at least one dose, according to numbers released by the CDC, and compared to 56.3% vaccination rate for the state. Sublette County Public Health is still offering weekly COVID vaccine clinics for ages 6+ months. Walk-ins are welcome on their scheduled clinic days or by calling 307-367-2157 to schedule an appointment. Primary series of Moderna (ages 6+ months – adults), Moderna & Pfizer Bivalent Boosters, and Novavax (18+) are offered at their weekly clinics. Sublette County Public Health has a banner on their official COVID-19 website, www.sublettewycovid.com, that the webpage is no longer being maintained and in a month, on April 9, 2023, the site will not be active. There are currently no restrictions related to COVID-19 in Wyoming.

Nationally, as of March 2023, non-U.S. citizen, non-U.S. immigrants must show proof of being fully vaccinated with the primary series of an accepted COVID-19 vaccine before boarding their flights to enter the United States. Only limited exceptions apply. Out-of-country travelers are still recommended to get and have proof of COVID-19 vaccines and a negative COVID-19 test result, according to the CDC website, and rules vary for travel to other foreign countries.

On Jan. 30, 2023, the Biden Administration announced its intent to end the COVID-19 pandemic national emergency and public health emergency declarations on May 11, 2023. These federal emergency declarations have been in place since early 2020.

Click on this link for more COVID-19 related graphics

Related Links:
Coronavirus Disease 2019 (COVID-19) - Wyoming Wyoming Department of Health
COVID-19 Pandemic in Wyoming - Timeline Wikipedia
Documenting Wyoming's path to recovery from the coronavirus pandemic - COVID-19 – 2020-2021 ballotpedia.org
COVID-19 timeline in the United States Wikipedia
Executive Office of the President – Statement of Administrative Policy (PDF) Related to ending the COVID-19 national public health emergency and National Emergency Declaration, January 30, 2023

---
Pneumonia believed to be cause of pronghorn deaths south of Pinedale (posted 3/11/2023)
Approximately 200 animals have died since mid-February
Wyoming Game & Fish
PINEDALE, WYOMING - The Wyoming Game and Fish Department, in collaboration with the Wyoming State Veterinary Laboratory, is investigating a rare disease outbreak in pronghorn in western Wyoming. Game and Fish is estimating that approximately 200 animals have died since mid-February, centered around the southern end of the Mesa south of Pinedale. Preliminary lab results identify Mycoplasma bovis as the pathogen causing the mortalities.

Mycoplasma bovis should not be confused with Mycobacterium bovis that causes tuberculosis in cattle. They are two unrelated bacteria that cause very different diseases. The source of infection of the M.bovis and the ability to predict the duration and the geographic distribution of this outbreak in pronghorn is unknown at this time.

"While reported M. bovis outbreaks causing mortality in wildlife are rare, this is not the first occurrence of M. bovis being linked to pronghorn mortalities in Wyoming," said Wyoming Game and Fish Wildlife Disease Specialist Hank Edwards.

The first reported cases of pneumonia in pronghorn occurred during the winters of 2019 and 2020 near Gillette, involving at least 460 animals. Those outbreaks started at a similar time in mid-February and then tapered down by the beginning of April.

Game and Fish continues to monitor for this disease across the state. With the exception of the Gillette area, this bacteria has not been reported to be associated with significant mortality in other wildlife populations in Wyoming.

To date, this pathogen has not been shown to affect domestic pets such as horses, dogs or cats and is not considered a human health risk. Local Game and Fish personnel will periodically remove carcasses and euthanize dying pronghorn in relatively accessible areas when disturbance to other healthy wintering pronghorn is minimal to help reduce the prevalence of this pathogen on the landscape.

---
Drought response releases suspended at Flaming Gorge Reservoir (posted 3/6/2023)
Wyoming State Engineer's Office
Wyoming, along with Utah, Colorado, New Mexico, and the Bureau of Reclamation, has agreed to suspend drought response releases from Flaming Gorge Reservoir beginning on March 7th. Suspending additional releases now will help to begin rebuilding storage in Flaming Gorge.

Since last May, additional water has been released from Flaming Gorge to help protect critical infrastructure and maintain hydropower generation at Glen Canyon Dam. Poor water supply conditions raised concerns that Lake Powell would drop below an elevation of 3,490 feet which would limit water releases and prevent hydropower generation. However, due to the success of actions taken to address declining Lake Powell elevations, as well as improved water supply conditions this year, additional water releases from Flaming Gorge are no longer needed in the near term. The currently projected wet conditions provide a critical opportunity to prepare for future dry conditions by retaining storage in Flaming Gorge.

The additional drought response releases from Flaming Gorge have been made pursuant to the 2022 Drought Response Operations Plan, and were scheduled to be made through April 2023 and total 500,000 acre-feet of water. Suspending those releases for the remainder of March and April will result in approximately 36,000 to 37,000 acre-feet less water being released than was originally planned. Even with reduced inflow from Flaming Gorge, current projections indicate that Lake Powell elevations will stay well above 3,490 feet through water year 2023.

Wyoming recognizes that the ongoing drought requires prudent management of available Colorado River flows and monitoring of Lake Powell elevations and risk to critical infrastructure at Glen Canyon Dam. However, given the wetter than average conditions in the Upper Colorado River Basin, Wyoming, working with the Bureau of Reclamation and the other Colorado River Basin states, intends to seek recovery of additional storage in Flaming Gorge this year.

---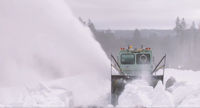 Plowing the Park. NPS photo.

YNP roads begin to close to get ready for spring opening (posted 3/2/2023)
National Park Service – Yellowstone National Park
MAMMOTH HOT SPRINGS, WYOMING - Yellowstone National Park's winter season starts to wrap up March 5, 2023 as roads begin to close to the public. By March 15 at 9 p.m., most park roads will close including the South, West and East entrances. Annually most of the park closes to the public to plow roads for a spring opening.

Upcoming Closures
Park road and entrance closure dates (gates close at 9 p.m.)
March 5: Mammoth Hot Springs to Norris
March 7: Norris to Madison, Norris to Canyon Village
March 12: Canyon Village to Fishing Bridge Junction
March 15: South, West and East entrances and all remaining roads

Visitor services closure dates
At Mammoth Hot Springs, the hotel's Gift Shop, Ski Shop and Map Room Barista/Bar will be open through March 5 for the winter season.

At Old Faithful, the Bear Den Gift Shop, Geyser Grill and Visitor Education Center will be open through March 15. The Snow Lodge and Cabins will be open through March 4 for the winter season.

Warming hut closure dates range between March 5 and March 15.

Open Year-round
The road from the park's North Entrance at Gardiner, Montana, through Mammoth Hot Springs and Tower Junction to Cooke City, Montana, remains open to automobiles all year, weather-permitting.

Visitors driving to and in the park this time of year should have flexible travel plans and prepare for changing weather conditions. Temporary travel restrictions or closures can occur at any time. To view the current status of park roads:
• Visit Yellowstone's website at park roads.
• Receive Yellowstone road alerts on your mobile phone by texting "82190" to 888-777 (an automatic text reply will confirm receipt and provide instructions).
• Call 307-344-2117 for recorded information.At Mammoth Hot Springs, the Albright Visitor Center, Yellowstone General Store, post office, medical clinic and self-service fuel pumps stay open all year. Self-service fuel pumps are also available at the Tower-Roosevelt Service Station year-round.

Spring Opening
Weather-permitting, some park roads and entrances will open to the public April 21, 2023 at 8 a.m.

---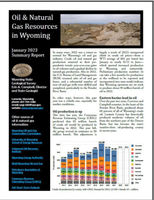 Wyoming State Geological Survey

2022 was an overall positive year for Wyoming's oil and gas industry (posted 2/23/2023)
2022 Summary Report available for free download
Wyoming State Geological Survey
Wyoming's oil and gas production was, for the most part, back to normal in 2022, according to the latest summary report (free download) on oil and gas from the Wyoming State Geological Survey (WSGS). The goal of this annual report from the Energy and Minerals division is to inform the general public about recent events and trends in the oil and gas industry.

One of the most positive items in this year's report was that oil production in 2022 was greater than had been originally predicted. At the beginning of last year, the Consensus Revenue Estimating Group (CREG) estimated a statewide total of 85 million barrels of oil, but in October CREG revised its forecast, adding an extra five million barrels to Wyoming's production. By the end of the year, it was clear that Wyoming was on track to meet or slightly exceed that revised prediction.

The summary report also discussed oil production throughout the state in finer detail. In reviewing production by county, the report noted that 60 percent of Wyoming's oil comes from just two counties, Converse and Campbell counties, in the Powder River Basin. In addition, Laramie County, in the northern Denver Basin, contributes more than 10 percent of the state's total.

As for natural gas, production in Wyoming either held steady or declined in 2022. Sublette, Sweetwater, and Fremont continued to be the top producing counties.

In addition to providing a recap of last year's production, the report mentioned a few recent developments to keep an eye on going forward. For one, some changes had been made to the Bureau of Land Management oil and gas lease sale process in 2022, including a new royalty rate. Although only one sale took place in 2022, the future might bring a return to quarterly sales. When the report was published, the BLM had announced preliminary parcels for its second- and third-quarter lease sales this year.

Also new in oil and gas last year was record-breaking market volatility due in part to global supply disruptions. With unpredictable day-to-day oil and natural gas prices, it can be difficult for oil and gas companies to plan for the long term. Exactly how this will play out for operators in Wyoming is uncertain, but, as the report concludes, "If anything is certain, it is that Wyoming's oil and gas industry will continue to adapt to an always changing, often unpredictable world."

---
Business Directory
Click here for
Advertising Information