Governor Gordon calls for complete withdrawal of BLM's Rock Springs RMP Draft (posted 10/1/2023)
Wyoming Governor Mark Gordon
CHEYENNE, WYOMING – Wyoming Governor Gordon has sent a
letter to Bureau of Land Management (BLM) Director Tracy
Stone-Manning requesting the BLM withdraw its Rock Springs
Draft Resource Management Plan (RMP) with its conservation-
dominated Preferred Alternative. The draft RMP covers 3.6
million acres managed by the BLM's Rock Springs Field
Office. The Governor is requesting the BLM withdraw the plan
and resubmit a new preferred alternative that is based on
cooperation with impacted communities.

According to the BLM, its preferred alternative is the "most
restrictive" out of the four proposed alternatives. The
Governor said the draft represents a troubling and dramatic
shift in the agency's approach to the cooperative
development of these management plans.

"Wyoming and local cooperators have worked long and hard to
lead, build, and maintain partnerships for effective and
responsible land management policies," Governor Gordon
stated. "Over a decade's worth of contributions from local
stakeholders, cooperators, counties, and state agencies are
either falling on deaf ears or disingenuously being thrown
by the wayside with this decision."

Governor Gordon added that the BLM's Preferred Alternative
ignored the wishes of local communities in favor of a
politically driven proposal that is destructive for
cooperative federalism.

"The BLM's RMP and Preferred Alternative threaten to
eliminate all the hard work accomplished by bulldozing over
state executive orders, stakeholder engagement, and
interagency agreements. Simply put, existing and future
partnerships are in jeopardy. A federal fiat won't run
efficiently or well over such a bumpy road," Governor Gordon
wrote.

Read Governor Gordon's full letter href="https://drive.google.com/file/d/19XiK4N7L3pej_bZ-
jlTDmxZNkJDCJxJt/view?pli=1">here. The public comment
period for the BLM Rock Springs Field Office RMP is
currently open through November 16, 2023. The draft RMP and
information on how to comment can be found on the following
link: https://eplanning.blm.gov/eplanning-
ui/project/13853/510

Related Links:
Cat Urbigkit:
BLM is Tired of Misinformation About Rock Springs Plan, But
The Plan Itself Is Misinformation By Cat Urbigkit,
Cowboy State Daily, Sept. 28, 2023

---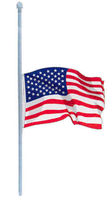 President Biden orders flags be flown at Half Staff (posted 9/29/2023)
In memory of US Senator Diane Feinstein from California
Wyoming Governor Mark Gordon
CHEYENNE, WYOMING - In accordance with a proclamation by the President of the United States, Governor Mark Gordon has ordered both the United States and Wyoming flags to fly at half-staff immediately until the day of interment in honor and memory of Senator Diane Feinstein. An updated flag notification will be sent out once a date has been confirmed.

The Presidential Proclamation follows:
Senator Dianne Feinstein was a pioneering American and a true trailblazer. In San Francisco, she showed enormous poise and courage in the wake of tragedy, and became a powerful voice for American values. In the United States Senate, she turned passion into purpose, and led the fight to ban assault weapons, also making her mark on everything from national security to the environment to protecting civil liberties. Senator Feinstein was a role model for so many Americans and she had an immense impact on younger female leaders for whom she generously opened doors. She was a historic figure, and our country will benefit from her legacy for generations.

As a mark of respect for the memory of Senator Dianne Feinstein, by the authority vested in me as President of the United States by the Constitution and the laws of the United States of America, I hereby order that the flag of the United States shall be flown at half-staff at the White House and upon all public buildings and grounds, at all military posts and naval stations, and on all naval vessels of the Federal Government in the District of Columbia and throughout the United States and its Territories and possessions until sunset, on the day of interment. I also direct that the flag shall be flown at half-staff for the same length of time at all United States embassies, legations, consular offices, and other facilities abroad, including all military facilities and naval vessels and stations.

IN WITNESS WHEREOF, I have hereunto set my hand this twenty-ninth day of September, in the year of our Lord two thousand twenty-three, and of the Independence of the United States of America the two hundred and forty-eighth.

JOSEPH R. BIDEN JR
___________________________

Editor's note: Dianne Goldman Berman Feinstein was an American politician who served as a Democratic United States senator from California from 1992 until her death in 2023. She served as mayor of San Francisco from 1978 to 1988. She passed away at age 90 on September 29, 2023. She was the oldest sitting U.S. senator.

---
The Three Redneck Tenors Sept. 28 (posted 9/26/2023)
Pinedale Fine Arts Council presentation
The Pinedale Fine Arts Council (PFAC) is proud to present The Three Redneck Tenors Thursday, September 28, 2023 at 7:00 p.m. in the Sheppard Auditorium in Pinedale. This family-friendly show kicks off PFAC's 2023-24 season.

The 3 Redneck Tenors are a new breed in the "tenor genre" – their musical comedy featuring classically trained veteran artists is like the Blue Collar Comedy Tour goes to Carnegie Hall - down home laughs with big city music! It has been said that if Larry the Cable Guy, Il Divo, and Mrs. Doubtfire had a baby, that child would be The 3 Redneck Tenors. Written by opera-veteran Matthew Lord with music arranged by award-winning composer Craig Bohmler, and starring Mr. Lord, Blake Davidson, and Grace Lord, The 3 Redneck Tenors were top finalists on "America's Got Talent" and have been thrilling audiences since 2006. Get ready for one side splitting ride as The 3 Redneck Tenors delight audiences with their vocal prowess and a smorgasbord of songs, ranging from Country to Broadway to Classical and everything in between!

Tickets for The Three Redneck Tenors are available online at pinedalefinearts.com and locally at Nested West, The Cowboy Shop, Office Outlet, The Big Piney Office Outlet and at the door the night of the performance. Ticket prices are $20 adults / $7 students.

This event is presented by the Pinedale Fine Arts Council with support in part from the Wyoming Arts Council through funding from the Wyoming Legislature and the National Endowment for the Arts which believes a great nation deserves great art, Sublette BOCES #1, the Sublette County Recreation Board, Pinedale Travel & Tourism, the Wyoming Community Foundation - Sublette, Tegeler & Associates, Jonah Energy, Purewest, and The Rocky Mountain Power Foundation.

For more information, please visit www.pinedalefinearts.com or call 307-367-7322. And be sure to find us on Facebook and Instagram!


---
Prescribed burns planned for Fall on Big Piney Ranger District (posted 9/18/2023)
Bridger-Teton National Forest
BIG PINEY, WYOMING — The Big Piney Ranger District of the Bridger Teton National Forest anticipates initiating the next phase of the Monument Ridge Vegetation and Recreation Management Project ("the project") later this Fall. The project area is located on the Big Piney Ranger District of the Bridger-Teton National Forest near the town of Bondurant in Sublette County. The habitat/fuels treatment area is situated within the Wildland Urban Interface (WUI): Monument Ridge borders the western edge of the treatment area, and the residential area along the Hoback River borders the eastern edge.

The project, proposed by the Sublette County Collaborative, is multifaceted: it encompasses fuels reduction actions within the wildland urban interface, wildlife habitat enhancement activities, and safety and access improvements for recreation. These activities will improve forest health, promote wildlife populations for elk, mule deer, and sage grouse, and provide sustainable recreation opportunities well into the future.

A prescribed fire is scheduled the first week of October 2023 on 2,150-acres north of the Monument Ridge Lookout and Hoback Guard Station. The Forest Service prepared this area in 2020 by felling trees and allowing the fuels to cure during the intervening time, preparing an adequate fuel bed for the planned prescribed fire.

The Forest Service will implement the prescribed fire with weather and climate conditions to meet prescribed fire objectives. The prescribed fire objectives are to treat the area in a mosaic pattern producing mixed severity results. These results create a complex mix of patches of different severity ranging from unburned patches to low severity patches where only ground fuels burn to high severity patches where canopy and ground fuels burn. These activities will enhance habitat by increasing forage (i.e., grass, forbs, and shrubs) and will stimulate aspen growth in areas where stands have declined due to the lack of wildfire disturbance. During operations, smoke may be visible from Jackson, Pinedale, and Big Piney: aerial resources will implement ignitions for a period of 3-5 days, with smoke expected for 1-2 days after ignitions.

For more information call Big Piney Ranger District (307) 267-3375 or see https://gacc.nifc.gov/gbcc/dispatch/wy-tdc/home/information/prescribed-fires

You can learn more about the Bridger-Teton and upcoming projects and proposals by following us on Facebook, www.facebook.com/BridgerTetonNF or Twitter X www.twitter.com/BridgerTetonNF.

---
Prescribed burns planned for Fall on Kemmerer Ranger District (posted 9/18/2023)
Bridger-Teton National Forest
KEMMERER, WYOMING—The Kemmerer Ranger District of the Bridger Teton National Forest is planning multiple prescribed burns throughout this fall. These could begin as early as late September and burns may be implemented at any time until Late November. Smoke impacts should remain minimal due to the short duration of the burns and remote location.

• September 19 - October 1, 2023, as part of the Labarge Vegetation Restoration Project, 477 acres are planned to be treated with prescribed fire through implementation of the Packsaddle prescribed burn. The Packsaddle prescribed burn is in the LaBarge drainage between Forest Road 10138 and Forest Road 10128.
• October 1 – 15, 2023, as part of the Hams Fork vegetation Project, 68 acres are planned to be treated with prescribed fire through implementation of the Nugent prescribed burn. The Nugent prescribed burn is a 68-acre unit located in the vicinity of Turnip Ridge.
• October 1– 15, 2023, as part of the Hams Fork vegetation Project, 200 acres may be treated with prescribed fire through implementation of the Hams Fork Unit 6 and Unit 8 prescribe burn. The Hams Fork Unit 6 and Unit 8 prescribe burn is located near Green Knoll and are within the Hams Fork vegetation Project.
• Late October until late November 2023, Kelly Guard station piles, approximately 20 acres.

The LaBarge Vegetation Restoration Project is 52,573 acres targeted to promote biological diversity in tree and plant species. Currently it is dominated by homogeneous older conifer and sagebrush. By increasing the diversity of species this will provide abundant forage and habitat for wildlife as well as minimizing the risk of future severe wildfires. 2,217 acres have been identified for future prescribed fire operations to be conducted over multiple years and broken into smaller units.

The Hams Fork Vegetation Project area is a multi-unit area covering approximately 74,267-acres. The goal is to develop a diverse mix of vegetation, reduce fuel loading to help minimize the intensity of future wildland fires, and stimulate the regeneration of aspen stands by reducing conifer encroachment. This will be accomplished through a variety of methods to include, timber sales, prescribed fire, pile burning, and mechanical treatments.

Prescribed fires are managed under a precise set of parameters know as a "prescriptions" which include overall project objectives, temperature, wind speed and direction, relative humidity, current and expected forecast, and fuel conditions, as well as available firefighting resources, and time of season. Before burning, fire managers ensure that all the parameters are within their prescribed fire plan so the operations can be conducted safely, and objectives can be met. Fire management personnel will utilize both ground and aviation resources to safely conduct these prescribed fire operations. Smoke impacts from these operations will be minimal due to the smaller size of the units, remote location, and short duration of each burn. Fire managers will be coordinating with Wyoming air quality and will monitor weather conditions closely in the days prior to, and during the prescribe fire ignitions. Firefighters will continue to work in the area several days after ignitions to patrol and manage for public safety. Local notifications will take place as well as social media postings alerting the public when these burns will be implemented.

---
Public meetings for Rock Springs draft Resource Management Plan (posted 9/18/2023)
Meeting in Marbleton on Sept. 26
Bureau of Land Management
ROCK SPRINGS, WYOMING – The Bureau of Land Management (BLM) encourages the public to participate in public meetings discussing the Rock Springs Draft Environmental Impact Statement and Resource Management Plan (DEIS/RMP). The three meetings will offer opportunities to learn more about the plan, the EIS process, and submit written comments. These meetings will be an open house, informational format with written comment opportunities for the public The 90-day public comment period began on Aug. 18 and will conclude Nov. 16, 2023.

Please note the change of location for the public meeting in Rock Springs below.

Tuesday, September 19, 3-6 PM
Lyman Branch Library
129 South Franklin St
Lyman, WY 82937

Tuesday, September 26, 3-6 PM
Marbleton Town Hall
10700 HWY 189
Marbleton, WY 83113

Wednesday, September 27, 3-6 PM
Rock Springs Holiday Inn (Ballroom)
1675 Sunset Dr.
Rock Springs, WY 82901

The DEIS/RMP analyzes resource management issues for BLM-administered lands in Sweetwater, Fremont, Lincoln, Uinta, and Carbon counties. This plan will update management decisions about Areas of Critical Environmental Concern, oil and gas development, lands and realty, and renewable energy. The BLM strives to balance opportunities to use and develop BLM-administered resources with environmental conservation.

All supporting documentation can be found here: https://eplanning.blm.gov/eplanning-ui/project/13853/510.

For more information on the planning process, please contact Kimberlee Foster, Field Manager, Rock Springs Field Office, at 307-352-0201.

---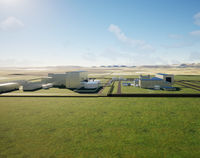 TerraPower purchases land in Kemmerer for Natrium Reactor Demonstration Project (posted 8/31/2023)
TerraPower media release
BELLEVUE, WASHINGTON – August 16, 2023 – TerraPower announced today the purchase of land in Kemmerer, Wyoming where the NatriumTM[1] Reactor Demonstration Project will be built.

"This milestone purchase marks another step towards providing clean, reliable power to the grid and good-paying jobs in Wyoming," said Chris Levesque, President and CEO of TerraPower. "We have a great relationship with the community in Kemmerer, and we will continue working closely with local stakeholders and statewide officials as this project moves forward." The land was previously owned by PacifiCorp.

Wyoming and Kemmerer have a long and rich history of energy production; the Natrium technology is an advanced nuclear reactor and energy storage system and will be the first commercial reactor to be operated in the state. Sited near a retiring coal facility, the Natrium demonstration plant is the only coal-to-nuclear project under development in the world and will provide new jobs in western Wyoming for decades to come. The project is expected to have a peak workforce of 1,600 construction jobs and 250 full-time employees will be needed to support day-to-day operations when the plant comes online.

"In addition to the benefit of clean power and future jobs created, the City of Kemmerer has experienced many positive impacts since being chosen as the site of the first TerraPower Natrium advanced nuclear reactor," said City of Kemmerer Administrator Brian Muir. "The community is optimistic about our economic future. We've already seen increased residential and commercial real estate development."

The land purchase marks another milestone for the Natrium project. Earlier this month, TerraPower announced the first round of contracts for suppliers supporting the development of the Natrium reactor, strengthening the advanced nuclear supply chain throughout North America. In July, TerraPower announced an MOU with Centrus Energy Corp. to significantly expand their collaboration to ensure the Natrium demonstration reactor has access to high-assay, low-enriched uranium (HALEU) to meet the project's 2030 operation date.

The Natrium reactor demonstration project is a public-private partnership, and part of the U.S. Department of Energy's Advanced Reactor Demonstration Program (ARDP). The demonstration plant will validate the design, construction, and operational features of the Natrium technology. The project features a 345MW sodium-cooled fast reactor with a molten salt-based energy storage system.

The storage technology can boost the system's output to 500MW of power when needed, which is equivalent to the energy required to power around 400,000 homes. The energy storage capability allows the plant to integrate seamlessly with renewable resources.

About TerraPower
TerraPower is a leading nuclear innovation company that strives to improve the world through nuclear energy and science. Since it was founded by Bill Gates and a group of like-minded visionaries, TerraPower has emerged as an incubator and developer of ideas and technologies that offer energy independence, environmental sustainability, medical advancement and other cutting-edge opportunities. It accepts and tackles some of the world's most difficult challenges. Behind each of its innovations and programs, TerraPower actively works to bring together the strengths and experiences of the world's public and private sectors to answer pressing global needs. Learn more at terrapower.com.

Source: https://www.terrapower.com/terrapower-purchases-land-in-kemmerer-wyoming-for-natrium-reactor-demonstration-project/

---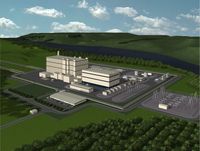 TerraPower graphic

TerraPower announces contract awards for Natrium vendors (posted 8/31/2023)
New natrium reactor to be built in Kemmerer, Wyoming
TerraPower media release
August 1, 2023 - TerraPower has awarded supplier contracts to four companies to support the NatriumTM[1] Reactor Demonstration Project.

TerraPower, a nuclear innovation company leading projects from research to reality, announced today (August 1, 2023) the selection of four suppliers to support its Natrium Reactor Demonstration Project. The Natrium Reactor Demonstration Project is being developed in Kemmerer, Wyoming near a retiring coal plant.

These award selections help establish key elements of the supply chain that the advanced reactor industry will rely on as new reactors are brought to market. Nuclear power is key to providing the carbon-free, baseload energy that is necessary to meet clean energy targets and maintain grid stability.

"Throughout the process of bringing the Natrium Reactor and Energy Storage System to market, we have found that working with a diverse supply chain strengthens our ability to deliver a cutting-edge technology," said Tara Neider, Senior Vice President and Project Director for the Natrium Reactor Demonstration Project. "The commercialization of advanced reactors relies on the support of experts from various industries, and we look forward to collaborating with these suppliers to build the Natrium reactor."

The Natrium technology features a 345 MWe sodium-cooled fast reactor with a molten salt-based energy storage system. The storage technology can boost the system's output to 500 MWe for more than five and a half hours when needed. This innovative addition allows a Natrium plant to integrate seamlessly with renewable resources and leads to faster, more cost-effective decarbonization of the electric grid while producing dispatchable carbon-free energy.

Supplier awards include:
• Western Service Corporation (WSC): Western Service Corporation (WSC), of Fredrick, MD, will provide the software platform and engineering services for the Natrium Engineering Simulator.The complexity of advanced reactor designs requires Simulation Assisted Engineering (SAE), an approach that offers opportunities to integrate system functions and perform virtual commissioning in early stages. Development of an Engineering Simulator, which adopts detailed modeling and sophisticated computation, is a key component of the SAE approach. In support of the Natrium design, TerraPower is developing a Natrium Engineering Simulator that can simulate normal operation and plant protective functions, and WSC will provide services central to its development.

• James Fisher Technologies: James Fisher Technologies, based in Loveland, CO, is designing and building an injection casting furnace system that will be implemented in TerraPower's Everett laboratory and will demonstrate the basic functionality of the injection casting process.

• BWXT Canada, Ltd.: BWXT Canada, Ltd. will design the Intermediate Heat Exchanger for the Natrium Reactor Demonstration Project. The Intermediate Heat Exchanger is a critical component which transfers heat from the primary sodium in the primary heat transport system to the intermediate sodium in the intermediate heat transport system. Successful design and fabrication of this component by BWXT Canada Ltd. is key to the planned achievements of the Natrium Reactor Demonstration Project's power generation.

• Curtiss-Wright Flow Control Service, LLC: Curtiss-Wright Flow Control Service, LLC (dba Curtiss-Wright Nuclear Division), headquartered in North Carolina, will develop the Reactor Protection System (RPS) for the Natrium Reactor Demonstration Project. The RPS performs important safety functions in accordance with regulatory requirements. This contract follows a phased approach including provision of a prototype system, planning and engineering support, prior to the detailed design, manufacture, testing and delivery of the RPS. Successful implementation of RadICS system by Curtiss-Wright is key to the successful delivery of the Natrium Reactor Demonstration Project.

Future Request for Proposal (RFP) opportunities for the Natrium Reactor Demonstration Project can be found on TerraPower's website: https://www.terrapower.com/contact-us/suppliers/

The process of awarding contracts for the project is ongoing. TerraPower will continue to provide updates as additional contracts are awarded.

Source: https://www.terrapower.com/terrapower-announces-contract-awards-for-natrium-vendors/

---
WSGS debuts Interactive Mineral Resources of Wyoming Map (posted 8/9/2023)
Wyoming State Geological Survey
Wyoming is rich with minerals. The state has abundant energy minerals, such as coal and uranium; industrial minerals, like bentonite, trona, and gypsum; as well as critical minerals, metals, and gemstones. The Wyoming State Geological Survey (WSGS) has developed a new interactive map that will make it easier to research the state's extensive mineral resources. The online Mineral Resources of Wyoming map will be routinely updated as new data become available.

"Our suite of online maps continues to expand and is growing in popularity among users. The addition of our new Mineral Resources of Wyoming map provides the public with a central location for information about minerals in the state. We anticipate it will be useful to many individuals in the public, government, and industry," says Dr. Erin Campbell, WSGS Director and State Geologist.

The map is an update and expansion of the WSGS's 2018 Mines and Minerals map. New features include an interactive index of downloadable uranium logs, and locations of geochemistry results from reports and STATEMAP projects. External information detailing current mining, such as Wyoming Department of Environmental Quality active mines layers, and federal and state mineral leases have also been added.

"The Mineral Resources of Wyoming map greatly expands the amount of geochemistry data and mine information over the previous map, as well as adding information regarding mineral leases, critical minerals, and dozens of WSGS and U.S. Geological Survey mineral reports," says Jim Stafford, a geohydrologist and map developer at the WSGS.

Also included are several statewide minerals maps published by the WSGS that have been made interactive and a series of layers showing study areas for WSGS mining district publications.

"The goal with this map is to make mineral-related data more accessible and interactive to the public," says Stafford. "Whenever the WSGS releases new mineral reports, they will be added. The map will be routinely updated as new data become available.

"The map also highlights areas in the state with active WSGS projects that are tied to mineral research," adds Stafford. The WSGS is currently working on multiple, large, critical mineral projects that include on-the-ground analytical work as well as helicopter surveys to collect geophysical data. "Links for these data will be posted to the map as the projects progress."

In addition to the Mineral Resources of Wyoming map, other WSGS interactive maps cover geothermal, geologic hazards, geology in Yellowstone National Park, groundwater, and oil and gas. The survey has also developed an interactive map of its geologic map index.

---
Temporary closure of Pine Creek/Long Lake trailhead and parking lot, and Trails End Campground in Pinedale (posted 8/4/2023)
For road construction work on Tuesday, August 8, 2023
Bridger-Teton National Forest
The Pinedale Ranger District of the Bridger-Teton National Forest will be temporarily closing the Pine Creek/Long Lake Trailhead and parking lot, and the Trails End Campground for road construction that needs to take place in the area. This temporary closure will be for a total of 12-hours on August 8, 2023 from 7:00a.m. to 7:00p.m.

This temporary closure will allow for ongoing road maintenance in the area, and to ensure safety to all people in the area. If a vehicle is in the parking lot, or a vehicle is occupying the camping area they will have to wait until 7:00p.m. when the closure is lifted to get their vehicle out of that location. Persons and stock can come and go with direction from construction personnel to the trailhead/parking lot and campground during this closure. This temporary closure only impacts vehicles during this identified time.

For questions or concerns about this reconstruction project please contact Jason J. Sammer, Pinedale Wilderness and Recreation Program Manager at jason.sammer@usda.gov.

You can learn more about the Bridger-Teton and upcoming projects and proposals by following us on Facebook, www.facebook.com/BridgerTetonNF or Twitter www.twitter.com/BridgerTetonNF.

---
Road construction, improvements to begin on Pinedale Ranger District (posted 6/18/2023)
Bridger-Teton National Forest
The Pinedale Ranger District of the Bridger-Teton National Forest will be starting a large road reconstruction project in partnership with the Federal Highway Administration, Central Federal Lands Highway Division, Sublette County and the town of Pinedale that will begin in June.

This work will last for approximately two years. Work will not take place in the winter months.

The first segment of road construction will be on the Fremont Lake Road from Skyline Drive to the Lower Boat Ramp at Fremont Lake. The second segment of road construction will take place on Skyline Drive from the large parking area above the White Pine Ski Resort turn off, all the way to Elkhart Park and Trails End trail head parking areas.

During this construction process, delay times of up to a half hour may be observed. No traffic will be given priority access during these planned delays except for Law Enforcement and First Responder traffic. Longer delays may persist, and the Pinedale Ranger District will notify the public when they know of any extended traffic delays or closures.

Construction activities taking place include, but will not be limited to, grading, drainage improvements, pulverization, aggregate base and asphalt surfacing. While traveling in the area, heavy construction traffic may be present at any point and a heightened attention to this activity will be necessary for the safety of everyone involved.

Please keep in mind that the planned construction delays are there to help improve safety margins for those in the area.

For questions or concerns about this reconstruction project, please contact Jay Sammer, Pinedale Ranger District Wilderness and Recreation Program Manager at jason.sammer@usda.gov.

---
Business Directory
Click here for
Advertising Information