Earlier Reports:
2002:
June 29, 2002
June 12, 2002
May 23, 2002
2001
Oct 23, 2001
Sept 25, 2001
August 26, 2001
August 7, 2001
July 15, 2001
June 27, 2001
June 11, 2001
May 28, 2001
May 7, 2001
April 14, 2001
Tuesday, July 30, 2002
Fishing Report
The Rivers:
The Green is flowing perfect for float fishing (500cfs) at Warren Bridge, and is fishing well. Hoppers are buzzing and big fish are eating them! Tricos have started hatching early this year. They're usually mid-August, but they are out now and nice trout are keying in on them. P.M.D.'s are still hatching in the mornings and will continue with these cool mornings we have been having.
The New Fork is fishing almost as well as the Green. Tricos and P.M.D.'s are hatching throughout the morning with good hopper action in the late afternoons. Morning and evening fishing is best. The mid day luls are long with these bright sunny days.
The fishing is great in the Wind River Mountains. Lots of Caddis hatching morning and evening and Callibaetis hatching throughout the day. Small green Hoppers are out in abundance so the dry fly fishing is great! Beetles and Ants are always good to have in the fly box.
Remember a Trout was meant to be caught more than once.

This report will be updated as often as the bugs change, so we change it weekly throughout the summer months.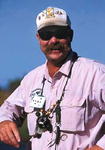 Save some fish for the next angler!
Tight Lines,
John Ross
P.S. If you have a good fish story, or any questions on fly fishing, e-mail me at 2rivers@trib.com. I always like to hear about the big one that got away!
---
The Hatch Report is provided to Pinedale Online by Two Rivers Emporium LLC in Pinedale, Wyoming. Two Rivers Emporium LLC, an authorized Orvis dealer, is owned and operated by John Ross, a professional guide with over 20 years experience. Two Rivers Emporium floats areas of the Green and New Fork Rivers from Green River Lakes to Flaming Gorge Reservoir in Western Wyoming. They also have private property access that offers good cutthroat and rainbow trout fishing. This report is updated weekly through the fishing season and can be heard on Pinedale's KPIN Radio as well as found on John's web site, www.2rivers.net.
This Hatch Report is sponsored by Pinedale Online! www.pinedaleonline.com