Emergency Rental Assistance Program will be available soon (posted 4/9/2021)
The U.S. Treasury has provided the State with funds to help cover rent and utility costs for those individuals and families that are struggling financially due to the COVID – 19 pandemic. The Emergency Rental Assistance Program (ERAP) may help with:
- Rent
- Maintaining safe housing and avoiding evictions
- Utility bills

The program is designed to help people in need to apply for assistance and payments will be made directly to the utility on behalf of the customer.

Applications are not yet available for the program. Anyone interested can go to this link for more information and sign up for updates including when applications can begin to be submitted.

Homeowner assistance is also on the way.

---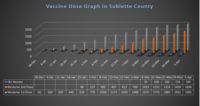 Vaccination graph

Sublette COVID-19 Incident Briefing (posted 4/9/2021)
Sublette County Public Health
April 9, 2021 Update:
The Wyoming Department of Health (WDH) reported 24 new COVID-19 cases in Sublette County this week for a total of 734 cases since the pandemic began.

There are currently 18 active cases in Sublette County with individuals isolating in Big Piney, Bondurant, Boulder, Daniel, and Pinedale. Some cases are related to travel, close contact with a known positive case, or community spread (no known source of exposure with no other risk factors identified).

WDH has confirmed that several COVID-19 variants (UK B.1.1.7, California B.1.427 & B.1.429) are now circulating in Sublette County. These variants are of concern because they have been shown to transmit more easily between people, may lead to more serious illnesses, or may have resistance to some COVID-19 treatment options.

Getting a COVID-19 vaccination, practicing physical distancing, wearing face masks, staying home when you are sick, and frequent hand-washing are essential to limit the spread of the virus that causes COVID-19.

Sublette County Public Health continues to accept registrations for COVID-19 Vaccine for anyone over age 18+ years of age.
• To Register--please go to Pinedale Online (www.pinedaleonline.com).
• In the top right corner, press the vaccine schedule button to go to the Sublette COVID-19 website to complete the Google Survey. If you need further assistance with registration, phone Public Health @ 307-367-2157.
• Public Health will call to schedule your appointment date & time. There is no cost for this vaccination.
• Sublette County is currently receiving Moderna & Johnson & Johnson vaccine. Doses are scheduled weekly at drive-thru events at the Marbleton Fairgrounds and the Mountain Man Museum.

4/9/21—#Moderna Vaccine Doses given in Sublette County
• 1st doses= 1,995
• 2nd doses= 1,636
• Total Doses= 3,631

4/9/21--#Janssen Vaccine Doses Given In Sublette County
• Total Doses Given= 185

---
Grand Teton Park roads open to motorized travel May 1 (posted 4/7/2021)
Face masks required when can't physical distance
Grand Teton National Park
MOOSE, WYOMING—Enjoying the park and getting outside via non-motorized travel on the Teton Park Road between the Taggart Lake Trailhead and Signal Mountain Lodge is an incredible spring experience for many. Park visitors are reminded to recreate responsibly, especially during the on-going COVID-19 pandemic, as they enjoy the outdoor opportunity.

The 14-mile section of the Teton Park Road is currently open to non-motorized travel through Friday, April 30, including walking, bicycling and rollerblading. The road will open to public motor vehicle traffic on Saturday, May 1.

Recent recreational use on the Teton Park Road has been very busy. Park staff anticipated a busy spring season on the road and implemented several changes. These changes include increased parking access between the Taggart Lake Trailhead and Cottonwood Picnic Area during peak use, a staffed mobile information trailer, and additional portable restrooms. There will also be increased signage to encourage speed reduction for everyone's safety.

The mobile information trailer and National Park Service volunteers providing visitor information are supported through generous donations from the Grand Teton National Park Foundation.

Visitors enjoying the Teton Park Road are encouraged to be good stewards of the park and reminded:
• Masks are required when physical distancing cannot be maintained.
• Water is not available at the trailhead or along the road. Be self-sufficient with water, snacks and bicycle/skate repairs.
• Pack it in, pack it out. There are limited trash receptacles at both ends of the road. Do not put trash in the portable toilets.
• Vault toilets are available at Taggart Lake Trailhead and Cottonwood Picnic Area, with portable toilets located along the road between Cottonwood and North Jenny Lake Junction, and restroom facilities at Signal Mountain Lodge.
• Dogs are permitted on the Teton Park Road. Dog owners are required to use a leash no longer than six feet in length and are required to clean up after their dogs. Waste disposal bag stations are located at each end of the road and bags should be deposited into appropriate trash receptacles and not left along the road.
• Vehicles should slow down and use caution in the area.
• Be respectful of other visitors enjoying the area, be thoughtful of how music may affect others.
• Visit the mobile informational trailer located at the Taggart Trailhead. Park staff will be available during high-use times to provide orientation, wayfinding, and safety information.
• Consider beginning at the Signal Mountain end of the road as it is less busy, and offers ample parking, restroom facilities, water filling station and self-pay fuel pumps at Signal Mountain Lodge. Please respect the Signal Mountain Lodge area as most facilities are not open to the public at this time.
• Visit Recreate Responsibly to learn additional tips on how to be good stewards of National Park Service lands and facilities, and other public lands and outdoor spaces.

Recreationalists on the Teton Park Road should use caution, as there may be snow and ice on some sections of the road creating slick conditions and be alert for park vehicles that periodically travel the road for administrative purpose. Road crews may be clearing auxiliary roads and wayside areas, and visitors are cautioned to stay away from rotary plows and other heavy equipment.

---
Barrasso: The Secretary's claim that our Oil & Gas Leasing Program is 'Fundamentally Broken' is Fundamentally Wrong (posted 4/5/2021)
Opinion - Senator John Barrasso media release
WASHINGTON, D.C. — Today (Monday, April 5, 2021), U.S. Senator John Barrasso (R-WY), ranking member of the Senate Committee on Energy and Natural Resources (ENR), issued the following statement in response to Secretary of the Interior Deb Haaland saying the Department of the Interior's oil and gas program is "fundamentally broken."

"Americans want affordable, reliable, and safe energy. The Secretary of the Interior's claim that our oil and gas leasing program is 'fundamentally broken' is fundamentally wrong," said Barrasso. "The Biden administration continues to attack American oil and natural gas jobs. American energy independence makes us stronger and safer. Secretary Haaland's actions will make us more dependent on Russia and the Middle East. In her home state of New Mexico, oil and gas production supports tens of thousands of jobs and provides the state with about one-third of its budget. In Wyoming, energy production on federal lands pays for essential services like K-12 public schools. The Biden administration already killed the Keystone Pipeline. Now, they want to throw even more oil and gas workers out of their jobs, while raising energy bills for American families."

---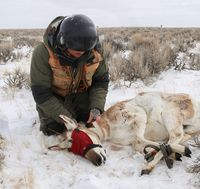 WGFD

Pronghorn collared to supplement migration data (posted 3/30/2021)
To monitor seasonal movements of Sublette herd
Wyoming Game & Fish
PINEDALE, WYOMING - This winter a Game and Fish-contracted wildlife capture crew deployed 75 GPS collars on doe pronghorn in the Sublette herd, which covers much of southwest Wyoming north of Interstate-80. This was in addition to 19 collars that were deployed last winter in an effort to fill in 'holes' in an existing dataset.

The Sublette pronghorn herd is among the Cowboy State's largest, currently numbering some 35,000 animals with a herd population objective of 48,000. In multiple studies between 2004 and 2017, nearly 600 individual pronghorn from the Sublette herd were fitted with GPS satellite tracking collars, bringing to light one of the longest intact big game migration corridors in North America. It was discovered that some pronghorn in the Sublette herd seasonally move nearly 200 miles between summer ranges in Grand Teton National Park and winter ranges north of Rock Springs.

With the large number of animals that have been collared over the years, the dataset for the Sublette herd is very robust. However, wildlife managers and researchers realized there were still important portions of the herd where no pronghorn had been collared.

These newly-collared animals will provide the fine-scale location data needed to not only delineate migration routes, but also reveal important stopover areas where animals stock up on nutrients along the way. The data will also inform managers on where to locate local conservation measures such as fence modifications and improved highway wildlife crossings.

The Department is currently reviewing this large dataset and following the steps outlined in the Governor's Executive Order 2020-1 to evaluate the Sublette pronghorn herd's seasonal movements for potential identification or designation as a migration corridor.

---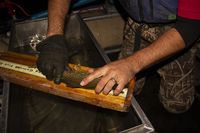 Pinedale Fish Biologist Darren Rhea measures a brown trout from a night survey on the Green River. WGFD

Green River trout estimates break records (posted 3/30/2021)
Wyoming Game & Fish
PINEDALE, WYOMING - The year 2020 is one many of us will remember. The year will certainly be remembered for many things, but will it be remembered as the "glory days" of fishing on the upper Green River in Wyoming? Recent assessments of the Green River trout fishery by Wyoming Game and Fish Department biologists in Pinedale indicate the trout population is at or near an all-time high.

Every year, biologists monitor the status of the fishery by completing an electrofishing assessment within a designated reach of the river. Darren Rhea, a Fisheries Biologist in Pinedale, directs all of the work conducted on the Green River. "We maintain a fairly rigorous monitoring strategy for the Green River," said Rhea. "It's an extremely valuable resource in the region and supports a lot of angler use."

"It's important that we keep a close eye on the fishery to ensure that it is not being over-utilized, or impacted from other factors," he continued. In the upper Green River (above Fontenelle Reservoir), six different reaches are monitored on a three-year rotation, with two reaches monitored each year to maintain a robust dataset going back several decades.

The process can be fairly complex. Large rafts and drift boats, specifically designed to carry generators and other specialized sampling equipment, will carry a crew of 2-3 people down the river producing an electrical field in the water, which allows for the effective capture of adult trout. The process is repeated over a period of 3-4 days to generate an estimate of the total number of fish in the river based on a mathematical model that uses the number of captured and re-captured fish over the course of the sampling event. The resulting population estimate, along with size-structure and species composition, provides managers with empirical data to evaluate the current status of the fish population and compare to previous years to monitor trends or long-term changes.

The effort in 2020 focused on two areas of the river, including one reach of the river near the Daniel Fish Hatchery and Forty-Rod Creek, and another below the Five-Mile Bridge area near Big Piney. Both areas have been sampled regularly for a period of 25+ years, and provide a good baseline for monitoring changes over time.

Work conducted within the "Forty-Rod" reach in September, 2020, generated an estimate of trout greater than any estimate ever obtained within this section of the river. A total of 719 trout/mile were estimated to inhabit the river with brown trout accounting for over 80% of the population. Rainbow trout made up the majority of the remaining population. This was the first time in over 20 years that the number of trout in the Green River exceeded 700/mile in this section.

Historical data, dating back 30+ years, indicates that more trout used to inhabit similar areas of the Green, though most of them were small rainbow trout (< 9 inches) that were the result of widespread stocking which has since been discontinued. Wild trout now make up the vast majority of fish in the river and their numbers have never been higher.

This section of the river continues to be popular among anglers and supports some of the highest angler-use in the region. Recent monitoring data indicates that fishing pressure, especially boat-angler pressure, has been increasing on the Upper Green. "It's encouraging to see such a robust population of wild trout persisting within this section of the river," says Rhea, "especially considering all of the angling use the river supports right now."

One reassuring phenomenon Rhea has witnessed over the course of his career is a strong shift in voluntary catch-and-release angling on the Green and other popular river fisheries. "During the summers of 2019 and 2020, we interviewed over 300 anglers fishing the Green River and not a single angler reported harvesting a trout, despite catching and releasing hundreds of fish."

Similarly, the portion of the river sampled near Big Piney smashed historic records. Trout numbers were estimated at a fairly pedestrian 560/mile. "We have seen estimates of trout numbers higher in this reach," says Rhea, "but we have never seen a biomass estimate (the total number of pounds of fish) anywhere near what we recorded in 2020." Biomass estimates account for the total pounds of fish in the water. Despite similar numbers of fish in the river compared to previous years, greater biomass estimates indicate that the trout population is comprised of much larger individuals than years past.

By all accounts, 2020 may well have been the "glory days" of fishing on the Green River. Unfortunately, Rhea doesn't expect the phenomenon to persist. "2020 was among the most ideal conditions for sampling trout in the Green River. Lower than average flows added to our capture efficiency and contributed to very precise estimates." However, persistent drought conditions and low flows do not bode well for fish populations in the future.

Lower than average discharge means less over-winter habitat and reduced survival for many fish in the river. "I suspect we will see a drop in overall fish numbers in 2021, and without significant snowfall during the winter, we may see dramatic impacts that will last for a period of years." Despite the current circumstances and short-term prospects of the river fishery, Rhea says he is largely encouraged by the outcome from the 2020 sampling effort. "It indicates, that overall, the river is healthy and resilient to annual changes in climate and flow."

"For close to 20 years, I have witnessed the ups and downs in the river fishery as a result of dry and wet periods, but if we continue to care for our water and land, and make the best use of our resources, I am certain the Green River fishery will persist for many generations to enjoy."

---
Disposing of moss balls (posted 3/29/2021)
May carry invasive zebra mussels
Wyoming Game & Fish
Moss balls are a popular plant choice for aquariums and decorative displays. But they also can be carriers of zebra mussels, which if detected in Wyoming's waters, could have catastrophic impacts to the water, the biodiversity of th area, recreation, municipalities and water users.

If you own a moss ball:
1. Remove any pets from the water and tank.
2. Remove the ball, other plants and any water from the aquarium and put them into a heat-safe pot.
3. Inspect the ball and tank for zebra mussels and if you find any contctc your local Game and Fish regional office.
4. Boil the balls, plants and any water it has been in contact with for at least five minutes.
5. Dispose of the ball and other plants in the trash.
6. Pour out the boiled water on a semi-permeable surface. That could be a houseplant or outside - like grass or soil – not located near standing water or a storm drain.

DO NOT dump the tank water in the toilet, down the sink, or in the sewer system.
DON'T release your aquarium critters or plants into the wild by dumping them in a river or lake.

---
Public comments wanted for rotenone treatment in Big Sandy Reservoir (posted 3/28/2021)
Comment period is March 31 to April 30, 2021
Bureau of Reclamation
Public Notice:
Dear Interested Parties: In compliance with the National Environmental Policy Act (NEPA) and the Council on Environmental Quality NEPA regulations effective September 14, 2020, the Bureau of Reclamation, Provo Area Office, has completed a draft Environmental Assessment (EA) to determine the environmental impacts of authorizing a rotenone treatment in Big Sandy Reservoir, proposed by Wyoming Game and Fish Department. An electronic copy of the draft EA is available for your review at https://www.usbr.gov/uc/DocLibrary/ea.html.

All comments on the draft EA will be considered in determining whether to execute a Finding of No Significant Impact and to authorize the rotenone treatment. Comments are due by April 30, 2021. Comments may be sent to Mr. Jared Baxter, 302 East Lakeview Parkway, Provo, Utah, 84606 or by email to jbaxter@usbr.gov. If you have any questions, contact Mr. Jared Baxter at (801) 379-1081 or jbaxter@usbr.gov. For Text Telephone Relay Service access, call the Federal Relay System Text Telephone (TTY) number at (800) 877-8339. Bureau of Reclamation, Interior Region 7 – Upper Colorado Basin, Provo Area Office

---
Spring recreation reminders on the Bridger-Teton National Forest (posted 3/24/2021)
Forest Service offices remain closed to in-person visits due to COVID-19
Bridger-Teton National Forest
The Bridger-Teton National Forest reminds forest visitors that winter wildlife restrictions remain in effect until May 1, 2020. It is important that all users understand the importance of observing the critical winter range closures. Critical winter range areas have been designated as essential to the survival of wildlife. Winter Travel maps and closure maps are available on the BTNF website at fs.usda.gov/btnf under the "maps and publications" tab. When people access closed winter range, they cause animals using the area to become stressed or flee to new locations. This retreat requires animals, especially ungulates like deer, elk, and moose, to use energy they cannot spare. Further, it usually places them in areas less suitable for grazing and/or browsing, preventing them from gathering the energy they need to survive. This leads to a weakened condition, which can have a direct effect on the animals' ability to defend itself, making it more susceptible to predation and disease, and can lead to future reproduction problems in individual animals.

Forest biologists also stress the importance of staying off freshly exposed slopes in and out of the closure areas. These muddy, tender slopes are prone to degradation from user traffic when wet. This type of degradation can lead to erosion problems that affect water quality, fisheries and the production of grasses and forbs used by grazing/browsing wildlife.

Remember, be responsible when using the great outdoors. Maintaining control of dogs through a leash or voice command is essential to minimizing impacts on wintering wildlife. It may feel as though spring has arrived, but winter is still on the ground in many areas. With cold temperatures and heavy storms still a possibility, your wildlife populations need your continued respect. Stay on designated travel routes and learn the location of closed critical winter range before heading out into the Forest. Bears are coming out of hibernation throughout the area so please be prepared with bear spray and follow food storage orders where that applies on the northern and eastern parts of the forest.

Spring is a good time to remember that we all have a responsibility to make conservative decisions when venturing out onto the Forest. Be sure to let someone know where you are headed and remember that creeks or roads, frozen in the morning may be soft and impassable after the temperatures rise. Additionally, have a plan for all waste, there are limited to no garbage services on the forest and many restrooms are closed or inaccessible due to the current conditions.

Bridger-Teton National Forest offices remain closed to in-person visitors to protect our public and employees alike. We are doing our best to maintain the highest level of service through virtual means. Please feel free to contact your local district office for the most up-to-date information.

For information please visit https://www.fs.usda.gov/btnf/. Follow the Bridger-Teton National Forest on Facebook @BridgerTetonNF or on Twitter @BridgerTetonNF.

---
Wyoming launches lawsuit challenging Biden Administration's Federal leasing ban (posted 3/24/2021)
Wyoming Governor Mark Gordon
CHEYENNE, WYOMING – The state of Wyoming filed a lawsuit today (Wednesday, March 24, 2021) challenging the de-facto moratorium on oil and gas leasing on federal land issued by President Biden and Secretary of the Interior Deb Haaland. The suit asserts that Haaland's implementation of the leasing moratorium contained in Executive Order 14008 is invalid under federal law.

"Following a careful review of not only the President's Executive Order, but its practical effect, it is necessary for Wyoming to protect its citizens and challenge the Secretary's action," Governor Gordon said. "Not only is this federal action overreaching, it was implemented without public input as required under federal law."

The lawsuit was filed in Federal District Court of Wyoming and states that the Administration's action violates the National Environmental Policy Act, the Administrative Procedure Act, the Mineral Leasing Act and the Federal Land Policy Management Act. The lawsuit asks the court to set aside the Secretary's action and require the Bureau of Land Management to resume quarterly oil and gas lease sales, which have been suspended since the order was signed.

Governor Gordon emphasized that the President's de-facto ban on oil and gas leasing will not meet the climate goals of the Administration, as production will simply shift to other countries with less stringent emissions standards.

"The world will continue to need and use oil and gas for the foreseeable future," Governor Gordon said. "The question is whether it will be produced under the environmental safeguards in place on federal lands in Wyoming, or overseas without equally stringent regulations."

In addition, the economic effects to Wyoming are devastating. A recent economic study indicated that thousands of jobs and millions of dollars of state revenue will be lost to the State of Wyoming.

Governor Gordon anticipates that other states will consider intervening after Wyoming's action is filed. A copy of the suit may be found here.

---
Antler hunting season begins May 1 (posted 3/23/2021)
Wyoming Game & Fish
Antler collection on Wyoming state lands will also open at 6 a.m. on May 1 in those areas where the antler regulation applies. More details on antler collection regulations and maps are available on the Game and Fish website.

Recreationists are also reminded to be bear aware while in the field. It is recommended to hike in a group and make noise as you travel so bears can hear you, especially in thick cover or near streams. Learn to recognize areas of heavy bear use by knowing how to identify tracks, scat and diggings, and if you smell a carcass, avoid it. Flocks of magpies or ravens often indicate a nearby potential food source for bears. Remember, when bears scavenge large animals they often cover what they can't eat with brush or dirt and may stay nearby for several days to defend it from other bears.

Commercially available bear spray is effective for stopping aggressive bears. Use bear spray only as a deterrent and as a last resort to avoiding a physical encounter. Carry bear spray in a readily accessible manner and make sure the spray is EPA approved.

---
2020 Tax Day for individuals extended to May 17 (posted 3/17/2021)
Internal Revenue Service (IRS)
WASHINGTON — The Treasury Department and Internal Revenue Service announced today (Wednesday, March 17, 2021) that the federal income tax filing due date for individuals for the 2020 tax year will be automatically extended from April 15, 2021, to May 17, 2021. The IRS will be providing formal guidance in the coming days.

"This continues to be a tough time for many people, and the IRS wants to continue to do everything possible to help taxpayers navigate the unusual circumstances related to the pandemic, while also working on important tax administration responsibilities," said IRS Commissioner Chuck Rettig. "Even with the new deadline, we urge taxpayers to consider filing as soon as possible, especially those who are owed refunds. Filing electronically with direct deposit is the quickest way to get refunds, and it can help some taxpayers more quickly receive any remaining stimulus payments they may be entitled to."

Individual taxpayers can also postpone federal income tax payments for the 2020 tax year due on April 15, 2021, to May 17, 2021, without penalties and interest, regardless of the amount owed. This postponement applies to individual taxpayers, including individuals who pay self-employment tax. Penalties, interest and additions to tax will begin to accrue on any remaining unpaid balances as of May 17, 2021. Individual taxpayers will automatically avoid interest and penalties on the taxes paid by May 17.

Individual taxpayers do not need to file any forms or call the IRS to qualify for this automatic federal tax filing and payment relief. Individual taxpayers who need additional time to file beyond the May 17 deadline can request a filing extension until Oct. 15 by filing Form 4868 through their tax professional, tax software or using the Free File link on IRS.gov. Filing Form 4868 gives taxpayers until October 15 to file their 2020 tax return but does not grant an extension of time to pay taxes due. Taxpayers should pay their federal income tax due by May 17, 2021, to avoid interest and penalties.

The IRS urges taxpayers who are due a refund to file as soon as possible. Most tax refunds associated with e-filed returns are issued within 21 days.

This relief does not apply to estimated tax payments that are due on April 15, 2021. These payments are still due on April 15. Taxes must be paid as taxpayers earn or receive income during the year, either through withholding or estimated tax payments. In general, estimated tax payments are made quarterly to the IRS by people whose income isn't subject to income tax withholding, including self-employment income, interest, dividends, alimony or rental income. Most taxpayers automatically have their taxes withheld from their paychecks and submitted to the IRS by their employer.

State tax returns
The federal tax filing deadline postponement to May 17, 2021, only applies to individual federal income returns and tax (including tax on self-employment income) payments otherwise due April 15, 2021, not state tax payments or deposits or payments of any other type of federal tax. Taxpayers also will need to file income tax returns in 42 states plus the District of Columbia. State filing and payment deadlines vary and are not always the same as the federal filing deadline. The IRS urges taxpayers to check with their state tax agencies for those details.

Source: https://www.irs.gov/newsroom/tax-day-for-individuals-extended-to-may-17-treasury-irs-extend-filing-and-payment-deadline

---
Business Directory
Click here for
Advertising Information