Spring 2018 Flood and Water Resources Outlook (posted 2/19/18)
National Weather Service - Riverton Wyoming
This Spring and early Summer 2018 flood outlook includes the Wind, Big Horn, Green, Powder, Sweetwater, Shoshone, and Upper Yellowstone River Basins. A small portion of the Snake and the Lower North Platte Basins is also used to make this runoff forecast. The outlook is from today through the end of June.

Many basins east of the continental divide receive up to 55 percent of their water year total for precipitation during the months of March through May. Accordingly, mountain snowpack can drastically change from late winter to late spring for basins east of the continental divide.

Wyoming generally does not see any significant mountain snowmelt runoff until early to middle May, with mountain snowmelt runoff peaking around early June. Therefore, at this time, it is way too early to make any long range prediction on & the magnitude of flooding due to mountain snowmelt runoff.

This outlook is based on various diverse hydrological factors such as snow water equivalents (SWEs) in the mountain snowpack, basin morphology (i.e. how basins respond to snowmelt), amount of biological factors (beetle kill, blight), low elevation snow depths, and likely temperature and precipitation trends into late spring/early summer.

Current water precipitation is averaging 90 to 100 percent of normal across Wyoming.

Mountain snowpack across Wyoming is 100 to 115 percent of average.

Wyoming carryover reservoir storages are 115 to 125 percent of average for February.

Above normal snowmelt streamflow volumes are expected across major drainages from central through northwestern Wyoming.

Additional information:

Other hydrological information for Wyoming can be found at the NOAA website: www.weather.gov/riw/local_hydrology

For the current Wyoming spring flood potential graphic, please refer to: www.weather.gov/images/riw/hydro/floodoutlook.png

For the current Wyoming water supply graphic, please refer to:
www.weather.gov/images/riw/hydro/watersupply.png

For the latest Wyoming average monthly precipitation by basin graphics, please refer to:
www.weather.gov/images/riw/hydro/wyomingprecip.png

For the latest monthly Wyoming hydrologic summary and graphics, please refer to: www.weather.gov/media/riw/hydro/hydro_report.pdf

For current and forecast Wyoming streamflows and/or river stages, please refer to: www.water.weather.gov/aphps2/index.php?wfo=riw
www.waterdata/usgs/gov/wy/nwis/rt

For Wyoming drought information, please refer to:
www.weather.gov/riw/drought

---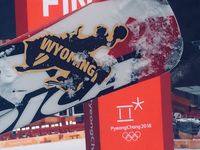 Hello from PyeongChang 2018! Photo courtesy Cassy and Tom Johnston.

Hello from PyeongChang 2018! (posted 2/18/18)
Greetings from the 2018 Olympics from Tom and Cassie Johnston
Cassy Johnston sent in this photo from the 2018 Olympics in PyeongChang, South Korea. She has gone from Pinedale to join her husband, rancher Tom Johnston, who is the chief of race for ski events at the 2018 Winter Olympics. He is responsible for preparing the snow to world-class conditions at the 2018 Games. The 2018 Winter Olympics run from February 9 - 25, 2018.

We wrote an article about Tom in February 2016 about how he had already been over there for months directing a crew of Koreans on how to lay down the track with artificial snow, grooming the surface, then shaping the terrain and jumps according to World Cup standards. More information about Tom and his role as 'master of snow' here: Tom Johnston gains international fame as Chief of Race for ski events at the 2018 Olympics.

More information about the Olympics can be found here: https://www.olympicchannel.com.

---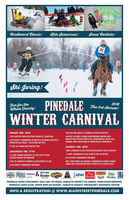 2018 Pinedale Winter Carnival Feb. 16-18

Pinedale Winter Carnival Feb 16-18, 2018 (posted 2/16/18)
SCHEDULE OF EVENTS
FRIDAY, FEB. 16
4PM: Amateur Snow Sculpture Judging
At the American Legion Park
For all ages, no registration fee
Contest building timeframe: Wednesday, Feb. 14 at 3PM to Friday, Feb. 16 at 4PM
Hosted by Family Tree: A Pregnancy Resource Center Register Onsite
Snowman registration 2018 (PDF)

CO-ED Hockey Tournament Feb 16-18
At the Sublette Ice Arena
Register by contacting Ice Arena. Spectators are free!
Click this link for game schedule Feb 16-18

6-8PM: Ski-Joring Registration
At Stockman's Mountain Man Tavern
Public Welcome!

9PM: Live Music at Stockman's Mountain Man Tavern: Rooster, Jeff Dillon, Carrie Myers

Forms:
Ski-jor waiver 2018
Skijor America Rules
Ski-Jor Registration 2018

SATURDAY, FEB. 17

8-10AM: Pancake Breakfast
Hosted by Knights of Columbus at the Catholic Church by donation

9AM: Ski-joring
At Bloomfield on west end of Pinedale. Spectators $10/car.

CO-ED Hockey Tournament
At the Sublette Ice Arena
Register by contacting the Ice Arena
Spectators are free!
Click this link for game schedule Feb 16-18

2PM: Kids Sno-Cross
At Bloomfield on the west end of Pinedale
Hosted by Pinedale Snow Explorers & Altitude Offroad
Register onsite, will start after ski-joring ends

6PM: Sno-Ball
At Wind River Brewing Company
6pm Live Music with Rooster

6:30PM: Winter Carnival King and Queen and Ski-joring results announced
Wind River Brewing

7PM: Live Music
Wind River Brewing
With Specific South featuring Jason Burton and Terry Hill

9PM: Live Music Feat
Stockman's Mountain Man Tavern
Featuring 6ft in the Pine

SUNDAY, FEB. 18
10AM: Cardboard Classic Race
Registration at White Pine Ski Area, Register Onsite from 8:30AM to 10:45AM.
Calcutta begins at 11:30AM at the foot of the hill.
Racing will begin once all crafts are positioned at the top of the hill after the Calcutta. All racers will be expected to transport (i.e., push/pull) their crafts to the top of the race hill.
Prizes will be awarded for Best Crafts and Best Times in each category at the Sunday Morning Marshalling Area (near Tubing Hut).

Forms:
WP Cardboard Classic Rules and Regulations_2018
For questions and more information contact Alan at White Pine Ski Area, alan@whitepineski.com, 307-367-6606.

11:30AM: Cardboard Calcutta
At White Pine Ski Area

Noon: Cardboard Classic Race
At White Pine Ski Resort

CO-ED Hockey Tournament
At the Sublette Ice Arena
Register by contacting Ice Arena. Spectators are free.
Click this link for game schedule Feb 16-18

4PM: Yukon Cornelius Cornhole Tournament
At the World Famous Corral Bar in Pinedale.
Registration Onsite. Entry fee $5 each player.

More information: https://www.mainstreetpinedale.com/

---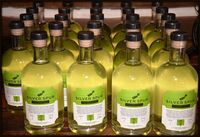 Gin from the first batch from Cowboy Country Distilling in Pinedale. Photo by Terry Allen.

Cowboy Country Distilling (posted 2/15/18)
A Valentine's Day Tasting Room Debut
Terry Allen
Tim started distilling with his Scottish grandfather at age 8 over in Golden, Colorado. "I had my fingers in it all the time," he smiled. Since then, he has worked all around the world at various distilleries with the dream of someday owning his own.

In a room decorated in historic photos and tack, Tim's partner Karen set me up with a shot of artisan gin that had rested (aged) in old brandy barrels. I'd never tasted gin that wasn't bitter, but this was full, rich and smooooth. Then she mixed me a cordial. "We picked the rosehips up on a snowy hill outside of Pinedale," said Karen. "And we got the raspberries from Riverton." In fact, all the flavors and all the ingredients are natural and gluten free. To my way of thinking, it was a nice refreshing iced drink one could enjoy outside on a warm day.

I didn't want to taste the vodka. I don't like vodka, but it's my job so I had to do it. Oh my gosh…I now love vodka. I didn't know there was such a thing as sipping vodka. It was delightful. I forgot to buy a bottle.

I had another shot of something with jalapeno and bacon in it. Real jalapeno and bacon. I'm three shots in now folks…so forgive me if I can't read my notes real good. But I think they let a slab of bacon soak in it for a while. It's great! When I threw the shot back, my eyes fell on a copper still up near the ceiling. Turns out it is a still from a brothel over in Wallace, Idaho. Tim calls himself a character and he sure has a never-ending stream of entertaining historical stories.

Tim and I seemed to be getting along, so I used my most persuasive voice and leaned in conspiratorially and asked him if I could get a look at a whiskey barrel out in the distillery. He wanted me to understand I was the only person or reporter he'd allowed in the distillery, I had to promise only to take photos of what he said I could take photos of. No problem.

You guys! He knocked the bung out of an oak barrel and lowered a Spirit Thief (long tube) into it, pulled it out and drizzled a tiny amount into a test tube and handed it to me. It comes out of the barrel in July, folks. And I suggest getting on the waiting list right now. Best whiskey I've ever had. The closest thing I can compare it to is Jameson. A glorious wave of artistry just rolls thru your mouth and you don't want it to stop rolling. Price is going to be around $40.

I thought we were done but Tim went into a corner and came back with a clean Spirit Thief and another test tube and knocked the bung out of a barrel of Rum. I don't like rum, certainly don't want to sip it, but I love it now. I don't have the vocabulary to describe it. It seems more like liquor that one might drink only on the most special of occasions. It is full, round, sophisticated and the world just seems a better place as soon as you take the first sip. Price is going to be around $100. I'm saving up.

My impression is, if you appreciate masterful artistry and tradition that hearkens back to the 1920's and earlier, you will love the offerings of Cowboy Country Distilling, and the great company of Tim and Karen.
Terry Allen: txpartisan@gmail.com

Editor's Note: Cowboy Country Distilling had their Tasting Room debut on Valentine's Day, Wednesday, February 14th, 2018. They will have their Grand Opening during Rendezvous Days in July. Bottles from the first batch are available for purchase or pre-order to make sure you get a bottle or case from the first batch. All bottles are numbered and you can get Master Distiller Tim Trites to sign your bottle. Cowboy Country Distilling is located at 1 Cobblestone Drive, across from the Pinedale airport, phone: 307-367-a>2331. Their website is expected to be up soon.

Click on this link for more pictures: Cowboy Country Distilling Tasting Room Debut

---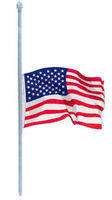 Flag Half Staff notice

Flag Half Staff notice – for victims of shooting at high school in Parkland, Florida (posted 2/15/18)
17 people killed on February 14th
Governor Matthew H. Mead, pursuant to President Donald Trump's Proclamation today (Thursday, February 15, 2018), has ordered both the U.S. and State of Wyoming flag be flown at half-staff statewide beginning immediately until sunset on Monday, February 19, 2018 as a mark of respect for the victims in Parkland, Florida.

Editor's note: On Wednesday, February 14th, a 19-year old man entered Marjory Stoneman Douglas High School in Parkland, Florida and shot and killed 17 people inside and outside the school. He was taken into custody without incident and taken to the local jail. He is charged with 17 counts of premeditated murder. Twelve additional people are in the hospital, 5 are in critical condition. No motive is known at this time for the attack. Victims were students at the school and the school football coach who reportedly died while shielding students from the hail of gunfire.

---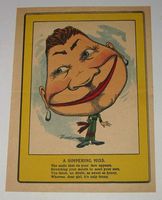 Vinegar Valentine. Photo courtesy Wikipedia.

Valentine's Day (posted 2/13/18)
Valentine's Day is February 14th.

If you're looking to send last-minute flowers to your Valentine in Pinedale, here is a link to florists in our area: Florists. JAK's and Ridley's have bouquets on hand ready to buy. Ridley's has special Valentine's Day chocolates in pretty gift boxes.

Valentine's Day cards can be found at Office Outlet and Ridley's in Pinedale.

Looking for jewelry to give to your Sweetheart? Stop by the Cowboy Shop or JAKs for necklaces, earrings, pins, watches and more. Gifts

How about getting your Sweetie that bigger King size bed or a comfortable new recliner or rocking chair you know they'd love? Stop by Rocky Mountain Home Center for those and other great home improvement ideas: Furniture

If you want to take your Valentine out for a special dinner, here are links to local area restaurants: Dining. The Den in Daniel is featuring live music by Jared Rogerson for Valentine's Day evening from 5:30 to 8PM. They'll have a special menu for the occasion. Call 307-859-8469 for reservations and more info.

The Pinedale Aquatic Center is offering "Parent's Night Out" on Valentine's Day. Enjoy an evening out with your Valentine while your kid(s) have fun at PAC! RSVP required in advance, 307-367-2832. $15/1st child and $10 additional child. www.pinedaleaquatic.com

Want to see some lovely old time Valentines? Stop over to the lobby of the Pinedale Library and see the new display of vintage Valentine postcards on loan from the collection of the Sublette County Historical Society/Museum of the Mountain Man. These will be on display until February 28th.

We can't resist ending with a little bit of history. Have you ever heard of "Vinegar Valentines"? These were a type of rude and crude insulting 'Valentine's' Day cards that came out between the 1840s to about the 1940s. As literacy rates and income increased for the general population, and the cost of goods decreased in Britain and America, these cheaply made cards became popular as a way to insult other people. Usually sent anonymously, they typically had some kind of a caricature drawing and included an insulting poem. They might poke fun at a woman being a spinster or ugly, or a man being a drunk or fat. Many of these Vinegar Valentines were sent as postcards. Some postmasters confiscated them and refused to send them, deeming them unfit to be mailed. See the link below for more on Vinegar Valentines.

Related Links:
Vinegar Valentines Wikipedia

---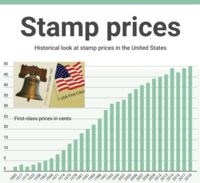 Historic stamp prices

Price of 1st Class Stamp increases to $.50 cents (posted 2/13/18)
It now costs a penny more to mail a first class letter in the U.S. The United States Postal Service increased its postal rates effective January 21, 2018. A first-class Forever stamp has increased from $.49 cents to $.50 cents. Domestic postcard stamps and metered letters also have increased by one cent, to $35 cents and $.37 cents respectively.

Shipping Services have also gone up $.05 cents with the price increase.
Small Flat Rate Box, up to $7.20
Medium Flat Rate Box, up to $13.65
Large Flat Rate Box, up to $18.90
APO/FPO Large Flat Rate Box, up to $17.40
Regular Flat Rate Envelope, up to $6.70
Legal Flat Rate Envelope, up to $7.00

The Postal Service receives no tax dollars for operating expenses. It relies entirely on the sale of postage, products and services to fund its operations. They also do not include any surcharges for fuel, residential delivery, or regular Saturday delivery.

Related Links:
U.S. Postal Service Announces New Prices for 2018 United States Postal Service

---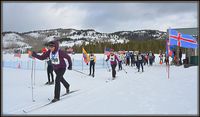 Nordic Ski Race start. Photo by Terry Allen.

Wyoming Senior Winter Games 2018 (posted 2/12/18)
Terry Allen
There are about 195 national flags flying in Pyeongchang, Korea for the 2018 Winter Olympics, and Courtney Skinner may have had close to that number flying in Sublette County, Wyoming on February 8, 9, and 10 for our Wyoming Senior Winter Games. I can't imagine what our various events would be like without Courtney voluntarily decorating them like he does.

Objectives of the Wyoming Senior Olympics are:
To promote ideals of health and wellness of adults through a more active lifestyle.
To erase myths that life is over after 50, by the philosophy that "you don't stop playing because you grow old; you grow old because you stop playing."
To promote the socialization and educational aspects of the senior games by emphasizing recreational participation and proper training.
To promote opportunities for team spirit.
To promote the concept of adult athletics.
To encourage inter-community, state-wide, nation-wide and world-wide associations for participants.
To provide a showcase event that will be of interest to persons of all ages.
To educate and train participants and spectators in the areas of adult athletics and exercise.
To promote sportsmanship, volunteerism and camaraderie among individuals of all age levels and affiliation.

About 78 athletes from around the state, plus Montana, Colorado, and Nevada came to Pinedale to compete in Snowshoe, Nordic skiing, Swimming, Pickleball, Alpine Skiing, Speed skating, Racquetball, Rock climbing and Walking.

Della Works came from Casper. "I've only missed one of nine Senior Games," she said. "The time I missed, I had to take my grandson to Torino in 2006. Btw, I carried the torch in Salt Lake City in 2002." I overheard Della and Cork Kelly discover they were both age 82 and each had 4 grandchildren.

John Houser was waxing his Nordic skis with red wax and Jamie Anderson came over and exclaimed that she was using violet wax on her skis. I had seen her stick a temperature probe in a snowbank earlier, so I knew she was tuning her skis technically.

JJ Huntley commented that the icy wind must be blowing thru my levis, and then she launched into a story about a guy who took a load of NOLS (National Outdoor Leadership School) kids into the wintery woods for three weeks. One kid showed up in Levis and the instructor told him he had to get warmer pants. Well, part way into a snowy bus ride the instructor noticed the kid wearing the Levis. He stopped the bus, made the kid take off his pants and the instructor threw them up into a pine tree. They picked them back out of the tree at the end of the three weeks.

Over at the PAC (Pinedale Aquatic Center) pool, young Tyce Walker was lowering a clipboard on a rope out a window down to poolside. Poolside scorers would then clip on time sheets instead of running up three flights of stairs to give them to Tyce's mom Kirby, to record in the computer.

I was curious what kind of hurdles some of the athletes had to get over in order to participate. Doc Foster age 58, said he had his knee replaced in October. Ollie Skinner age 77, had his spine fused. Jack Hegardt age 82, who is still employed as a stone mason, told me he had carotid artery surgery recently. Cork Kelly was wearing a pink bathing cap in honor of women who have gotten cancer. I only asked four people. I bet this list would be a lot longer if I had asked others. I do happen to know some near death stories, but I don't have permission to share them.

I decided I didn't have much of an excuse for slacking of any kind and started going over the list to see if I might be able to survive snowshoe or walking next year.

Finally, please remember to thank the volunteers that made this event possible. I know it means the world when someone takes the time to appreciate their efforts. I know it's very nice to be surprised by a gift of a burger or a beer when you haven't had time to catch your breath for two days.

All the results aren't ready yet, but Amber Robbins tells me they will be posted as soon as they get them done.
www.wyseniorolympics.com Wyoming Senior Olympics

A big thanks to Dawn Ballou of Pinedale Online for sponsoring this photo story.
You may all share these online photos among yourselves for personal use. I do sell high resolution images if you want them.
Terry Allen: txpartisan@gmail.com

Click on this link for more pictures from the games: Wyoming Senior Winter Games 2018

---
WYG&F conducts aerial deer herd surveys (posted 2/8/18)
Wyoming Game & Fish
The Wyoming Game and Fish Department will be conducting extensive aerial surveys over the next couple of weeks to get a more accurate count on the number of mule deer in the Wyoming Range Mule Deer Herd. The surveys will involve two helicopters flying over the foothills and deer winter ranges on the east side of the Wyoming Range, winter range complexes north and southwest of Kemmerer, and west side of the Salt River Range in Star Valley. Residents in rural communities may see personnel conducting these helicopter flights in quick "fly-overs" as mule deer are counted. Of course, every precaution will be taken to avoid disturbance to people and livestock.

Mule deer populations have been in decline across western North America and the Wyoming Game and Fish Department is committed to doing all they can to reverse the downward trend. As part of the statewide Wyoming Mule Deer Initiative, the Game and Fish identified certain mule deer herds to focus on, including the Wyoming Range Mule Deer Herd.

Helicopter surveys are commonly used to estimate population size and composition of big game herds, like mule deer, elk and moose. Helicopters allow biologists to count animals in areas where roads are sparse and to survey large areas more efficiently and accurately. This mule deer sightability survey is a more comprehensive survey that determines the number of mule deer surveyors may be missing from the air due to cover and deer behavior and ultimately provides a more accurate estimate of how many deer there are.

This sightability survey is a scientifically accepted method that has been used for many years throughout the United States and Canada. The data from the survey gives wildlife managers an "anchor" for future population models and allows wildlife managers to better track trends in the herds. Sightability surveys are costly and time consuming, but the WGFD is committed to obtaining the most accurate data to guide future management decisions.

Related Links:
Pinedale Region News Wyoming Game & Fish

---
Business Directory
Click here for
Advertising Information