Colorado seeks Wyoming help to locate stolen food truck trailer (posted 10/19/2021)
The Jefferson County Sheriff's Office in Golden, Colorado is investigating the theft of a food trailer that was stolen from a residence late Friday night, October 15th or early Saturday morning, October 16th. Law Enforcement received a tip that the food truck may be in Wyoming (specifically the area of Lusk, WY).

The trailer is white and has a large circular decal logo saying Mile HI Island Grill on both sides. The trailer is 8' wide and 18' long. Inside contents are commercial cooking equipment.

Anyone who sees the food truck or has any information is asked to contact Investigator T. Williams, twilliam@jeffco.us, or call 303-271-5545, or can remain anonymous by calling Metro Denver Crime Stoppers at 720-913-STOP (7867).

---
SCSO seeks public help in locating stolen ATV (posted 10/19/2021)
Sublette County Sheriff's Office
On October 12th, 2021, the Sublette County Sheriff's Office (SCSO) received a report of a white 2019 Polaris 850 SP ATV being stolen from the Jonah Energy Field Office off of Luman Road in the Jonah Gas Field. The four-wheeler was stolen on the night of October 11th. The four-wheeler was described to have a windshield as well as handwarmers.

The Sublette County Sheriff's Office requests anyone with any information regarding the theft or the whereabouts of the four-wheeler, to please contact Detective Travis Lanning at 307-367-4378 or email any tips to scsotipline@subso.com.

A stock photo of the four-wheeler has been included in this release as a reference.

---
Flag Half Staff Notice – In memory of General Colin Powell (posted 10/18/2021)
Half staff through Friday, October 22
Governor Mark Gordon media release
CHEYENNE, WYOMING - Governor Mark Gordon, pursuant to President Joe Biden's Proclamation, has ordered both the U.S. and State of Wyoming flags be flown at half-staff statewide immediately in honor of the life and legacy of General Colin Powell. Flags should remain lowered until sunset on October 22, 2021.

The Presidential Proclamation follows:
DEATH OF GENERAL COLIN POWELL
- - - - - - -
BY THE PRESIDENT OF THE UNITED STATES OF AMERICA
A PROCLAMATION

General Colin Powell was a patriot of unmatched honor and dignity. The son of immigrants, born in New York City, raised in Harlem and the South Bronx, a graduate of the City College of New York, he rose to the highest ranks of the United States military and to advise four Presidents. He believed in the promise of America because he lived it. And he devoted much of his life to making that promise a reality for so many others. He embodied the highest ideals of both warrior and diplomat. He led with his personal commitment to the democratic values that make our country strong. He repeatedly broke racial barriers, blazing a trail for others to follow, and was committed throughout his life to investing in the next generation of leadership. Colin Powell was a good man who I was proud to call my friend, and he will be remembered in history as one of our great Americans.

As a mark of respect for General Powell and his life of service to our Nation, I hereby order, by the authority vested in me as President of the United States by the Constitution and the laws of the United States of America, that the flag of the United States shall be flown at half-staff at the White House and upon all public buildings and grounds, at all military posts and naval stations, and on all naval vessels of the Federal Government in the District of Columbia and throughout the United States and its Territories and possessions until sunset on October 22, 2021. I also direct that the flag shall be flown at half-staff for the same length of time at all United States embassies, legations, consular offices, and other facilities abroad, including all military facilities and naval vessels and stations.

IN WITNESS WHEREOF, I have hereunto set my hand this eighteenth day of October, in the year of our Lord two thousand twenty-one, and of the Independence of the United States of America the two hundred and forty-sixth.

JOSEPH R. BIDEN JR.

---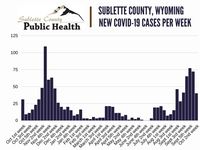 New COVID-10 cases from October 2020 to October 2021

Sublette County Public Health Full Update: October 15, 2021 (posted 10/15/2021)
Sublette County Public Health
COVID Update
The Wyoming Department of Health reported 46 new COVID-19 cases in Sublette County in the past week. There are currently 29 active cases in Sublette County, with 1,264 recoveries and 13 deaths, for a total of 1,306 cases since the pandemic began.

Sublette County moved into the Red or High Transmission Zone for community spread this week, most of the state is in the Red or High Transmission Zone (source)

The Sublette County Public Health Office in Pinedale is closed on Tuesdays & Thursdays for offsite flu & COVID clinics. Please call ahead to schedule appointments.

Moderna & Janssen Booster Clinics--latest information
On Thursday, October 14th--the FDA voted in favor of emergency authorization of a half-dose booster for Moderna, at least six months after the second dose. Those eligible for the extra shot would include people over 65 and other adults considered at high risk--the same groups now eligible for a Pfizer booster. The FDA is meeting today to discuss Janssen boosters.

Sublette County Public Health is tentatively scheduling Moderna Booster Clinics, pending full approval from the Advisory Committee on Immunization Practices (ACIP) & the State of Wyoming Immunization Department next week. Please call Public Health to schedule your tentative appointment at 307-367-2157.

Tentative Moderna Booster Clinics
• Wednesday, October 27th--Mountain Man Museum 10-12, 1:30--5PM
• Tuesday, November 2nd--Sublette County Fairgrounds 1--4:30PM
• Watch for more information next week as recommendations get approved!

Flu & COVID-19 Vaccines
As of October 11, 2021 – 2,938 people have been fully vaccinated in Sublette County, which means that 29.89% of our population has been vaccinated. 65 COVID vaccinations were administered in Sublette County this week.

Public Health continues to offer weekly COVID & flu vaccination clinics. Registration is requested but drive-ups are welcome on these clinic days. To sign-up, please call Public Health at 307-367-2157 to schedule an appointment.

Every Tuesday--Public Health Office in the Marbleton Senior Center
• 1 to 4 pm for flu and COVID vaccinations.

Every Thursday in October--Drive-Thru at the Mountain Man Museum
• 1 to 4 pm for flu and COVID vaccinations.

Payment due at time of service for flu vaccinations: Cash & checks accepted; We can bill Medicare, BCBS, Cigna & UMR. Costs are $20 for the regular flu vaccine and $55 for the senior flu (high-dose) vaccine. Public Health will begin billing a $20 administration fee for COVID Booster doses for insured individuals (no fee for uninsured or underinsured).

COVID-19 Testing--please see our website for information at https://www.sublettewycovid.com/testing

---
Tax relief offered to eligible Wyoming businesses (posted 10/15/2021)
To offset potential increases to unemployment insurance taxes due to COVID-19 unemployment claims
Governor Mark Gordon media release
CHEYENNE, WYOMING – Governor Mark Gordon has signed an Executive Order (EO) that will provide significant tax relief to eligible Wyoming businesses. This will come in the form of a tax credit and by offsetting some potential increases to their unemployment insurance (UI) taxes in the future.

Executive Order 2021-08 removes all UI benefit claims between March 13 and Dec. 31, 2020, from the businesses whose accounts were charged for those claims. The EO was authorized by the Legislature in 2020 and it ensures that these employers do not continue to experience significant UI tax rate increases due to the system-wide surge in unemployment claims that occurred due to the COVID-19 pandemic. It will also provide credits to employers who experienced increased unemployment taxes already paid in 2021.

"We recognize that every employer in the state was impacted in some way by the pandemic, and many saw their unemployment insurance rates increase – some substantially – this year," Governor Gordon said. "This Executive Order protects Wyoming businesses that have continually risen to the challenges in this new environment."

To ensure that this tax relief will not impact future tax rates, the Governor will utilize $58 million in federal funds to backfill Wyoming's UI Trust Fund. The Governor previously added $64 million to that trust fund, which has already helped keep rates from going up even further.

"It is important that we ensure that this significant tax relief does not necessitate an increase in UI tax rates at a later date," the Governor said.

Wyoming employers will see a decrease in their unemployment tax rates after October 31. They will also receive notification from the Wyoming Department of Workforce Services of the value of credits that can be applied to future unemployment taxes.

Executive Order 2021-08 may be viewed on the Governor's website.

---
Wyoming preparing legal challenge to Federal vaccine mandates (posted 10/13/2021)
Governor Mark Gordon media release
CHEYENNE, WYOMING – Governor Mark Gordon is taking action to oppose President Biden's COVID-19 vaccine mandates. The Governor and the Attorney General continue to prepare the State's legal challenge to the threat of the Biden Administration's proposed vaccine mandates, when they are finalized. It should be noted that the Biden Administration has yet to issue any specific policies that can be challenged in court.

"Four weeks ago, when the President issued his announcement regarding vaccine mandates, I immediately instructed Attorney General Hill to prepare for legal action to oppose this unconstitutional overreach," Governor Gordon said. "Attorney General Hill has begun that mission and is continuing to strengthen alliances, improve potential arguments, and consider appropriate strategies."

Governor Gordon noted that a joint letter from 24 attorneys general explained that the President's edict is broad, inexact, and utilizes a rarely-used provision in Federal law that allows it to be effective immediately.

"This coalition of Attorneys General is well-prepared to fight the Biden Administration in courts when the time is right, and I am committed to using every tool available to us to oppose federal rules, regulations, and standards whenever they overreach. We are prepared to act promptly once these mandates are finally issued," the Governor said. "Wyoming will not stand idly by to see any erosion of the constitutional rights afforded our citizens and their industries."

As the state prepares for its legal battle with the federal government, Governor Gordon stressed that as a conservative Republican, he continues to stand for smaller government that is closest to the people. Governor Gordon reiterated, "Government must resist the temptation to intrude in private sector interests."

"It is neither conservative nor Republican to replace one form of tyranny with another," he added. "Doing so is antithetical to our American form of government, even if it is for something we like. I will stand firm against unconstrained governmental overreach regardless of where or when it occurs."

---
Gabby Petito death ruled result of strangulation (posted 10/12/2021)
Case considered a homicide
Pinedale Online!
The Teton County, Wyoming Coroner's office in Jackson, Wyoming held a Zoom virtual press conference on Tuesday, October 12, 2021 to release the results of the autopsy report on Gabby Petito. Teton County Coroner, Dr. Brent Blue, said in the news conference the cause of death was the result of strangulation.

"We hereby find the cause and manner of death to be, the cause, death by strangulation, and manner is homicide," Blue said. "By Wyoming state statute, no other information will be released about the autopsy."

Petito was traveling with her boyfriend across country when she was reported missing by her family in mid-September, initiating a huge search for her whereabouts. The 22-year old woman's body was found in September near an undeveloped camping area on the Bridger-Teton National Forest north of Jackson, along the border of Grand Teton National Park. The Coroner's office had released a determination earlier classifying the death as a homicide, but had not disclosed how she was killed.

In response to questions from reporters, Blue said her remains were outside for three to four weeks. She was last known to have been seen alive in public on Aug. 27. Her body was found on September 13th. Blue also confirmed that Petito was not pregnant.

Petito's boyfriend, Brian Laundrie, is considered a person of interest in her disappearance. The couple reportedly embarked on a cross-country journey in June with plans to visit national parks along the way. He returned alone to his parent's home in Florida on September 1st, where the couple had been living. Petito's mother reported her missing on September 11th. Laundrie vanished as the story of Petito's disappearance unfolded and widespread national media attention grew. He has not been seen since September 13th and remains unaccounted for.

The FBI's Denver Field Office is leading the investigation into the woman's death.

Click on this link to watch the October 12th news conference: Gabby Petito Autopsy Ruling: Teton County Press Conference WFLA News Channel, YouTube, October 12, 2021

---
DHS to take action to enforce wage protections, labor rights, workplace safety, and other employment laws and standards (posted 10/12/2021)
Department of Homeland Security says it has a critical role to ensure the nation's employers comply with laws
U.S. Department of Homeland Security media release
WASHINGTON – Today (Tuesday, October 12, 2021), Secretary of Homeland Security Alejandro N. Mayorkas directed U.S. Immigration and Customs Enforcement (ICE), U.S. Customs and Border Protection (CBP), and U.S. Citizenship and Immigration Services (USCIS) to take actions to promote a fair labor market by supporting more effective enforcement of wage protections, workplace safety, labor rights, and other employment laws and standards.

"The Department of Homeland Security has a critical role to ensure our Nation's workplaces comply with our laws," said Secretary Mayorkas. "We will not tolerate unscrupulous employers who exploit unauthorized workers, conduct illegal activities, or impose unsafe working conditions. Employers engaged in illegal acts compel the focus of our enforcement resources. By adopting policies that focus on the most unscrupulous employers, we will protect workers as well as legitimate American businesses."

In accordance with a memorandum issued by Secretary Mayorkas on October 12, ICE, CBP, and USCIS will develop and update policies to enhance the Department's impact in supporting the enforcement of employment and labor standards. The agencies must also develop strategies for prioritizing workplace enforcement against unscrupulous employers and, through the exercise of prosecutorial discretion, facilitate the participation of vulnerable workers in labor standards investigations.

The memorandum also establishes an end to mass worksite enforcement operations. Under the previous administration, these resource-intensive operations resulted in the simultaneous arrest of hundreds of workers and were used as a tool by exploitative employers to suppress and retaliate against workers' assertion of labor laws.

Lastly, the memorandum calls for broader and deeper mechanisms for coordination with interagency partners to enforce worker protections.

---
DHS to allow travelers from Canada and Mexico to enter US – if fully vaccinated for COVID-19 (posted 10/12/2021)
Can enter US via land and ferry border crossings to visit friends, family, for tourism and non-essential purposes
Department of Homeland Security media release
WASHINGTON – Today (Tuesday, October 12, 2021), Secretary of Homeland Security Alejandro N. Mayorkas announced that, following guidance from the Centers for Disease Control and Prevention and other public health experts, the Department of Homeland Security (DHS) will amend Title 19 regulations to allow non-essential travelers who have been fully vaccinated for COVID-19 and have appropriate documentation to enter the United States via land and ferry ports of entry (POEs) across the U.S. border.

"In alignment with the new international air travel system that will be implemented in November, we will begin allowing travelers from Mexico and Canada who are fully vaccinated for COVID-19 to enter the United States for non-essential purposes, including to visit friends and family or for tourism, via land and ferry border crossings," said Secretary Mayorkas. "Cross-border travel creates significant economic activity in our border communities and benefits our broader economy. We are pleased to be taking steps to resume regular travel in a safe and sustainable manner."

The modifications to the Title 19 regulations will occur in two phases over the next few months. First, in November, U.S. Customs and Border Protection (CBP) will begin allowing fully vaccinated travelers from Mexico or Canada to enter the United States at land and ferry POEs for non-essential reasons. Travelers will be required to have appropriate paperwork that provides proof of vaccination. Individuals whohave not been fully vaccinated for COVID-19 will not be allowed to travel for non-essential purposes from Canada and Mexico into the United States via land and ferry POEs.

Second, beginning in early January 2022, DHS will require that all inbound foreign national travelers crossing U.S. land or ferry POEs – whether for essential or non-essential reasons – be fully vaccinated for COVID-19 and provide related proof of vaccination. This approach will provide ample time for essential travelers such as truckers, students, and healthcare workers to get vaccinated.

This new travel system will create consistent, stringent protocols for all foreign nationals traveling to the United States – whether by air, land, or ferry – and accounts for the wide availability of COVID-19 vaccinations.

---
Hunters: Win great prizes when you submit a CWD sample (posted 10/12/2021)
Wyoming Game & Fish
Hunters are critical to monitoring chronic wasting disease (CWD) in Wyoming, a fatal disease that affects moose, elk and deer in the state. The Wyoming Game and Fish Department is once again asking for hunters to provide lymph node samples from their harvested deer and elk this fall to test for CWD. In return for samples, hunters may be eligible to win thousands of dollars in hunting gear.

"Elk and deer hunters are on the front-line helping Game and Fish to understand the distribution and prevalence of CWD by collecting and submitting samples for testing," said Scott Edberg, deputy chief of wildlife. "This raffle is one way we can show our appreciation for their efforts."

Hunters are eligible to win prizes from two tiers when they submit a usable lymph node sample — that means the correct tissue and is in good-condition to be tested. When hunters submit samples from adult male mule or white-tailed deer or any adult elk at least 2-years old from targeted CWD monitoring hunt areas, they have a chance to win Tier I prizes. Those targeted hunt areas are:

Deer: 1-6, 19, 24, 25, 27-33, 41, 46, 47, 50-53, 61, 66, 74-77, 96, 97, 124, 130, 131, 134, 135, 138-146, 150-156, 163, 165, 169. Deer Hunt Areas 96 and 97 require mandatory lymph nodes submissions for testing.
Elk: 13, 15, 21, 41, 45, 67-71, 75, 77-85, 88-91, 97, 98, 102-105, 108, 127, 130
Hunters could win Tier II prizes when they submit samples for all other areas (non-targeted CWD monitoring areas) of the state, regardless of the hunt area.

Tier I prizes:
Special Edition Nosler Model 48 in .28 Nosler, donated by RMEF, with a Leupold VX-5HD 3-15x44 rifle scope, donated by Rocky Mountain Elk Foundation
Weatherby Vangard High Country in 6.5 Creedmoor, with a Maven RS.1 2.5-15x44 FFP rifle scope, donated by the Wyoming Wild Sheep Foundation, Weatherby and Maven
Maven S.1S 25-50x80 spotting scope, donated by Wyoming Wild Sheep Foundation and Maven
First Lite Catalyst softshell jacket, Obsidian merino wool pants, and Kiln 250 Aerowool hoodie, donated by First Lite

Tier II prizes:
Weatherby Vanguard Weatherguard rifle in .270 Winchester, donated by Wyoming Wild Sheep Foundation & Weatherby
Maven B.1 (8x42 or 10x42) binoculars, donated by Wyoming
Wild Sheep Foundation and Maven
KUIU Valo Camo, Pro 3600 Full Kit Backpack, donated by Muley Fanatics

"We're grateful to our sponsors whose generosity helps Wyoming's disease monitoring efforts on CWD," said Justin Binfet, Game and Fish wildlife coordinator in Casper. "Thank you for supporting this work."

Winners will be drawn randomly by early March 2022. Winning entries in Tier I will be excluded from entry into drawing for Tier II prizes.

Hunters can learn how to take a sample by watching a how-to video on the Game and Fish website and submit it alongside the CWD data sheet. Hunters can also have animals sampled at any game check station this season or by stopping at the Game and Fish Headquarters or regional offices from 8 a.m. to 5 p.m., Monday through Friday.

Results from CWD testing are available online within three weeks. Hunters can expedite results within 10 working days for a $30 fee; contact the Wyoming State Veterinary Lab in Laramie at (307) 766-9925 for more information.

Continued monitoring of CWD over time is important to help Game and Fish understand the potential impacts of this disease in deer and elk herds throughout the state.

Game and Fish has a statewide sampling program to monitor CWD by periodically targeting specific hunt areas on a rotating basis. This long-term effort will help the department determine CWD prevalence throughout the state and formulate management actions to address the impacts of the disease.

Hunters also need to be aware of Wyoming carcass transport and disposal rules to prevent the spread of CWD within Wyoming and other states.

Since 1997, the Game and Fish has been monitoring the distribution and prevalence of CWD to better understand how this disease may affect the health of Wyoming's deer and elk populations. Initial surveillance goals focused on the detection of CWD in new areas of the state along with monitoring the disease. This disease has now been identified in most deer hunt areas across Wyoming and necessitates a shift in focus of the program from detection to monitoring.

More information and resources for hunters on CWD is available on the Game and Fish CWD webpage.

---
Where is the vaccine mandate for private companies? (posted 10/11/2021)
Mandate by Bluffing?
Pinedale Online!
On September 9, 2021, President Biden issued a press release that a vaccine mandate was forthcoming for private companies that employ 100 or more employees. It's a month later and still no such executive order has been issued. Why?

Joe Biden's Vaccine Mandate Doesn't Exist. It's Just A Press Release
His announcement has jeopardized the employment of millions of Americans and increased worker shortages in critical domains such as health care. There's only one problem. It's all a mirage. Biden's so-called vaccine mandate doesn't exist — at least, not yet. So far, all we have is his press conference. No such rule even claiming to be legally binding has been issued yet.
By Joy Pullmann, thefederalist.com, October 7, 2021

Where Is Biden's Vaccine Mandate?
The mandate's nonexistence shields the Biden administration from legal challenges that may ultimately restrict the Occupational Safety and Health Administration's authority. Yet the threat of a mandate is still effective at compelling industries and companies into compliance. The nonexistent mandate also allows so-inclined state and local governments and companies to issue their own mandates, seemingly in lockstep with Washington.
Wall Street Journal Opinion, www.wsj.com, October 5, 2021

Where is the Biden Executive Order mandating the vaccine? Does it exist?
I'm talking about the Executive Order (EO) commanding all US companies with more than 100 employees to mandate the COVID vaccine for those employees. I can't find the EO. I don't see it in the Federal Register, where it's supposed to be published. (Note: the following two Biden EOs only cover Federal employees and Federal contractors.) If it hasn't been published, then there is no mandate.
By Jon Rappoport, www.blog.nomorefakenews.com, October 5, 2021

2021 Joseph R. Biden Executive Orders
www.federalregister.gov

Vaccinating the Unvaccinated – the Path out of the Pandemic
President Biden's COVID-19 Action Plan, www.whitehouse.gov

Executive Order on Requiring Coronavirus Disease 2019 Vaccination for Federal Employees
www.whitehouse.gov, September 9, 2021

Southwest Cancels More Than 1,000 Flights—Pilots Say It's Not A Protest Over Covid Vaccine Mandate
www.forbes.com, October 10, 2021

---
Sublette County Public Health Full Update: October 8, 2021 (posted 10/9/2021)
Sublette County Public Health
COVID Update
The Wyoming Department of Health reported 72 new COVID-19 cases in Sublette County in the past week. There are currently 52 active cases in Sublette County, with 1,195 recoveries and 13 deaths, for a total of 1,260 cases since the pandemic began.

Sublette County remains in the Dark Red or VERY High Transmission Zone for community spread this week, most of the state is in the Red or High Transmission Zone (source)

The Sublette County Public Health Office in Pinedale is closed on some Tuesdays & Thursdays for offsite flu & COVID clinics. Please call ahead to schedule appointments.

COVID-19 Vaccines
As of Oct. 4, 2021 – 2,873 people have been fully vaccinated in Sublette County, which means that 29.22% of our population has been vaccinated.

Public Health continues to offer weekly vaccination clinics offering all three vaccines Moderna, Comirnaty (Pfizer), and Janssen (Johnson & Johnson). Registration is requested but drive-ups are welcome on these clinic days. Please visit www.sublettewycovid.com/vaccines for clinic hours, registration, and up-to-date information.

Public Health Flu Update
Public Health had a record vaccine clinic day this week--486 people yesterday. Rain or shine people came out to get vaccinated! We administered 515 flu vaccines this week and 105 COVID vaccines at our drive-thru events at the Mountain Man Museum and the Fairgrounds.

If you missed these clinics, please come to one of our scheduled drive-thru clinics in October:

Tuesday, October 12th at the Marbleton Senior Center from
• 10 am until Noon for Senior Flu

Every Tuesday in October at the Marbleton Public Health Office
• 1 to 4 pm for flu and COVID vaccinations.

Every Thursday in October at the Mountain Man Museum
• 1 to 4 pm for senior flu, regular flu and COVID vaccinations.

Payment Due at time of service: Cash & checks accepted; We can bill Medicare, BCBS, Cigna & UMR. Costs are $20 for the regular flu vaccine and $55 for the senior flu (high-dose) vaccine.
To sign-up go to: sublettewycovid.com/vaccines or call 307-367-2157 to schedule an appointment. Appointments are appreciated, drive-ups will be accepted.

COVID-19 Testing
If you have symptoms, please call the Pinedale Medical Clinic at 307-367-4133 or the Marbleton Medical Clinic at 307-276-3306. Altitude Drug (www.AltitudeDrug.com) and Ridley's Pharmacy (307-367-2131) also offer COVID testing. Results from testing will be available, within 48-to-72 hours. Staff from your testing location may call with results or you may be given an on-link for results. If you don't have insurance, are underinsured, or have a high deductible plan, please call Public Health for a voucher to pay for testing at the clinics.

For symptom-free (close contacts, traveling, surveillance) testing, Vault PCR tests are a great way to easily test at no charge. Vault tests are available by ordering them via www.vaultheath.com/covid or call Public Health at 307-367-2157 to pick up your kit. These COVID tests require a brief Zoom appointment for collection, you then ship them out via UPS in a provided overnight envelope. You'll receive results in 48-to-72 hours via email.

If you have symptoms or are a close contact of an active case, please stay home, monitor your health and maintain distance until your test results are received. Call the schools to arrange virtual learning options for your children.

---
Governor Gordon: Crisis on the southern border is a concern to Wyoming (posted 10/7/2021)
Wyoming Governor Mark Gordon
CHEYENNE, WYOMING – Governor Mark Gordon joined other Governors in Mission, Texas yesterday to call for policy changes at the U.S-Mexico border and announce ten policy solutions that the Biden Administration could enact immediately to address the crisis at the southern border.

The "Joint Policy Framework on the Border Crisis" from the majority of the nation's Governors includes calls to continue to refuse entry to individuals coming into the country due to the COVID-19 public health risk (Title 42 health restrictions); fully reinstate the Migrant Protection Protocols (MPP) established by the prior administration, which require asylum seekers to return to Mexico to await a court hearing; and dedicate additional federal resources to eradicate human trafficking and drug trafficking.

During the trip the Governor met with Texas Department of Public Safety officials and toured the Rio Grande by boat. During the visit, border officials noted that Mexican cartels have taken advantage of the current situation and dominate the drug and human trafficking markets. Wyoming Department of Criminal Investigation figures show a significant increase in the amount of fentanyl that is being seized in the state since 2019.

"Wyoming citizens are impacted by a failure of the Biden Administration to engage in its Constitutional duty to secure our border," Governor Gordon said. "Seeing the conditions and hearing firsthand from agents on the ground made it clear that a different approach is needed and more resources are necessary to secure our border from drug trafficking and human smuggling."

Last month, Governor Gordon joined 25 other Governors in signing a letter to the Biden Administration requesting a meeting with the President on the issue. To date, the Governors have not received an offer to meet.

---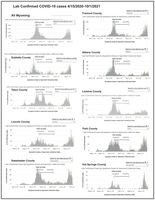 Breakthrough COVID cases are increasing among vaccinated persons (posted 10/3/2021)
The dangers of 'leaky' vaccines
Pinedale Online!
Eighteen months into the COVID-19 pandemic, more data is available about the disease and the results of the world's attempts to respond to it.
- To date in Wyoming, no one under the age of 18 has reportedly died from COVID-19, according to the Wyoming Department of Health.
- In Wyoming, the recovery rate for those over age 18 who have been infected with the disease is over 98%.
- The majority of people who have died are elderly and/or have some additional health condition that put them more at risk of complications due to the virus.
- Protection from natural immunity, for people who caught the disease and have not been vaccinated, appears to last as long as 10 months to one year for some people.
- The effectiveness of the vaccine is less than hoped for (40-60%) and wanes after 4-6 months, indicating that booster shots are necessary to up effectiveness over time.

A recent report from Teton County states that breakthrough cases of COVID among fully vaccinated people accounted for 53% of all reported positive cases in the last two weeks of August, 2021. Over half the new positive cases were among fully vaccinated individuals.

Emerging data from Israel indicates that even with high population vaccination rates (Israel at 94%+) and near universal masking, studies are showing increased breakthrough cases of the Delta variant of COVID. It is clear that new COVID variants are emerging that are significantly more contagious and able to find ways around both the vaccines and spreading in places where even very strict masking protocols are practiced.

There is new concern among some that the high percentage of vaccinated people is a direct cause of creating the Delta COVID variant that is more contagious and more severely impacts unvaccinated individuals. This is similar to what has been observed over the past 50 years in studying cases of "leaky" vaccines in poultry, where mutated disease variants become highly harmful or deadly against unvaccinated animals in flocks. Known as Marek's disease, studies have shown that "lethal" strains of mutated viruses can spread from one vaccinated individual to another, and that unvaccinated chickens were at greatest risk of disease and death if they were housed with vaccinated ones.

Below are links to related articles:

What Teton County's Surge Of 'Breakthrough Cases' Actually Means
53% of confirmed active cases of COVID-19 in Teton County in the last two weeks of August 2021 were vaccinated individuals. In the last two weeks (August 15-29), 372 confirmed active COVID-19 cases were reported in Teton County. 53 percent of those were breakthrough cases. That means vaccinated individuals tested positive for the virus.
By Kamila Kudelska, Wyoming Public Radio, September 1, 2021

Nearly All COVID-Related Deaths in Wyoming Are Now Among Unvaxxed
According to the Wyoming Department of health, 95% percent of COVID-related deaths reported in Wyoming from May 1 to Sept. 8, 2021 involved residents who were not vaccinated.
Kgab.com

COVID-19 Status Changing in Wyoming Due to Delta Variant
Wyoming's fight against COVID-19 appears to be entering a new, concerning phase due to the Delta variant, according to the Wyoming Department of Health (WDH). Dr. Alexia Harrist, state health officer and state epidemiologist with WDH, said the Delta variant is dominant in Wyoming right now, with most new cases in the state likely linked to the variant. "After months of relatively stable case numbers we have recently seen a sharp increase in most areas of the state," she said.
Teton County, Wyoming, www.tetoncountywy.gov, August 4, 2021

Lasting immunity found after recovery from COVID-19
The immune systems of more than 95% of people who recovered from COVID-19 had durable memories of the virus up to eight months after infection.
National Institutes of Health, www.nih.gov, January 26, 2021

I Got A 'Mild' Breakthrough Case. Here's What I Wish I'd Known
It was a miserable five days. My legs and arms ached, my fever crept up to 103 and every few hours of sleep would leave my sheets drenched in sweat. I'd drop into bed exhausted after a quick trip down to the kitchen. To sum it up, I'd put my breakthrough case of COVID-19 right up there with my worst bouts of flu. Even after my fever cleared up, I spent the next few weeks feeling low.
By Will Stone, www.npr.org, September 12, 2021

Delta variant: What kind of immunity offers the highest protection?
Questions about the long-term protection provided by COVID-19 vaccines abound. How long does the protection last? Are boosters needed? Are the vaccines effective against the Delta variant? Are the vaccines as effective as natural immunity? Research findings suggest that natural immunity provides longer-lasting and stronger protection against infection, symptomatic disease, and hospitalization due to the Delta variant, compared with the protection of the Pfizer-BioNTech two-dose vaccine, researchers conclude. In addition, those with natural immunity exhibit additional protection against the Delta variant when given a single dose of the vaccine, according to the results.
By Leigh Ann Green, www.medicalnewstoday.com, September 6, 2021

Nosocomial outbreak caused by the SARS-CoV-2 Delta variant in a highly vaccinated population, Israel, July 2021
Israel was one of the first countries to achieve a high level of full vaccination against severe acute respiratory syndrome coronavirus 2 (SARS-CoV-2). From May through mid-June 2021, with more than 55% of the population fully vaccinated, new cases decreased to less than two cases per million, with no social restrictions, indicative of very high vaccine effectiveness. Since mid-June, a sharp increase in cases has been observed, attributed to the SARS-CoV-2 Delta variant, which by mid-July constituted more than 95% of sequenced virus isolates in Israel. This variant was assessed to have higher transmissibility than the Alpha variant. This study challenges the assumption that high universal vaccination rates will lead to herd immunity and prevent COVID-19 outbreaks. This was probably true for the wild-type SARS-CoV-2 virus, but in the outbreak described here, 96.2% of the exposed population was vaccinated. Infection advanced rapidly (many cases became symptomatic within 2 days of exposure), and viral load was high. Another accepted view is that, when facing a possible mismatch between the SARS-CoV-2 variant and vaccine or waning immunity, the combination of vaccine and face mask should provide the necessary protection. All transmissions between patients and staff occurred between masked and vaccinated individuals. Data from Israel imply that the main reason for the increase in COVID-19 cases in summer is indeed waning immunity. However, a third vaccine dose may be needed, particularly in individuals with risk factors for severe COVID-19.
By Pnina Shitrit, Neta S Zuckerman, Orna Mor, Bat-Sheva Gottesman, Michal Chowers, www.eurosurveillance.org, September 30, 2021

Animal coronavirus vaccines: lessons for SARS
Severe acute respiratory syndrome (SARS) emerged in China and spread globally as a human pandemic. It is caused by a new coronavirus (CoV) of suspect animal origin. The emergence of SARS stunned medical scientists, but veterinary virologists had previously recognized CoVs as causing fatal respiratory or enteric disease in animals with interspecies transmission and wildlife reservoirs.
National Library of Medicine, National Center for Biotechnological Information, pubmed.gov, 2004

The history of the emergence and transmission of human coronaviruses
Human coronaviruses are known respiratory pathogens associated with a range of respiratory illnesses, and there are considerable morbidity and hospitalization amongst immune-compromised individuals of all age groups. The emergence of a highly pathogenic human coronavirus in China in 2019 has confirmed the long-held opinion that these viruses are important emerging and re-emerging pathogens. In this review article, the authors trace the discovery and emergence of coronaviruses (CoVs) over time since they were first reported.
www.ncbi.nlm.nih.gov, February 10, 2021

Leaky Vaccines Enhance Spread of Deadlier Chicken Viruses
Marek's disease—an illness of fowl—is caused by a highly contagious virus. It spreads through the dust of contaminated chicken coops, and caused both paralysis and cancer. In the 1970s, new vaccines brought the disease the under control. Within ten years, it started evolving into more virulent strains, which now trigger more severe cancers and afflict chickens at earlier ages. At least one researcher believes that the vaccines were responsible. The Marek's vaccine is "imperfect" or "leaky." That is, it protects chickens from developing disease, but doesn't stop them from becoming infected or from spreading the virus. Inadvertently, this made it easier for the most virulent strains to survive. Such strains would normally kill their hosts so quickly that they'd die out. But in an immunized flock, they can persist because their lethal nature has been neutered. That's not a problem for vaccinated individuals. But unvaccinated birds are now in serious trouble. Most human vaccines, those against mumps, measles, rubella, polio, and smallpox are "perfect:" They protect against disease and stop people from transmitting the respective viruses. Is there something to learn from Marek's disease vaccines and chickens compared to what is happening with COVID vaccines and the emergence of the more contagious Delta variant and possible new future mutation forms of the COVID virus due to mass human vaccinations?
By Ed Yong, www.nationalgeographic.com, JULY 27, 2015

---
Naming Competition for new Sublette County Hospital (posted 9/28/2021)
Sublette County Hospital District
While the Sublette County Hospital District (SCHD) continues to await a decision from the USDA, they decided to put the time to good use. Employees from both the Hospital District and the Sublette Center were asked to submit suggestions to name the new Hospital. The top four names were chosen by the Joint Planning Committee (a mix of SCHD Board and Sublette Center Board members).

The four names suggested are:
Sublette County Health
Mountainside Health
Sublette County Wellness Complex
Mountain Air Healthcare

The competition is now open to the public at large to vote for their favorite name. Public Relations Director Kari DeWitt notes, "This is a truly historic moment for Sublette County. We hope the public will have fun being a part of the process naming this facility."

Cast your vote at Survey Monkey - https://www.surveymonkey.com/r/PDS7H7D

Local photographer, Dave Bell has donated a large photography print for the employee that ends up having suggested the winning name.

---
Limited COVID-19 Booster Shots recommended and available in Wyoming (posted 9/24/2021)
Recommendation applies to those who previously received Pfizer doses
Wyoming Department of Health
Booster doses of the Pfizer COVID-19 vaccine are now recommended and available for older residents and other adults at high risk of severe disease or exposure to the virus, according to the Wyoming Department of Health (WDH).

Dr. Alexia Harrist, state health officer and state epidemiologist with WDH, said the Centers for Disease Control and Prevention (CDC) recommends booster doses of the COVID-19 vaccine manufactured by Pfizer for certain groups of people.

Those who should get booster doses include:
- People aged 65 and older
- Long-term care facility residents
- Adults aged 50-64 with certain medical conditions that make severe disease more likely

Those who may consider booster doses depending on
their personal risk and situation include:
- Adults aged 18-49 with certain medical conditions that make severe disease more likely-
- Adults aged 18-64 at increased risk of COVID-19 exposure and transmission due to jobs such as healthcare workers or because they live or work in settings such as correctional facilities

"While we continue to emphasize the importance of COVID-19 vaccines for those people who are not yet vaccinated, these booster doses are intended to help provide continued strong protection for those who are most likely to experience severe illness or exposure to the virus," Harrist said.

The Pfizer booster doses are to be given at least six months after someone received their second shot of the Pfizer vaccine. Booster doses have not been authorized or recommended for people who received the Moderna or Johnson and Johnson COVID-19 vaccines.

"COVID-19 vaccines continue to be safe and effective against COVID-19, including the variants, and are especially good at protecting against severe illness," Harrist said. "This Pfizer booster recommendation for more vulnerable people was not unexpected and it will not be surprising to see similar future recommendations for the vaccines produced by other companies."

"With the arrival of fall, many people may be ready to receive their seasonal flu shots, which we strongly encourage. It is considered safe to get a flu shot and a COVID-19 vaccine dose at the same time," Harrist said.

Harrist noted all COVID-19 vaccine doses continue to be offered at no cost to those who receive them.

Convenient ways to find where to get COVID-19 vaccines, including the newly recommended booster doses, include:
Visit Vaccines.gov or vacunas.gov online to search and find vaccine sites.
Text your ZIP code to 438829 (GETVAX) or 822862 (VACUNA) to find up to three nearby locations that have vaccines available. Call the National COVID-19 Vaccination Assistance Hotline at 1-800-232-0233 for phone-based help.

In August, the CDC recommended an additional dose of Pfizer or Moderna COVID-19 vaccines for people with moderately to severely compromised immune systems. More important details about the additional-dose recommendation for these specific individuals can be found at here.

A person is considered fully vaccinated two weeks after two doses of either the Pfizer or Moderna vaccine or two weeks after one dose of the Johnson and Johnson (Janssen) vaccine.

More details about the new CDC recommendations can be found online here.

More information from WDH about vaccination in Wyoming can be found here.

---
Business Directory
Click here for
Advertising Information