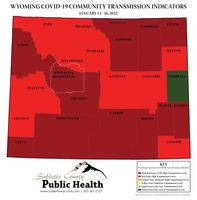 January 13-26, 2022

Sublette County Public Health Update: January 28, 2022 (posted 1/27/2022)
Sublette County Public Health
COVID Update
The Wyoming Department of Health reported 98 new COVID-19 cases in Sublette County this week. WDH also announced another death of a Sublette County resident this week. Public Health sends our heartfelt condolences to the family and friends of the deceased. There are currently 14 active cases in Sublette County, with 1,728 recoveries and 25 deaths, for a total of 1,767 cases since the pandemic began.

Sublette County remains in the Red or High Transmission Zone for community spread reflecting the increase in case counts in the past two weeks (January 13 – 26). Most of the state is in the dark red/very high transmission rate.

For this week's Sublette County COVID video update, please visit our Facebook page for the link.

Sublette County Public Health has received lab confirmation this week of the Omicron variant for several Sublette County residents. While local case numbers continue to rise, please remember to keep hydrated, take supplements as directed by your doctor, wash your hands, use a mask when going out in crowded places, stay home and rest when you aren't feeling well. Be sure to call your healthcare provider when needed.

Flu & COVID-19 Vaccines
As of January 24, 2022 – 3,382 people, or 34.40% of our population, have been fully vaccinated in Sublette County–around 50 people per week continue to come for vaccinations at our Marbleton & Pinedale Public Health COVID clinics.

Public Health offers weekly COVID vaccine clinics for ages 5+ years. Flu vaccinations are available at our scheduled clinics or by appointment on other days. Walk-ins are welcome on our scheduled clinic days or call 307-367-2157 to schedule an appointment. Pfizer, Peds Pfizer, and Moderna are offered at our weekly clinics. You are eligible for a booster 5 months after your last Pfizer or Moderna shot and 2 months after a J&J vaccine. Please note, Janssen (J&J) vaccine will no longer be offered at our clinics.

Tuesdays at the Public Health Office in the Marbleton Senior Center
• 1 to 3:30 pm for flu and COVID vaccinations/boosters
• Appointments recommended. Walk-ins welcome.

Thursdays at the Public Health Office in Pinedale
• 1 to 4 pm for flu and COVID vaccinations/boosters.
• Appointments recommended. Walk-ins welcome.

Please bring your COVID vaccine card and completed vaccine consent form with you. We ask that you wear a mask in our offices for your appointment.

COVID-19 Testing
Please see our website for information: https://www.sublettewycovid.com/testing
---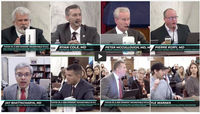 COVID-19 - A Second Opinion

COVID-19 – A Second Opinion (posted 1/25/2022)
Congressional Roundtable with medical experts in the field
Pinedale Online!
On Monday, January 24th, U.S. Senator Ron Johnson (R, Wisconsin) moderated a panel discussion with world-renowned doctors and medical experts regarding the latest science on COVID-19. The roundtable provided different perspectives on the global pandemic response, the current state of knowledge of early drug effectiveness, hospital treatment and policies, vaccine efficacy, vaccine safety, what went right, what went wrong, what should be done now, and what needs to be addressed long term. The session included testimony from doctors, front-line nurses, epidemiologists, cardiologists, researchers, mRNA vaccine experts, patient testimony, and more.

The roundtable lasted 5 hours and is well worth the time listening all the way through for anyone who wants to hear uncensored and unfiltered information from experts in the field and practitioners who are working on-the-ground dealing with COVID-19 and the vaccines for the past two years. Some of the testimony challenges and is very critical of the current narrative of the CDC, NIH, and national and state public health COVID-19 vaccination policies.

Here is a link to the video: https://rumble.com/vt62y6-covid-19-a-second-opinion.html

---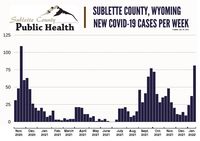 Sublette County COVID January 2022

Sublette County Public Health Update: January 21, 2022 (posted 1/21/2022)
Sublette County Public Health
COVID Update
The Wyoming Department of Health reported 81 new COVID-19 cases in Sublette County this week. There are currently 23 active cases in Sublette County, with 1,626 recoveries and 24 deaths, for a total of 1,669 cases since the pandemic began.

Sublette County moved into the Red or High Transmission Zone for community spread reflecting the increase in case counts in the past two weeks (January 6 – 19). Most of the state is in the red.

For this week's local Sublette County COVID video update, please visit our Facebook page. Today's video update is available here (https://fb.watch/aGHPiHcQDE/).

Clinics and schools are all reporting high numbers of the typical winter viruses – RSV, Influenza A, and unidentified viruses as well as another uptick in COVID cases. To help protect yourself and your family — remember to keep hydrated, take supplements as directed by your doctor, wash your hands, use a mask when going out in crowded places, stay home and rest when you aren't feeling well. Be sure to call your healthcare provider when needed.

Flu & COVID-19 Vaccines
As of January 17, 2022 – 3,364 people, or 34.22% of our population, have been fully vaccinated in Sublette County.

Public Health offers weekly COVID vaccine clinics for ages 5+ years. Flu vaccinations are available at our scheduled clinics or by appointment on other days. Walk-ins are welcome on our scheduled clinic days or call 367-2157 to schedule an appointment. Pfizer, Peds Pfizer, and Moderna are offered at our weekly clinics. You are eligible for a booster 5 months after your last Pfizer or Moderna shot and 2 months after a J&J vaccine.
Please note, Janssen (J&J) vaccine will no longer be offered at our clinics.

Tuesdays at the Public Health Office in the Marbleton Senior Center
• 1 to 3:30 pm for flu and COVID vaccinations/boosters
• Appointments recommended. Walk-ins welcome.

Thursdays at the Public Health Office in Pinedale
• 1 to 4 pm for flu and COVID vaccinations/boosters.
• Appointments recommended. Walk-ins welcome.

Please bring your COVID vaccine card and completed vaccine consent form with you. We ask that you wear a mask in our offices for your appointment.

COVID-19 Testing
Please see our website for information: https://www.sublettewycovid.com/testing

---
Yellowstone 2021 visitation statistics (posted 1/21/2022)
National Park Service
Yellowstone National Park hosted 4,860,537 recreation visits in 2021, up 28% from 2020 (3,806,306 visits), making it the busiest year on record.

In 2021, visitation for May, June, July, August, and September were the busiest on record. July was also the most-visited month on record in Yellowstone's history and the first time visitation exceeded 1 million visits in a single month.

The list below shows the year-to-date trend for recreation visits over the last several years:

2021 - 4,860,537
2020 - 3,806,306*
2019 - 4,020,288
2018 - 4,115,000
2017 - 4,116,524
2016 - 4,257,177

Although the park accurately counted 4.86 million visits in 2021, a close analysis of visitor use data shows that over 350,000 vehicles re-entered the park in 2021 compared to 2019 (before COVID-19). This is likely due to approximately 20% fewer overnight stays in the park during the year. Due to a variety of factors including construction projects and COVID-19, the park had approximately 20% fewer campsites and hotel rooms available in 2021 compared to previous years. This translated to more visitors leaving the park to overnight elsewhere and then returning than in previous years.

Additionally, statistical categories the park tracked, including trail counters, tonnage of trash, water usage, and public safety calls, showed visitor-use levels more comparable to 2019, when the park counted four million visits. The park is evaluating improved software that can more reliably and accurately differentiate new visits versus the same visitors entering the park multiple times.

Affected areas: developed corridors
Yellowstone's road corridors and parking areas equate to less than 1,750 (0.079%) acres of the park's 2.2 million acres. Most visitors stay within a half mile of these corridors.

Visitor use strategy
Yellowstone's visitor use strategy, developed in 2019, focuses on the impacts of increasing visitation on: 1) park resources; 2) staffing, infrastructure and operations; 3) visitor experience; and 4) gateway communities, including economic and recreational access. The park is concentrating on the most congested areas including Old Faithful, Midway Geyser Basin, Norris, Canyon rims and Lamar Valley.

Actions
The park has developed a comprehensive resource tool to monitor and respond to impacts on resources. The park piloted an AV shuttle system in 2021, moving over 10,000 visitors at Canyon Village and testing technology that could be used in the future. A major shuttle feasibility study is underway to analyze the viability of a shuttle system in the Midway Geyser Basin corridor. The park is also taking advantage of data derived from recent major visitor surveys and transportation studies to inform future decisions and is working closely with Grand Teton National Park on future solutions since both parks substantially share visitation each year.

Yellowstone has completed over $100 million in projects over the past two years to improve transportation infrastructure, reduce traffic congestion and enhance visitor experiences. Substantial additional investments will continue in 2022 and 2023 in multiple areas of the park as part of funding received from the Great American Outdoors Act.

More data on park visitation, including how we calculate these numbers, is available on the NPS Stats website.

Editor's note: *The park was closed March 24-May 18, 2020, due to COVID-19. Two entrances were open May 18-31 and the remaining three opened on June 1.

---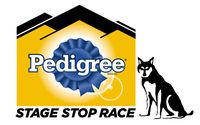 Update to schedule for 2022 Pedigree Stage Stop Race (posted 1/21/2022)
Note change for Lander Stage 2 to the Upper Green
The Pedigree® Stage Stop Race, now in its 27th year, will commence its 2022 event starting on Town Square in downtown Jackson, Wyoming Friday night, January 28, 2022.

PEDIGREE® STAGE STOP RACE COMPETITORS:
The 2022 Stage Stop Race is primed for stiff competition this year. With a total combined payout of $165,000, the Pedigree Stage Race offers the largest purse in the lower 48 and draws top teams from the United States and Canada.

This year's competitors are Bruce Magnusson, Tim Thiessen, Austin Forney, Thad McCracken, Gwenn Bogart, Ryan Beaber, Chris Adkins, Alix Crittenden, Éric Laforce, Anny Malo, Diane Marquis, Jake Robinson, JR Anderson, Lina Streeper, Laura Bontrager, Christina Gibson, Cathy Rivest, Carl Knudsen, Dave Torgerson, Geneva Lyon, Rachel Courtney, Hans Gatt, Jerry Scdoris, Fernando Ramirez, and Grant Beck.

RACE START — Friday, January 28th — Jackson, Wyoming
9:00 am — 1:00 pm Vet Check Deloney Parking Lot. Meet the mushers, dogs and vet staff.
5:30 pm KICK OFF on Town Square in downtown Jackson. 6:30 pm RACE START first team leaves the chute.
For more information about the Jackson WY Stage visit https://www.wyomingstagestop.org/stages/jackson-hole/

STAGE 1 Saturday — January 29th — Teton County, Wyoming
9:00 am RACE START at Blackrock Ranger Station.

For more information about the Teton County WY Stage visit https://www.wyomingstagestop.org/stages/201/
Contact: Roger Carpenter PEDIGREE® Stage Stop Race | Media Director Tel. (307) 343-6130 media@wyomingstagestop.org

STAGE 2 Sunday — January 30th — Pinedale, Wyoming
(Stage Two relocated from the South Pass area of Lander, Wyoming)
9:00 AM RACE STARTS at the Upper Green River Trailhead, Cora at the end of Hwy 352. Kendall Valley Lodge serves Breakfast & Lunch Specials. Located west of the Upper Green Parking Lot. Spectators welcome (dress warm!)
4:00 PM PUBLIC MEET & GREET at the Dudley Key Sports Complex. This is an outside event (dress warm!). Meet the mushers, handlers and see the dog teams staged in the parking lots. Several food trucks from local vendors will be on hand for purchase of food and drinks. This will last from 4PM to about 6PM. Please do not bring your pet dogs to this function.

STAGE 3 Monday — January 31st — Pinedale, Wyoming
9:00 AM RACE STARTS at the Upper Green River Trailhead, Cora at the end of Hwy 352. Kendall Valley Lodge serves Breakfast & Lunch Specials. Located west of the Upper Green Parking Lot. Spectators welcome (dress warm!)
For more information about the Pinedale WY Stage visit https://www.wyomingstagestop.org/stages/pinedale-wy/
Monday — January 31st — Big Piney/Marbleton, Wyoming. 6:00 PM MEET THE MUSHERS DINNER at the Southwest Sublette County Pioneers Senior Center, 429 2nd Street, Marbleton. Public invited.

STAGE 4 Tuesday — February 1st — Big Piney/Marbleton, Wyoming
9:00 AM RACE STARTS at Middle Piney parking lot off road 350, 20 miles from Big Piney. Spectators welcome (dress warm, carpooling encouraged). For more information about the Big Piney/Marbleton WY Stage visit https://www.wyomingstagestop.org/stages/big-piney-marbleton-wy/

STAGE 5 Wednesday — February 2nd— Kemmerer, Wyoming
9:00 AM RACE STARTS at the end of the Hams Fork Road, Hams Fork Trail Head.
For more information about the Kemmerer WY Stage visit https://www.wyomingstagestop.org/stages/kemmerer-wy/

Thursday — February 3rd— TRAVEL DAY

STAGE 6 Friday — February 4th — Alpine, Wyoming
9:00 AM RACE STARTS at Greys River Trail Head Parking Lot. For more information about the Alpine WY Stage visit https://www.wyomingstagestop.org/stages/alpine-wy/

STAGE 7 Friday — February 5th — Driggs, Idaho
9:00 AM RACE STARTS at new location past Kay Dairy Trail Head.
Parking is limited at the Start/Finish. Please plan to carpool.
1:00 - 3:00 PM COMMUNITY MEET & GREET behind Driggs Community Center in the Transit Center Park & Ride Lot. For more information about the Driggs ID Stage visit https://www.wyomingstagestop.org/stages/driggs-id/

Friday — February 5th — Final Banquet at the Teton County Idaho Fairgrounds
5:00 PM Doors open. Dinner catered by Captain Ron's BBQ starts at 6:00 PM.

---
Stage Two of Sled Dog Race relocated from South Pass to Upper Green (posted 1/20/2022)
Pedigree Stage Stop Sled Dog Race
Due to adverse weather-related trail conditions, Stage Two of the 2022 Pedigree© Stage Stop Sled Dog Race will be relocated from the South Pass area of Lander, Wyoming to the Upper Green River trail system near Pinedale / Cora, Wyoming.

Below is the current trail report from race organizers: "South Pass (Lander, Wyoming) trail reports indicate several low snowpack stretches on south facing wind-blown slopes. A concerning 1/2-mile of low snow conditions at the 9500 ft Blue Ridge summit created safety concerns for racers to control their teams as they approach the turnaround point of the racecourse. With a dry forecast, race officials pivot to the Upper Green River, (Pinedale / Cora, Wyoming) course for safety. Conditions at Louis Lake (8500 ft. elevation) and 1000 ft. lower elevations are fine, but on top of the ridge where the race gains its mileage and turnaround point, the course is unmanageable."

Dan Carter, Race Director states, "Everyone involved will greatly miss the annual trip to visit Lander and race on the South Pass course. The City of Lander, Wyoming has hosted the Stage Stop Sled Dog Race every year since its inception in 1996. We greatly appreciate the understanding of the Lander supporters and community and look forward to racing in Lander in 2023."

To preserve the overall mileage of the 7-stage 225-mile race, Stage Two has been moved to the Upper Green River Trailhead near Pinedale, Wyoming.

For additional race information visit the official race website at www.wyomingstagestop.org

---
Bridger-Teton announces Elk Feedground Environmental Analysis (posted 1/14/2022)
30-day public comment period open on the project
Bridger-Teton National Forest
January 14, 2022— The Notice of Intent (NOI) for the Bridger-Teton National Forest to prepare an environmental impact statement (EIS) was published in the Federal Register on January, 14, 2022, announcing the start of the public comment period for the Dell Creek and Forest Park Feedgrounds: Long-Term Special Use Permit project EIS. The EIS will analyze the winter elk management activities the Wyoming Game and Fish Commission has proposed for Forest Park Feedground in Linclon County, Wyoming near Afton, and for Dell Creek Feedground in Sublette County, near Bondurant, Wyoming. The Wyoming Game and Fish Commission (WGFC) has applied for continued use of facilities on National Forest System lands to conduct their elk management activities, including providing hay to wintering elk at Dell Creek and Forest Park feedgrounds between mid-November to the end of April. The Forest Service will determine whether to authorize the requested long-term use and if so, under what conditions.

The project area includes:
(1) Dell Creek - 35 acres, which includes two hay storage sheds, 8 foot high woven fence, water well, portable tack shed, elk trap, and a corral (Map 1).
(2) Forest Park - 100 acres, which includes 0.25 miles of road with one culvert, a bridge across Grey's River, a fenced stack yard, two hay sheds, an elk trap, corrals, 24 ft. x 38 ft. cabin (with a propane tank and pole fence to house a winter elk feeder), an outhouse, and a spring collection tank with approximately 900 ft. of open¬ended plastic pipe (Map 2). The project proposes to allow Wyoming Game and Fish Commission to utilize National Forest System land for their winter elk feeding operations in order to maintain population objectives and control elk distribution in an effort to minimize conflicts with human land uses.

"The proposed action will be considered along with an alternative that phases-out feeding," said Tricia O'Connor, Forest Supervisor for the Bridger-Teton National Forest.

The Notice of Intent (NOI) provides a description of the project's purpose and need as well as the actions proposed to address those needs. It also announces the opening of the 30-day public comment period and the methods by which people can provide public comments.

"Hearing from the public during the comment period is crucial to the planning effort," said O'Connor. "The public comments will also be essential for inclusion in relevant design features in the proposed action and alternatives —the next step in the process."

The publishing of the NOI in the Federal Register begins a 30-day comment period in which the public can submit comments on the proposed project. Additional details regarding the proposed project have been posted on the Bridger-Teton National Forest website at https://www.fs.usda.gov/project/?project=60949.

Comments submitted will help to develop alternatives and conduct appropriate analysis. Scoping comments can be submitted electronically through the project webpage or at this link https://cara.ecosystem-management.org/Public//CommentInput?Project=60949. Please identify your comments on the subject line as Elk Feedground EIS. Comments are requested by February 14, 2022.

For more information or to be placed on the mailing list, please contact Anita DeLong at 307-739-5568 or Anita.DeLong@usda.gov Interested individuals or organizational contacts can self-subscribe to this and other desired mailing lists on the Forest's webpage, www.fs.usda.gov/land/btnf/landmanagement under Highlights.

---
Yellowstone National Park turns 150 in 2022 (posted 1/12/2022)
National Park Service
MAMMOTH HOT SPRINGS, WYOMING – March 1, 2022, marks the 150th anniversary of the establishment of Yellowstone National Park. Signed into law by President Ulysses S. Grant, America's first national park was set aside to preserve and protect the scenery, cultural heritage, wildlife, geologic and ecological systems and processes in their natural condition for the benefit and enjoyment of present and future generations.

Yellowstone serves as the core of the Greater Yellowstone Ecosystem, one of the last and largest nearly intact natural ecosystems on the planet. Yellowstone has the most active, diverse, and intact collections of combined geothermal features with over 10,000 hydrothermal sites and half the world's active geysers. The park is also rich in cultural and historical resources with 25 sites, landmarks and districts on the National Register of Historic Places.

Based on the park's location at the convergence of the Great Plains, Great Basin, and Columbia Plateau, many Native American Tribes have traditional connections to the land and its resources. For over 10,000 years before Yellowstone became a national park, it was a place where Native Americans hunted, fished, gathered plants, quarried obsidian and used thermal waters for religious and medicinal purposes.

"Yellowstone's 150th anniversary is an important moment in time for the world," said Superintendent Cam Sholly. "It's an opportunity for us to reflect on the lessons of the past while focusing our efforts to strengthen Yellowstone and our many partnerships for the future. I applaud and share the vision of Secretary Haaland and Director Sams on our responsibility to more fully engage with Tribal Nations to honor and learn from their ancestral and modern connections to Yellowstone."

Beginning March 1, the park will host and participate in a wide range of activities to commemorate the 150th. The park has conducted substantial outreach to Native American Tribes, inviting them to participate directly in this anniversary. Multiple Tribal Nations will be present throughout the summer at Old Faithful as part of the Yellowstone Tribal Heritage Center project. Tribes are also coordinating with Yellowstone to install a large teepee village in the park near the Roosevelt Arch in August, where tribal members will interact directly with visitors about their cultures and heritage.

During this anniversary year, Yellowstone will open 40 new employee housing units throughout the park along with groundbreakings on projects totaling more than $125 million funded through the Great American Outdoors Act. These projects include two of the largest historic preservation projects in the country and a range of transportation projects that will address aging infrastructure. This year will also mark the reopening of Tower Fall to Chittenden Road (near Dunraven Pass), a $28 million road improvement project completed over the past two years.

The park will participate in the 15th Biennial Scientific Conference on the Greater Yellowstone Ecosystem hosted by Montana State University, the Wyoming Governor's Hospitality and Tourism Conference, and the University of Wyoming's Yellowstone National Park 150 Anniversary Symposium. The park is also grateful to Wind River (Eastern Shoshone and Northern Arapaho) and other Tribal Nations for planning a multi-tribal gathering on the Wind River Reservation later in the year.

Due to COVID-19, the park does not currently have large events planned; however, this may change as the year progresses.

Visit go.nps.gov/Yellowstone150 and follow #Yellowstone150 frequently in 2022 to stay current on commemoration information.

---
Governor Gordon submits petition to remove Greater-Yellowstone Grizzlies from the Endangered Species List (posted 1/12/2022)
Wyoming Governor Mark Gordon
CHEYENNE, WYOMING – Fulfilling a promise made in September, Governor Mark Gordon has officially petitioned the U.S. Fish and Wildlife Service (FWS) to remove the Greater Yellowstone Ecosystem (GYE) population of grizzly bears from the Endangered Species List. The petition, filed with the support of Idaho and Montana, affirms that grizzly bears, by all measures, have been fully-recovered since 2003.

"This is an extraordinary and monumental success story for species recovery and should be celebrated," Governor Mark Gordon said. "The GYE grizzly bear is ready to join the ranks of the bald eagle, American alligator, peregrine falcon and brown pelican as receiving proper recognition as a thriving, recovered and stable species."

The Governor expressed his appreciation for the cooperative efforts of Montana and Idaho in making the petition possible. The two states, along with Wyoming, separately approved a modified Tri-State Memorandum of Agreement establishing new management targets and discretionary management practices to keep the bear population well-above the minimum recovery level following delisting and affirmed their commitment to the bear's genetic health and diversity.

Governor Gordon reiterated there is no biological or legal reason to keep GYE grizzly listed. The states have applied the best-available population models, and the most current data shows grizzly bear populations have grown beyond the edges of the bear's biological and socially suitable range. With refined population estimates, data shows the population numbers more than 1,000 bears in the GYE, far beyond all scientific requirements for a recovered, viable population.

"Grizzly bears in the GYE are fully recovered and their management is now best entrusted to the experienced and capable institutions of the states. After all, Wyoming has invested more than $52 million and dedicated countless hours of Game and Fish expertise to reach this point," Governor Gordon said. "We're optimistic the Service will view the petition favorably, and we look forward to working with them on delisting."

The FWS has 90 days to review the petition. At that time the petition can be denied or approved for additional review. If that is the case, the FWS can take up to 12 months to further review and analyze the state's request and come to a final decision.

---
Business Directory
Click here for
Advertising Information