Jackson, Wyoming skier killed in avalanche in Grand Teton National Park (posted 2/22/2021)
Matthew Brien, 33, caught in slide on Broken Thumb Couloir
Grand Teton National Park
MOOSE, WYOMING - Teton Interagency Dispatch Center received an emergency call at approximately 12 p.m. today, Monday, February 22, about a skier involved in an avalanche in the Broken Thumb Couloir on the peak known as 25 Short in Grand Teton National Park.

Park rangers, Teton County Search and Rescue members, and Bridger-Teton National Forest personnel jointly responded to the incident.

A party of three local residents departed from the Taggart Lake Trailhead this morning, with an intent to ski the Broken Thumb Couloir. The party was skiing one at a time in the upper part of the couloir. Matthew Brien, a 33-year-old Jackson, Wyoming resident, was leading the group, entering the narrow area of the couloir above the rappels when an avalanche occurred.

The avalanche was up to two feet deep and fractured fifty to one hundred feet above Brien, sweeping him over the rappel and downslope for approximately one thousand feet.

Other members of the ski party dialed 911 and reached Teton Interagency Dispatch Center to report the incident and also called two friends who were skiing down canyon on an FRS radio and told them about the avalanche. Both parties made their way to Brien and found him partially buried. They removed him from the debris and initiated CPR.

The Teton County Search and Rescue helicopter with park rangers immediately responded with aerial reconnaissance to determine if a short-haul rescue would be an option. Due to gusty winds, short-haul was not feasible. The helicopter landed on Taggart Lake and rescue personnel skied to the scene.

Brien suffered significant trauma and was determined deceased at the scene. His body was flown to a frontcountry location and transferred to the Teton County Coroner.

The other members of the parties skied out.

The Bridger-Teton Avalanche Center issued a considerable avalanche danger rating for elevations above 7,500 feet today for the Teton area. Recent snow and wind events have created dangerous backcountry conditions. Very cautious route finding and expert snowpack evaluation skills are a requirement for safe travel in avalanche terrain. Always visit the Bridger-Teton Avalanche Center website at www.jhavalanche.org before heading into the backcountry.

---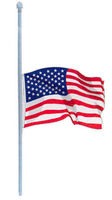 Flag half staff notice

Flag Half Staff notice – In Memory of Americans lost to COVID-19 (posted 2/22/2021)
Statewide until sunset Friday, Feb. 26
Governor Mark Gordon media release
CHEYENNE, WYOMING - Governor Mark Gordon, pursuant to President Joe Biden's Proclamation remembering the 500,000 Americans lost to COVID-19, has ordered both the U.S. and State of Wyoming flags be flown at half-staff statewide until sunset February 26.

The Presidential Proclamation follows:
REMEMBERING THE 500,000 AMERICANS LOST TO COVID-19
- - - - - - -
BY THE PRESIDENT OF THE UNITED STATES OF AMERICA

A PROCLAMATION

As of this week during the dark winter of the COVID-19 pandemic,
more than 500,000 Americans have now died from the virus. That is more Americans who have died in a single year of this pandemic than in World War I, World War II, and the Vietnam War combined. On this solemn occasion, we reflect on their loss and on their loved ones left behind. We, as a Nation, must remember them so we can begin to heal, to unite, and find purpose as one Nation to defeat this pandemic.

In their memory, the First Lady and I will be joined by the Vice President and the Second Gentleman for a moment of silence at The White House this evening. I ask all Americans to join us as we remember the more than 500,000 of our fellow Americans lost to COVID19 and to observe a moment of silence at sunset. I also hereby order, by the authority vested in me by the Constitution and laws of the United States, that the flag of the United States shall be flown at half-staff at the White House and on all public buildings and grounds, at all military posts and naval stations, and on all naval vessels of the Federal Government in the District of Columbia and throughout the United States and its Territories and possessions until sunset February 26, 2021. I also direct that the flag shall be flown at half-staff for the same period at all United States embassies, legations, consular offices, and other facilities abroad, including all military facilities and naval vessels and stations.

IN WITNESS WHEREOF, I have hereunto set my hand this twenty-second day of February, in the year of our Lord two thousand twenty-one, and of the Independence of the United States of America the two hundred and forty-fifth.

JOSEPH R. BIDEN JR.

---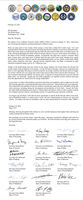 Governors letter

Governors ask President Biden to withdraw Executive Order banning new oil and gas drilling (posted 2/22/2021)
Governor Mark Gordon media release
CHEYENNE, WYOMING – Wyoming Governor Mark Gordon led a coalition of 17 Republican Governors urging President Joe Biden to withdraw an Executive Order that bans new oil and gas development on federal land and in offshore waters.

In the letter, Governor Gordon and his fellow Governors stress the negative economic effect of the ban on western states with large tracts of federal land. The Order has the effect of "chasing away capital investment for long-term economic growth and undermining public services, public conservation, public safety, public education, and more."

Governor Gordon also emphasized the importance of the high-paying jobs created by the energy industry, as well as the impact of the order on energy independence and grid stability. The Governors were unified in their support for an "all of the above energy approach" and said that "As governors, we believe that solutions come from innovation, not regulation" stressing state primacy for emission standards.

"You began your presidency with calls for unity, specifically to end the divide that pits urban versus rural, and as Republican leaders, we stand ready to work with your Administration to advance our states and country," the letter reads. "In contrast, the lack of consultation with our states demonstrated by Executive Order 14008 is alarming, showing disregard for the citizens we serve and the businesses that employ them and keep our country running and our nation secure."

This letter is part of Governor Gordon's continued coordinated effort to protect Wyoming citizens and industries from overreaching Federal actions. Last week, the Governor informed Federal officials that he is prepared to take all necessary actions to protect Wyoming from unilateral actions targeting and crippling our energy industries.

Joining Governor Gordon in signing the letter were Governors Kay Ivey (AL), Mike Dunleavy (AK), Doug Ducey (AZ), Asa Hutchinson (AR), Brad Little (ID), Eric Holcomb (IN), Tate Reeves (MS), Mike Parson (MO), Greg Gianforte (MT), Pete Ricketts (NE), Doug Burgum (ND), Kevin Stitt (OK), Kristi Noem (SD), Bill Lee (TN), Greg Abbott (TX), Spencer Cox (UT).

A copy of the letter may be found here.

---
Special enrollment period open for health insurance (posted 2/22/2021)
Enrollment open until May 15, 2021
In response to the COVID-19 health emergency, the Department of Health and Human Services, through the Centers for Medicare and Medicaid Services, announced a special enrollment period for health insurance from February 15 through May 15, 2021, for individuals and families who are uninsured or underinsured. Individuals and families in Wyoming can enroll in Marketplace health coverage until May 15. The special enrollment period is available to all Marketplace-eligible consumers who are submitting a new application, missed the earlier deadline, or updating an existing application. This Special Enrollment Period (SEP) for individuals and families to apply and enroll is available to consumers in the 36 states served by Marketplaces that use the HealthCare.gov platform. Wyoming is one of those states.

Access is available through a variety of channels: through HealthCare.gov directly, the Marketplace call center, or direct enrollment channels. Consumers can find local help at Localhelp.healthcare.gov or by calling the Marketplace Call Center at 1-800-318-2596. TTY users should call 1-855-889-4325. Assistance is available in 150 languages. The phone call is free.

---
St. John's Health reports zero COVID-19 patients (posted 2/21/2021)
Buckrail.com has an article reporting St. John's Health in Jackson, Wyoming announced they had zero COVID patients, for the first time since this past summer. Click on this link for the full story: St. John's COVID patient census falls to zero
---
Teton County also celebrating their Centennial in 2021 (posted 2/21/2021)
Sublette and Teton counties in Wyoming are celebrating their 100th birthdays this year. It took two years for Sublette County to finalize the process. Teton County's creation took an act of the Wyoming Legislature to be formed in 1921. Click on this link for more on this history: Teton County turns 100 years old (buckrail.com, Feb. 19, 2021)
---
Emergency Rental Assistance Program (posted 2/20/2021)
In planning phase
Wyoming Department of Family Services
The Department of Family Services (DFS) and the Department of Workforce Services (DWS), alongside the Wyoming Legislature, other state agencies, and community partners, has initiated the planning phase for the Emergency Rental Assistance Program (ERAP).

Governor Gordon signed Executive Order 2021-02 on February 8, 2021, directing DFS to begin the work on the ERAP. Although the exact reach of the program still needs to be defined by the United States Treasury, the program should help Wyoming residents with rental assistance, maintaining safe housing, and avoiding evictions and past due utility bills due to the negative effects of the COVID-19 pandemic.

DFS Director Korin Schmidt says, "We know the COVID-19 pandemic continues to hit some Wyoming residents and small businesses particularly hard. We value keeping families safely in their homes and are excited for the opportunity to administer this program which will provide needed financial support to tenants and landlords."

Renters applying for the program may be eligible for rental payments, both past-due and ongoing bills, for up to fifteen (15) months total. Bills must be for services between March 13, 2020, and March 31, 2022. Utilities and home energy costs which may be covered include water, sewer, trash, electric, gas, and fuel oil/propane. Telephone, cable television and internet are not included under current federal guidance. Under federal law, homeowners and commercial properties are not eligible for this program.

For more information, including a list of frequently asked questions, and to sign up for email updates, please visit the DFS website here.

If you have suggestions on how the program should operate, your input is encouraged. Please email suggestions to RentalAssistance@wyo.gov. For information on other assistance that may be available in your area, please continue to contact Wyoming 211 by dialing 2-1-1.

---
National weather issues affecting COVID-19 vaccine shipments (posted 2/19/2021)
No vaccine shipments expected to Wyoming this week
Wyoming Department of Health
National weather issues are temporarily preventing some shipments to Wyoming and other states of vaccines intended to help prevent future COVID-19 illnesses, according to the Wyoming Department of Health (WDH).

WDH is not expecting any Moderna vaccine doses to be delivered to Wyoming locations this week due to the weather problems in other states. Wyoming was slated to receive 5,700 first doses and 3,700 second doses for its distribution process. Shipments to the Walmart locations currently involved in the Federal Retail Pharmacy Program are also affected.

"At this point, we are awaiting updates from our federal partners about next week's shipments," said Angie Van Houten, Community Health Section chief with WDH.

"Unfortunately, while we don't have details available, we expect distribution plans and appointments in many of our counties may be affected in the coming days," Van Houten said. "As we get more information from the national level, we will let our county and healthcare provider partners know what they can plan to receive and when."

"While availability of vaccine compared to current demand has been an ongoing issue, it's frustrating to face this issue right now," Van Houten said. "We have to ask people to stay tuned for state and local updates."

As efforts to provide free, safe and effective vaccinations continue, more than 93,000 residents have received their first dose so far when state and special federal counts are combined. Each of the currently authorized COVID-19 vaccines requires two doses for maximum effectiveness.

Because some of the affected vaccine shipments included second doses, Van Houten noted individuals who are delayed in receiving their second dose can still receive the vaccine when it is available. "There will not be a need to 'start over,'" she said.

Vaccine distribution details and pre-registration options for each county can be found at here.

Those unable to visit the website for county-specific information or to pre-register can call the WDH toll-free vaccine phone line at 800-438-5795.

More information about vaccination efforts in Wyoming can be found here.

More details about COVID-19 vaccines, including safety information, from the CDC can be found here.

More information about COVID-19 in Wyoming can be found here.

---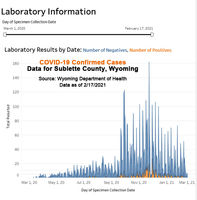 Cases of COVID-19 have dropped significantly in Sublette County since the surge in November. Most tests have come back negative for the virus. In this graphic, blue is negative, orange is positive for COVID-19. Graphic from the Wyoming Department of Health.

Sublette COVID-19 update – Feb. 17, 2021 (posted 2/17/2021)
8th day with no new cases in Sublette County
Pinedale Online!
According to the Sublette COVID-19 Task Group, active COVID-19 cases are trending downward statewide, with less than 750 active cases. Today, Sublette County has 2 active cases, with 660 recoveries, and 7 deaths, for a total of 669 cases since the pandemic began.

Sublette County had only 2 new COVID-19 cases last week, down substantially from the 17 cases the week prior. This is the lowest number of active cases in Sublette County since August 2020.

The Wyoming Department of Health reported 15 additional coronavirus-related deaths on Monday, bringing the state's total to 662.

Click on this link for more graphs.

Related Links:
www.sublettewycovid.com Sublette COVID-19 Task Group webpage

---
Funding Wyoming's K12 Educational Program (posted 2/16/2021)
Albert Sommers, House District #20 Representative
In Wyoming newspapers recently, articles related to K12 education funding have referred to our "Cadillac education system," and have quoted a Legislator claiming that "Everything we cut out of every agency, every program – mental health, substance abuse treatment, tax exemptions for veterans, home health care for seniors – all that money we cut just flows right into K12 education".

Let me address the last statement first. We have a $300 million annual deficit in K12 education funding, but Wyoming's "Rainy Day" account, the Legislative Stabilization Reserve Account (LSRA), is the backstop for education funding. When traditional revenues for K12 education are insufficient, we make up that shortfall by utilizing our savings, the LSRA. Wyoming is not cutting mental health services or any agency of state government and putting that money towards education funding. This statement is simply not true. We can't blame education funding for the reductions happening to the General Funded state agencies. Wyoming does have a shortfall in education funding, we are eroding our savings, and we need to solve this challenge before our savings are gone.

As to the first statement, a "Cadillac education system" implies that we are driving a luxury model, but I disagree. School finance in Wyoming has a long, complicated history that includes five significant supreme court decisions, with subsequent efforts by the Legislature to ensure that Wyoming's K12 funding remains cost-based, while providing an adequate/equitable education to every child in Wyoming. The State of Wyoming lost parts of four Supreme Court cases because the state either refused to provide an equitable funding model (Washakie decision), or refused to provide adequate K12 funding (Campbell decisions). The Wyoming Supreme Court found that the State was NOT meeting its Constitutional mandate to our children in four different decisions. Finally, in the 2008 Campbell IV decision, the court ruled that "the legislature has in place a thorough and efficient educational structure funded from state wealth as required by our state constitution."

Due to these court decisions, the Legislature goes through a process every five years to ensure that K12 funding remains adequate and equitable, or put more simply, remains constitutional. This legislative process is called Recalibration, which means the Legislature is to recalibrate the funding model based upon current information. Wyoming hired a consultant firm, Picus and Oden, during the 2005 Recalibration effort, and their funding model, with modifications, has been utilized to fund K12 education from that date forward. Picus and Oden identifies the elements of an adequate/equitable model and how much these elements cost, and then these consultants provide the Legislature with a model they believe meets the constitutional standard that the Wyoming Supreme Court required. This model is provided to school districts as a block grant, which means local school boards can determine the best way to utilize those funds based upon local priorities. Initially in 2005, the Legislature funded the modified Picus and Oden model more richly than the consultants recommended, and this lasted through 2017. However, in 2018 the resources provided by the Legislative model dropped to the level of the consultant's (constitutional) model. In essence, since 2018 we have arguably been funding education at its constitutional level. You can call this funding system a Cadillac, an F-350 or whatever you want, but this is the vehicle the Supreme Court mandated Wyoming to drive.

In 2020, the Legislature fulfilled its obligation by conducting a Recalibration of the K12 funding model, utilizing the same consultants, Picus and Oden, who have provided Wyoming a constitutional model since 2005. After months of study by multiple consulting firms, Picus and Oden produced their new Evidenced Based funding model. This new Evidenced Based Model would cost the State about $21 million more than the current Legislative Model. Further, in their official report, Picus and Oden wrote, "The revenue declines have challenged the Legislature. And by extension, our team of researchers have searched for the most cost-effective options to provide the elements of the basket of goods and services." When pressed in committee, the consultants stated that their model provided the most cost-efficient means of providing a constitutional K12 funding model for Wyoming. Picus and Oden view their model as the minimum needed to provide an adequate/equitable education to every child in Wyoming.

I served as co-chairman of the Recalibration Committee and we passed HB61 as a vehicle to start a discussion in Wyoming about K12 funding. The bill reduces the current Legislative Model by $100 million (6.5%) and references a Sales Tax for education. Can the Legislature reduce K12 funding below what the consultants recommend and remain constitutional? Perhaps. Can the Legislature cut the entire $300 million shortfall (20%) from education funding and maintain a constitutional K12 funding system? Absolutely not. There is more than one solution to this education funding shortfall. My solution would be to reduce spending, divert some streams of money headed for savings, continue to spend from the "Rainy Day" fund and impose a one cent sales tax for education that would go into effect only after the "Rainy Day" fund is reduced to $650 million. When or if this "penny for education" is implemented, it will be important to protect local government's sales tax options. I would hope the Supreme Court would view a comprehensive solution favorably, but that is up to them.

I will not support efforts to downgrade the constitutional priority of education through amendments to Wyoming's Constitution. Roughly, 92,000 children are served by nearly 19,000 employees in over 300 schools in nearly every town in our state. In my opinion, education is the most important service that government provides to its citizens. Our Supreme Court stated in Campbell II(2001), "In addition to holding the constitution requires an equal educational opportunity for all Wyoming children, this court, in Campbell, held our constitution commands the legislature "to provide and fund an education system which is of a quality 'appropriate for the times'" and that command goes well beyond simply allowing the legislature to dispense a minimal level of elementary and secondary education and then fund it as best it can amidst other competing priorities. Supporting an opportunity for a complete, proper, quality education is the legislature's paramount priority; competing priorities not of constitutional magnitude are secondary, and the legislature may not yield to them until constitutionally sufficient provision is made for elementary and secondary education."

Respectfully,
Albert Sommers
HD #20

---
Presidential executive orders affecting schools (posted 2/16/2021)
Jillian Balow, Superintendent of Public Instruction in Wyoming
President Biden has approved many executive actions (orders, directives, memoranda, proclamations, etc.) that concern schools, students, and families. Below is a summary of the major education-related actions:

• Pausing Federal Student Loan Payments (January 20) -- at the President's request, the Acting Secretary is extending the pause on both federal student loan payments and collections from January 31, 2021, to September 30, 2021, and maintaining the interest rate at 0%.
• Executive Order on Preventing and Combating Discrimination on the Basis of Gender Identity or Sexual Orientation (January 20) -- extends federal non-discrimination protections to the members of the LGBTQ community.
• Executive Order on Advancing Racial Equity and Support for Underserved Communities Through the Federal Government (January 20) -- orders agencies to conduct assessments and reallocate resources to "advance equity for all," as well as revokes President Trump's Advisory 1776 Commission.
• Preserving and Fortifying Deferred Action for Childhood Arrivals (DACA) (January 20) -- reaffirms the deferred removal of certain undocumented immigrants brought to the U.S. as children.
• Executive Order on Establishing the COVID-19 Pandemic Testing Board and Ensuring a Sustainable Public Health Workforce… (January 21) -- supports diagnostic, screening, and surveillance testing for schools.
• Memorandum to…Increase Reimbursement and Other Assistance Provided to States (January 21) -- instructs the Federal Emergency Management Agency (FEMA) to reinstate "full reimbursement" from a disaster aid fund to cover personal protective equipment and cleaning supplies to reopen schools.
• Executive Order on Supporting the Reopening and Continuing Operation of Schools and Early Childhood Education Providers (January 21) -- directs the Departments of Education and Health and Human Services to develop guidance for K-12 schools "in deciding whether and how to reopen, and how to remain open, for in-person learning and in safely conducting in-person learning."
• Executive Actions to Deliver Economic Relief for American Families [and Children]…Amid COVID-19 (January 22) -- increases access to nutritious food for as many as 12 million children missing meals due to school closures.

Two additional actions negatively impact education funding for Wyoming and other states with mineral production on federal lands:
• Department of the Interior Order 3395 - Temporary Suspension of Delegated Authority
• Summary of Executive Order "Tackling the Climate Crisis At Home and Abroad"

FAFSA
I am excited to see the rollout of a new FAFSA (Free Application for Federal Student Aid) campaign in Wyoming - more to come. In the meantime, since the 2021-22 FAFSA form became available on October 1, 2020, the completion rate among high school seniors is down 12% compared to the same time last year. Students, educators, counselors, and parents can access resources at StudentAid.gov and via the myStudentAid mobile application using a computer, tablet, or cell phone.

CYBER SAFETY RESOURCE
The Cybersecurity and Infrastructure Security Agency (CISA) launched a Reduce the Risk of Ransomware campaign to raise awareness about the dangers of ransomware among schools and other organizations that hackers have particularly targeted.

---
Scam Alert - COVID-19 vaccine demand can lead to fraud (posted 2/16/2021)
Wyoming Department of Health
The Wyoming Department of Health (WDH) is warning residents to be on alert for suspicious, potentially fraudulent activity as efforts to help prevent COVID-19 deaths and illnesses by providing free, safe and effective vaccinations continue.

"We are hearing about unexpected calls going to residents from people falsely claiming they represent a local health department or the Wyoming Department of Health," said Michael Ceballos, WDH director. "The callers go on to request payment or personal details such as social security numbers."

"We want to remind everyone that COVID-19 vaccines are free o those who are getting them and insurance is not required. No one should be asking you for payment to get a shot or to make an appointment. Vaccines are not typically being given in homes and there is no payment option to get ahead in line. Your social security number is not needed and should not be given over the phone to someone who calls you unexpectedly," Ceballos said.

Ceballos noted some people may be asked to show Medicare or insurance cards at their vaccine appointments only so professionals giving shots can get reimbursed.

"It's also important to ensure you are on the right website if seeking vaccine information or appointment details," Ceballos said.

Official vaccine distribution details and pre-registration options for each county in Wyoming can be found at https://health.wyo.gov/publichealth/immunization/wyoming-covid-19-vaccine-information/county-covid-19-vaccine-information/.

Those unable to visit the website for county-specific information can call the WDH toll-free vaccine phone line at 800-438-5795.

Important reminders about COVID-19 vaccines include:
- The currently authorized vaccines require two doses for maximum protection.
- For most people it is best to receive vaccines in the county where they live.

Scams related to COVID-19 vaccinations should be reported to the Consumer Protection Unit in the Wyoming Attorney General's office by calling 307-777-6397, emailing ag.consumer@wyo.gov, or submitting formal complaints (available here).

More information about vaccination efforts in Wyoming can be found at https://health.wyo.gov/publichealth/immunization/wyoming-covid-19-vaccine-information/.

More details about COVID-19 vaccines, including safety information, from the CDC can be found at https://www.cdc.gov/coronavirus/2019-ncov/vaccines/index.html.

More information about COVID-19 in Wyoming can be found at https://health.wyo.gov/publichealth/infectious-disease-epidemiology-unit/disease/novel-coronavirus/.

---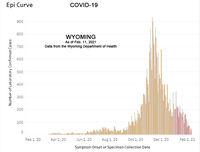 COVID-19 cases have dropped significantly across the state of Wyoming. Data as of February 11, 2021. Graph from Wyoming Department of Health.

Restrictions on group gathering sizes for Wyoming COVID-19 relaxed a bit (posted 2/11/2021)
New orders in effect from Feb. 15-28
Governor Mark Gordon media release
Governor Mark Gordon announced a continued relaxation of health orders as data from most Wyoming counties shows declines in both case counts and hospitalizations.

Beginning Feb. 15 attendance limits for indoor and outdoor gatherings will increase, reflecting the state's progress in its fight against COVID-19. Indoor gatherings that incorporate social distancing and face coverings are permitted for up to 25 percent of capacity or 500 persons, and outdoor gatherings of up to 1,000 persons. In addition, sporting events, artistic performances, restaurants and gyms all will see capacity limits eased.

"We are making good progress against this virus. Levels are returning to where they were before the dangerous spike in November and some counties have lifted restrictions. This is good news thanks to Wyoming's people," Governor Gordon said.

"At the end of this month state wrestling, and shortly afterwards state basketball tournaments will happen. We want to ensure these events happen safely and successfully for the athletes, families and communities involved," he added. "Our trends are encouraging and our vaccination effort is progressing smoothly. These orders allowing larger groups and more capacity will lift up small businesses, keep schools open and get us closer to normal."

Counties can still opt out of the requirements if local conditions move to safer levels in accordance with state metrics. Health officials are regularly reviewing variance requests for specific events.

"Spring is coming and doing the right things now will allow us to have more people attending these events, have more people in restaurants and bars, and allow us to look forward to further easing our protocols," the Governor said.

Governor Gordon praised Wyoming's efficient COVID-19 vaccine distribution rollout. Currently more than 11% of the state's population has received at least one dose and the state is doing very well at administering these initial doses. Additionally, all of Wyoming's long-term care facilities have had vaccine clinics for residents and staff. All Wyoming counties are now in phase 1b of the phased distribution plan, which includes adults 65 and over and frontline essential workers. Wyoming vaccine distribution information can be found here.

The orders are in effect from Feb. 15-28 and can also be found on Wyoming's COVID-19 website.

---
Western reopens for in-person instruction in Spring 2021 semester (posted 2/10/2021)
Western Wyoming Community College
ROCK SPRINGS, WYOMING - Western Wyoming Community College opened for business on January 6, 2021. In order to mitigate the spread of COVID-19 on campus, and continue in-person coursework, the College has implemented several new practices to its existing reopening plan.

Both Western and Green River Center are operating at a Level Two, under the COVID-19 reopening levels designated in the Fall of 2020. The levels are subject to change based on positive case volume, Governor Gordon's orders, and other safety factors.

The Spring Academic Calendar was revised and the first few weeks of the semester were conducted virtually. Students will return to campus for in-person coursework on February 15, 2021. The new calendar was designed to best meet learning outcomes and safety requirements. Note that there will not be a Spring Break holiday this year, due to the potential risk of virus spread as people tend to travel during that time. In doing this, Western hopes to have an in-person graduation on May 8.

The updated academic calendar does not impact the Green River Center or Workforce courses.

Western has begun conducting surveillance testing for students living in the Residence Halls as well as for student-athletes and athletic staff. Students are tested upon arrival to the Residence Halls and continue to be tested on a weekly basis. To date, Western has conducted 744 surveillance tests with a 3% positivity rate.

Residents who are in quarantine or isolation are safely provided for by housing staff, including no-contact meal service and laundry. Housing staff communicates with these students daily to check on their health status and ensure their needs are being met, including academically.

Mustang Athletics will compete in Basketball, Volleyball, Women's Soccer, and Wrestling during the Spring semester. The teams are complying with local, county, and state regulations and recommendations as well as those set forth by Region IX and the NJCAA to implement proper health and safety measures. In addition to sanitization protocols, Mustang Athletics conducts daily symptom checks and temperature checks and are social distancing as much as is possible.

Updated calendars of contests can be found on the Mustang Athletics page.

"We are looking forward to having our students back on campus again for the Spring semester. I am very proud of the work we did as an institution to keep each other safe, and the campus open last semester. I hope to see the same level of care for one another in the coming months," stated Mark Rembacz, Western's COVID-19 Crisis Taskforce lead.

Community members who wish to use Western's facilities can submit a usage request on Western's website. Requests are subject to approval by Western's Vice President for Administrative Services.

For the latest COVID-19 information as it pertains to the College, visit the COVID-19 Dashboard or the coronavirus updates page.
---
Business Directory
Click here for
Advertising Information