Hatch Report
September 25 , 2001

Water Levels are LOW
The Green River is LOW. The fishing remains good, but the floating is about over for this season. The river is currently running 140 cfs. At Warren Bridge, this flow should hold through the remainder of the year. On nicer afternoons, Hoppers are still hatching, and trout are looking up. Each day is different with these weather patterns that we have been having. Nymphing is good anytime; trout are feeding well under the surface. Try a soft hackle pheasant tail and a prince nymph in the 14 to 16 ranges. There are also Brown Stones hatching on the warmer afternoons, so nymphing with brown stone fly patterns in the 8 to 10 range is working well.
The New Fork is picking up again, there are a few Brown starting to move up and stage their spawn. The fishing behind the Airport is about the best. Try the same patterns I mentioned for the Green. The Kokanee are few and far between this year here but they are plentiful below Fontenelle Reservoir on the Green.
The lakes in the valley are turning on good with our cooler fall weather. Boulder Lake has nice Rainbows feeding on the surface for Calliabaites, and they are also taking Muddler Minnows just under the surface. Soda Lake has picked up also; the Browns are taking Platte River Specials as well as Orange Blossum Specials. Calliabaites are hatching on the warmer afternoons as well on Soda.
Remember a Trout was meant to be caught more than once.

This report will be updated as often as the bugs change, so we change it weekly throughout the summer months.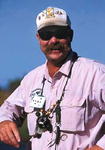 Save some fish for the next angler!
Tight Lines,
John Ross
P.S. If you have a good fish story, or any questions on fly fishing, e-mail me at 2rivers@trib.com. I always like to hear about the big one that got away!