Health Fair Blood Draw in Pinedale (posted 8/5/2022)
Sublette County Public Health
Sublette County Public Health, in cooperation with Wyoming Health Fairs. is excited to announce dates for our Health Fair Blood Draw in Pinedale.

Pinedale Health Fair Blood Draw:
Tuesday, August 30th 6—10 AM
Wednesday, August 31st 6—10AM
Thursday, September 1st 6—10AM

Location:
Rendezvous Pointe Senior Center
425 East Magnolia Street
Pinedale, WY

Appointments appreciated—walk-ins welcome. Please schedule your appointment @
https://wyominghealthfairs.com/appointments (Click on Yellow Pinedale Dot) or call Public Health at 307-367-2157 for assistance with registration.

Continued Services with Wyoming Health Fairs:
• Expanded list of blood screenings available—see flyers for tests & pricing (flyers available at the Public Health Office or Senior Center).
• Wyoming Health Fairs is a preferred provider for Blue Cross/Blue Shield. WHF will submit the claim for you (you will be responsible for any claims not paid by your insurance plan).
• Wyoming Health Fairs accepts all forms of payment—check, credit/debit cards, HSA. WHF will prepare an itemized bill for you to submit to insurance for reimbursement (if requested).
• WHF cannot bill Medicare (or your Medicare supplement insurance plan).
• Online results within 3—5 days, mailed results within 10—14 days

Ongoing Benefits:
• Low cost blood screenings
• Local volunteers/local event
• Community breakfast
• Proceeds benefit local community programs through Public Health Nursing.
• Please call Public Health Nursing at 307-367-2157 for more information.

---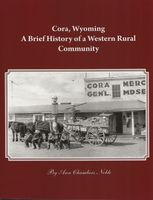 By Ann Chambers Noble

New book on Cora, Wyoming history released (posted 8/4/2022)
The Sublette County Historical Society is excited to announce the publication of their newest local history book, "Cora, Wyoming - A Brief History of a Western Rural Community," by local historian Ann Chambers Noble.

The Cora, Wyoming townsite was listed on the National Register of Historic Places in 2017. The basis of this book is the history collected for the nomination, with additional local history added for this publication. There are many color photographs and documents included. It is soft cover with 44 pages and has 58 pictures. The book is available in the gift shop at the Museum of the Mountain Man in Pinedale or can be purchased through their online gift shop, www.mmmuseum.com. Cost is $20.

Author Ann Chambers Noble lives in Cora with her husband, a great grandson of James M. Noble. They raised their four daughters on parts of the original family homesteads. Ann received a B.A. in history from Bowdoin College in Brunswick, Maine, and an M.A. in history from the University of Utah. She is the author of several books about Wyoming history. Ann is on the Wyoming State Review Board for the National Register of Historic Places.

Review Comments:
"Wyoming's Upper Green River Valley was settled by homesteading cattle and sheep ranchers. Distances between the homesteads were significant, and travel was challenging on the unimproved wagon roads. Small communities offering a post office, store, and school were vital to the land-locked ranchers. In the Valley's 140-year history, approximately thirty-seven small communities existed throughout this vast area. Cora was one of these communities.
Cora has survived to the present and stands as the oldest remaining unincorporated community in Sublette County. It has survived through a move, literally, buildings and all, the Great Depression, the transition to motorized travel, two world wars, economic competition from other towns, and two attempts to close the post office by the United States Postal Service. It has survived because there has always been a dedicated property caretaker – and because there has always been a community.
In 2017, the Cora Townsite was listed on the National Register of Historic Places. This was made possible by the Sublette County Historic Preservation Board who asked local historian, Ann Chambers Noble, to write the nomination. Much of that history is presented in this publication. This is about Cora, and more. It's a great story of a typical small, rural, Wyoming community that has survived for 130 years."
– Clint Gilchrist, President, Sublette County Historic Preservation Board

"Listed on the National Register of Historic Places in April, 2017 the Cora Townsite was the center for economic and civic activity for the surrounding area. More importantly it was the center for people to come together and share stories and hardships, to talk about news and current events, and to help look after one another. The story of the Cora Townsite is seen in numerous communities across the rural West."
-Brian Beadles, Deputy State Historic Preservation Officer, Wyoming State Historic Preservation Office
______________________________________________

The Sublette County Historical Society is a non-profit organization that runs the Museum of the Mountain Man in Pinedale, the Sommers Homestead Living History Museum, the Lander Trail-New Fork River Crossing Historical Park, and Trappers Point Historic Monument in Sublette County, Wyoming.

---
Talk on ancient Christianity August 23-26 in Pinedale (posted 8/2/202)
Have you ever wondered what happened to the early church? Everyone is invited to a free, four-evening seminar to explore and investigate ancient Christianity, Tuesday through Friday, August 23-26 in Pinedale. Each night will have a talk followed by a question and answer session. Each presentation will build on the previous one. There will be a refresher at the start of Wednesday through Friday sessions.

The public is welcome to come each night or any night that works for you. Tuesday and Wednesday will be from 6-9PM in the Lovatt Room of the Pinedale Library. Thursday and Friday will be 6-9PM in Sublette County School District #1 Board Room, 665 N Tyler Ave. Refreshments will be provided.

According to the webpage for this event, the Orthodox Church Pinedale is a satellite mission of the Serbian Orthodox Church. Their home parish is Holy Trinity Orthodox Church in Butte, Montana. For more information call 307-342-9762 or go online to www.orthodoxchurchpinedale.org.

---
Obituary – James T. Noble (posted 8/2/2022)
James T. Noble passed away on July 26, 2022 at his home in Cora, Wyoming, at the age of 88. While there were many times that we thought we were going to lose Jim along the way, but he always proved us wrong. He lived through five heart attacks, a near amputation of his leg, cancer, being mauled by crazy mama cows, and many horse and four-wheeler wrecks. He pulled through each of these disasters without a single complaint and when asked how he was doing, would reply "it will feel better when it quits hurting." Jim was the "ultimate healing machine" in part, due to the great care administered by his loving wife Margret.

Jim was born August 2, 1933, in Rock Springs, Wyoming, son to Carroll R. & Christine A. Noble. He grew up on the Noble Ranch in Cora where his great-grandfather had settled in 1889. This was where he learned the values of hard work and determination that helped him succeed in many endeavors throughout his lifetime.

Times were hard in Jim's youth. Depending on what weather Wyoming threw at him, he would ride horseback, ski, or take a team and sled to make it to the one-room schoolhouse in Cora, just a little over a mile from the Noble Ranch. Jim described himself as a bit of a troublemaker; from dipping girls' braids in the inkwell to arriving at school smelling like a skunk, thus earning him the nickname "Stinky". One girl made sure that Jim carried this nickname all the way through high school. However, karma was on Jim's side and the girl got sprayed by a skunk on her prom night! As a teenager, Jim bought his first car, which was a big deal at the time. He became a 3-sport athlete participating in football, basketball, and track. There was no school transportation in those days, so he and the coach drove most of the team to and from all of their events. One winter after returning from a basketball game, Jim fell asleep at the wheel near New Fork Bridge by the Ehman Lane turnoff and ran off the road. There were no seatbelts, so he was thrown from the car. He woke up the next morning on the highway with an enormous goose egg on his head, pulled out the dents from his fender and drove home just like any other day!

Jim graduated from Pinedale High School in 1951, joined the Army in 1953 and served in Korea until 1955. When asked about his time in Korea, Jim remembered it as being the coldest damn place on earth!

Soon after returning to Cora, he met Margret Skorcz who was working at the Pinedale Inn for the summer of 1955. They were married June 3, 1956, in Our Lady of Peace Catholic church in Pinedale. They lived and worked at the Noble ranch until 1960 when they bought land from Harry Rahm and named it the Bootjack Ranch.

Jim's life philosophy was work hard and play hard. In his free time Jim could be found in the mountains, on the desert, or at the lake. One time in the early 70's he had a weeklong pack trip planned with family and friends before haying started. They headed for Big Flat Top to start the trip. On rain slick dirt roads, they slid off a corner in the stock truck and dumped nine horses everywhere. The passengers were stacked on top of each other and had to climb out the driver's window. Most people would cancel their trip at this point, but Jim caught the horses, packed them with gear and sent everyone up the road on the pack trip. Jim got the truck back on its wheels, then rode into camp late that evening! He dealt with challenges as part of the adventure and they made his stories all the more memorable. Lake time was spent at New Fork with family and friends, best known as "The Wild Bunch". Jim was an avid water skier and taught anyone and everyone that wanted to learn. When the high lakes were frozen, he would meet his good friends, the Borzeas and the Warbys, on Big Sandy Reservoir for an icy Easter water skiing weekend.

During winter months, Jim spent time snowmobiling with family and friends. In 1968 Jim and Margret were part of a group of nine snowmobilers from Pinedale to break trail into Yellowstone National Park and spend the night at Old Faithful. At this time, there were no people, no accommodations, no restrictions; it was a winter wonderland of breathtaking beauty. When they arrived at the lodge, there were 2 rangers and a caretaker. They asked if they could spend the night at the lodge, to which the forest rangers said, "NO". After the rangers skied away, the caretaker got to talking with the group and told them about his broken down Evinrude snowmobile in a shed. Fred Boyce and Perry Binning were Evinrude dealers at the time. In exchange for allowing them to stay in a cabin, the group of friends: Fred, Perry, Charlie Raper, and Jim stayed up most of the night and completely rebuilt his snowmobile. The poor guy had been marooned in the park all winter, so they left him with a working machine, a case of beer, and a huge smile! Overall, Jim was an avid snowmobiler and even competed in many cross-country races. In 1976, Jim's three-man snowmobile team placed first in the 200-mile race from Dubois to Pinedale and back to Dubois.

Jim was a part owner of a Cessna 182 which he loved flying and took to many meetings. One meeting in Cheyenne he was accompanied by a 17-year-old John Buyer who was eager to fly anywhere. It was storm with zero visibility on the way home. John remembers their plane wheels practically touching the sagebrush next to I-80 and Jim looking over at him with a big grin asking, "Are we okay?" John nodded confidently and said "yeah", but in later years marveled at their good luck! That was how Jim operated: always cool, confident, and fearless. Jim soon learned that owning a plane was a hole in his pocket and not really faster if you were always grounded due to bad weather. After all, the cows needed fed every day.

Jim not only loved ranching; he was also very active in community affairs and spent his life contributing to the causes he believed in. He served 2 terms on the school board, six years on the Rural Health Care Board, was on the Wyoming Water Development Commission, President of the Wyoming Wildlife Federation, part of the grassroots committee that stopped the Atomic Energy Commission's Wagon Wheel Project, was a commissioner for the New Fork Lake Irrigation District for 35 years, served as Commander and Adjutant for many of his 67 years as a member of the American Legion, and spent 5 years on the University of Wyoming's Water Resources Center Board.

His true passion and life mission began in 1976 when his father Carroll suffered a stroke and there was no long-term nursing care available in Sublette County. Jim worked tirelessly on the planning and creation of the Sublette County Retirement Center, now known as the Sublette Center. He wanted a place where all Sublette County residents would be able to see their loved ones receive medical care close to home. The Sublette Center was dedicated in 1982 and Jim served on their board as chairman and treasurer for the next 23 years.

In later years, Jim's happiness was found in his backhoe plowing snow, driving his side by side, and watching his children and grandchildren grow up to be part of the community. He was even fortunate enough to become a great grandfather.

Jim is survived by his wife Margret, his four children: James Mark (Susan), Carroll Annette Werbelow, Thomas Lars, and Zachary Michael (Deb), his seven grandchildren: Valerie Lynn Werbelow, Martin Lewis Werbelow, Scott Michael Noble, Reese Cora Noble, Hailey McCoy Noble, Brooke Ann Noble, Heather Thomas Noble, and one great grandchild Bennett Lane Brown all of which currently reside in Pinedale or Cora, Wyoming. He was preceded in death by his parents: Carroll R. and Christine A. Noble, his brothers Carroll Lester "Mike" and Richard Roy "Dick" Noble, and his sister Lilian Ida "Pat" Pearson. Services were held on July 30th, 2022. In lieu of flowers, donations can be made to the Sublette Center, PO Box 788, Pinedale, WY 82941.

---
Movie Night at the Green River Valley Museum Aug. 12 (posted 8/1/2022)
UPDATE: Note the date has changed for this event from August 5th to Friday, August 12th The Green River Valley Museum invites everyone to the Museum on Friday, August 12th for Movie Night. The show will be 'The Searchers,' featuring John Wayne. The movie will be at 4:00PM in the back building. Snacks will be provided.
---
Garden of Beauty #3 – Robyn Schamber (posted 8/1/2022)
Sage & Snow Garden Club
Robyn and Greg Schamber on South Bench Road near Pinedale take great pride in beautifying their spacious landscape so the Sage and Snow Garden Club awarded them its third Garden of Beauty Award. Their yard is surrounded by beautiful flowers, trees, and shrubs, including cotoneaster, lilacs, chokecherries, willows, gooseberries, raspberries, rhubarb, strawberries, and hanging baskets and pots of flowers fill in the gaps. Their large hoophouse is brimful with celery, broccoli, carrots, squash, peppers, tomatoes, corn, potatoes, onions, and salad greens.

The Schambers have installed a drip irrigation and sprinkler system on timers to efficiently water all their trees, shrubs, flowers (including the hanging baskets), and hoophouse plants, a feat alone that deserves recognition.

Robyn served as the coordinator for the Sublette County Extension Office for many years. She was respected and admired for guiding many 4-H kids to success at the county and state fairs. Now, in her retirement, Robyn spends time at home practicing the skills she shared with others for many years.

---
Sage & Snow Garden Club tour & dinner Aug. 6 (posted 8/1/2022)
Sage & Snow Garden Club
The Sage and Snow Garden Club will host its annual Garden Tour and Dinner on Saturday, August 6, featuring three local gardens. The tour will begin at 1:30 p.m. and the first stop and will end with dinner at the third stop of the tour. The public is invited to attend all or part of the tour and dinner, and there is no charge for the event. The tour is a great opportunity for gardeners and prospective gardeners to see some unique and beautiful gardens and to ask questions of other gardeners. Folks new to the community are especially welcome to learn about gardening and landscaping in our challenging growing environment. The tour will feature raised beds, in-ground garden beds, a greenhouse, beautiful trees and shrubs, and plenty of flowers. Sage and Snow Garden Club is celebrating its 40th anniversary this year and has been hosting garden parties, teas, and tours since its inception.

The first stop commences at 1:30 p.m. at the home of Ruth and Gary Neely, 75 Fox Willow Drive, Pinedale. Their yard will showcase interesting and unusual trees and shrubs, a wildflower garden, flowers, raspberry bed, and an in ground vegetable garden. Refreshments and cold drinks will be served at this stop on the tour.

At 2:30 p.m., the tour will move to the home of Laurie and Mike McClain at 7 Faler Lane, near Pinedale. The McLain's have built several raised beds for growing vegetables and herbs, a greenhouse for warm-season vegetables, and pollinator-friendly flower beds.

At 3:30 p.m., the tour will move to Dorothy and Wayne Fornstrom's gardens at 38 Granite Lane, Pinedale. Their yard is full of trees, shrubs, flowers, vegetables, and a wildflower garden. At 4:30, Sage and Snow members will serve a pulled-pork dinner with delicious salads and cakes in the Fornstrom gardens.

Come and celebrate 40 years of gardening in Sublette County with the Sage and Snow Garden Club!

For questions about the tour, contact Arlinda McLaughlin at 307-367-2791, text at 307-231-9402, or email at kmclaughlin@centurytel.net.

---
Sample Ballots for 2022 Primary Election (posted 7/26/2022)
Sublette County, Wyoming
Below are links to PDFs of the sample ballots for Sublette County 2022 Primary Election:

Democratic Ballot:
same for most precincts

Republican Ballots Precincts:
1-1 Pinedale
1-3 Pinedale West
1-4 Boulder
2-1 Big Piney
2-2 Marbleton
4-1 Cora
4-2 Daniel
5-1 Bondurant

Election Day is Tuesday, August 16, 2022. The purpose of the Primary Election is to determine the candidates from each party who will compete in the General Election in November. If you have not already registered, you can register at the polls on Election Day. Bring valid government ID with you. You can also change your party affiliation at the polls if you wish on Election Day. Polls will be open from 7AM to 7PM on August 16th.

Early voting is going on now at the Sublette County Courthouse. Bring valid ID with you.

In order to register to vote, you must meet the following qualifications:
o Be 18 years of age or older on election day
o Be a U.S. Citizen
o Be a resident of Wyoming and the precinct in which you register
o Withdraw voter registration from any other jurisdiction, if applicable
o Present a valid Wyoming Driver's License if you haveone and if not, provide the last four digits of your Social Security Number
o Not been convicted of a felony, or if convicted, has had civil or voting rights restored
o Not adjudicated mentally incompetent

Sublette County Polling Places on Election Day:
Pinedale 1-1: the Commons at the Pinedale Wrangler Gymnasium, Pinedale
Pinedale West 1-3: The Commons at the Pinedale Wrangler Gymnasium, Pinedale
Boulder 1-4: Boulder Community Center, Boulder
Big Piney 2-1: Southwest Sublette Senior Center, Marbleton
Marbleton 2-2: Southwest Sublette Senior Center, Marbleton
Cora 4-1: Daniel Schoolhouse, Daniel
Daniel 4-2: Daniel Schoolhouse, Daniel
Bondurant 5-1: Bondurant Schoolhouse, Bondurant

Local results will be posted here on Pinedale Online as well as broadcast on KPIN 101.1 FM Radio.

Visit the Sublette County website at www.sublettewyo.com for additional information from the County Clerk regarding the election process and candidates.

---
Bondurant Heritage Days Rummage Sale August 13 (posted 7/25/2022)
The Bondurant Community Club will host their annual Heritage Days Rummage Sale on Saturday, August 13th from 9AM to 2PM. There will also be baked goods and craft items for sale. Chili served for a small fee. Drop-offs can be taken to the Bondurant St. Hubert the Hunter Church the three days before the sale from 9AM to 1PM. Please, no big heavy furniture, appliances or electronics. Items should be in good working order. Crafters can have space for $20 – bring your own table, chair and sunshade canopy. Funds go to the Bondurant Community Club in support of the church and library. For more information, contact Alice Jacobson, 619-723-6769 or Carol Gabbard, 859-200-3080.

Related Links
www.bondurantwyoming.org Bondurant Community Club

---
Local Services:
Abortion Alternatives
Accounting & CPA
Apartments/Townhomes
Arts & Entertainment
Attorneys & Legal
Auction Services
Automotive
Aviation Services
Banks & Financial
Bars
Beauty Salons
Bed & Breakfasts
Boating
Bookkeeping
Builders & Contractors
Building Material
Business Services
Cabins
Cellular
Child Care
Churches
Cleaning Services
Clothing
Commercial Art
Computer Supplies
Condos
Consultants
Convenience Stores/Fuel
Convention/Meeting
Dentists
Dining
Dry Cleaning
Events
Fabric & Crafts
Fencing
Fishing
Flooring
Food & Drink
Funeral Homes
Furniture
Gifts/Western
Government
Graphic Design
Grocery & Market
Guest Ranches & Lodges
Handyman Services
Hardware & Feed
Heating
Health Care & Medical
Horseback Adventures
Insurance
Interior Design
Internet/Web/Advertising
Landscaping
Laundry
Liquor Stores
Lodging
Log Homes
Marketing
Massage Therapy
Modular Homes
Motels
Mountain Biking
Movie Theaters
Museums
Nails
Newspapers
Office Supplies
Oil Field Services
Optometrists
Organizations
Outdoor Equipment
Outfitters & Guides
Packaging & Shipping
Painters
Pet Stores
Pharmacies
Photography
Plumbing
Professional Services
Radio
Real Estate Agencies
Real Estate-FSBO
Remodeling
Retirement
Retreats
RV Camping
Schools
Scrapbooking
Septic Services
Skiing
Snowmobiling
Snow Plowing
Storage and Storage Units
Tanning
Tattoos & Body Art
Tax Preparation Services
Taxidermy
Transportation/Shuttle
Trash Services
Trucking
Veterinarians
Visitor Services
Wagon Rides
Well Drilling