Whitefish Challenge
The Upper Green River Chapter 469 of Trout Unlimited will be holding their 1st Annual (maube) "Whitefish Challenge" on the Upper Green River at the Kendall Bridge Area on Saturday, September 28, 2002, from 10 am until 2 pm. Trophies will be awarded for the first three places and a year membership to Trout Unlimited will be given to the winners. Each registered participant will receive a raffle ticket for a chance to win a $450 Creek Company one-man pontoon boat. There is a $5 entry fee. Members of the public can register at Two Rivers Emporium in downtown Pinedale at any time. Registration night is at the VFW in Pinedale on Friday, September 20, from 6 to 8 pm. Call 307-367-4131 for more information.
Bear Proof Containers Available on Bridger-Teton NF
The Bridger-Teton National Forest has made bear-proof food storage containers available in Pinedale for several years. These products have been provided to assist forest users with safe food storage practices in the backcountry. Bear-proof panniers and food tubes are available for a small donation of two dollars per day and can be located at the Pinedale Ranger Station for those recreating in the Wind River Mountains. Both simple and effective, these containers meet the needs of packers and hikers heading into the backcountry. Proper food storage can insure a safe, bear-free trip into the backcountry and stop the human-food habituation of bears by preventing them from getting food and other attractants from humans.
Donations collected for the containers are invested back into the program to repair damages and purchase additional containers. Forest officials are presently working to expand the container program into Afton and Jackson, WY to ensure that all local forest
users and incoming visitors have access to the containers. However, quantities are limited and reservations are recommended. For more information on the bear proof container program, contact the Pinedale Ranger District Office at (307) 367-4326.
To meet human safety and bear conservation efforts prescribed in the Bridger-Teton National Forest Land and Resource Management Plan, Forest officials have improved and increased bear-proof facilities available to all forest users in both the backcountry and frontcountry. With bear proof trash facilities and food lockers installed in many forest campgrounds, forest officials are now looking to install meat poles in popular hunting areas and trail-side locations to provide forest users a convenient place to store their food and game meat. If you feel there are areas where these facilities should be installed, please provide that information to your local Forest Service office.
School District #1 Position Openings
Positions open until filled
Sublette County School District #1 is accepting applications for two positions, Construction Manager and a Technology Facilitator. Application should include a letter of application, formal district application, letter of recommendation and resume. For application and more information call the Sublette County School District #1 Superintendent's Office at 307-367-2139 ext 1. More information about Sublette School District #1 is available on the web at www.pinedaleschools.org.
Construction Manager: Candidate must be knowledgeable in construction methods and techniques, in blue print, reading and interpretation; in supervisory principles and practices; and of all the trades and crafts used in general construction. This position is for 8 hours a day and 260 days per year. Yearly salary is $35,000 plus district benefits.
Technology Facilitator: Candidate must be knowledgeable in TCP/IP protocol, 10baseT networking, T568B wiring standards, Windows 2000 domain administration, Windows 2000 Professional Server, Windows 2000 Professional Desktop. This position is for 8 hours per day for 260 days per year at $30,000 per year plus district benefits.

Funeral Services for Doris Luman (9/20/02)
Funeral servics for long-time Sublette County resident Doris B. Luman will be held Saturday, September 21, at 11 am at Our Lady of Peace Catholic Church in Pinedale. A luncheon at Stockman's Restaurant will follow the service.
Pinedale Music Booster Birthday Calendar (9/20/02)
The 46th Annual Pinedale Music Booster Birthday Calendar is once again being made available and here's your chance to get your loved one's birthdays and anniversaries printed on it. The calendar proceeds go to help the Pinedale school vocal and instrumental music programs and defray costs of student's summer music camps. The Music Boosters have helped buy large equipment needed for the music programs and also uniforms for different groups. This summer fourteen students will be traveling to Europe to tour with The Wyoming Ambassadors of Music. The Music Boosters hope to help them out with the cost of this two week musical trip.
The high school choir and high school marching band take turns (every other year) having their picture on the calendar. The calendar picture showcases Pinedale's fall colors and different spots around Pinedale in our picture.
The goal is to have the calendar out before the first of the year, but that depends on how much help the Booster's get putting the calendar together and meeting deadlines when the calendars will arrive for delivery.
Click on the link to get to a printable form (PDF) you can fill out and send in to get your dates printed on the Booster Calendar: Music Booster Birthday Calendar Form
Pinedale School Portraits (9/20/02)
It's that time of year again for the school kids to get their pictures taken! In case your high school or middle schooler forgot to mention that the big day is coming up quick, here's the schedule:
Elementary School: Tuesday, Sept 24th at the Elem library from 8:15 am-12:30 pm
Preschoolers & Homeschoolers: Tuesday, Sept 24th, 3:00 pm-5:30 pm at the Elem library
Middle School: Wednesday, Sept 25, 8:15 am-11:30 am at the Middle School library
High School: Thursday, Sept 26, 8:15 am-11:30 am at the Auditorium
Bondurant Elementary School: Thursday, Sept 26, 12:30 pm at the Bondurant School
Homecoming (9/20/02)
Friday, September 20th was Pinedale High School's Homecoming, but spirit raising has been going on all week. Friday's events included the traditional Homecoming Parade down main street in Pinedale and the Homecoming Football Game against the Cokeville Panthers. Pinedale put up a good fight, but lost.
Food Basket Rummage Sale, through Sept 7th (9/5/02)
The Pinedale Food Basket, located at 104 North Bridger next to the Recycling Center, is holding their annual Rummage Sale from September 3rd through Saturday, September 7th, from 7:30 am until done. The rummage sale is an event that helps raises funds for the Food Basket, which provides food for needy families in the area. Workers are needed to help out with the sale. Please call 367-2815 or Claudie Meyer at 367-4628 for more information. Come to the Rummage Sale and help the Food Basket!
911 Rembrance (9/5/02)
The Museum of the Mountain Man is inviting the public to attend a rembrance program for the one year anniversary of the September 11th attack on the World Trade Center and Pentagon on Wednesday, September 11th at the Museum. The Emmy-award documentary program, "In Memoriam: New York City, 9/11/02" will be shown at 10 am and again at 2 pm. The hour-long program is free of charge and is being presented in collaboration with the American Association of Museums and HBO. For more information, you can contact the Museum of the Mountain Man at 367-4101.
Governor Candidate Dave Freudenthal here (9/5/02)
Democratic governor candidate Dave Freudenthal will be in Pinedale at the Chambers House Bed & Breakfast on Thursday, September 12th at 5:30 pm to visit with Sublette County residents.
Business Workshop in Pinedale (8/28/02)
From the Pinedale Area Chamber of Commerce
On Monday September 16th from 1:00 till 5:00 pm at the Sublette County Library there will be a 4 hour business seminar. This FREE workshop titled, "How Can We Help Your Business Succeed?" will help you with:
* Research
* Financing programs
* Business & technical assistance
* Money to train your employees
* Business training & advice
* Start up & expansion assistance
* Selling to the government
Learn about business development with some of Wyoming's best small business resources that provide free or low cost assistance to Wyoming's businesses. A panel discussion will be followed by one-on-one consultations with the resource agency representatives.
Participating agencies:
* Wyoming Business Council
* Small Business Development Center
* Wyoming Women's Business Center
* Mid-America Manufacturing Technology Center
* WSSI
* GRO-Biz
* Local Economic Development Office
RSVP's are appreciated, but not required. For more information, or to let us know that you plan to attend, contact:
Wyoming Small Business Development Center
800-348-5205 or email bellis@uwyo.edu
Blood Draw for Health Fair (8/24/02)
The Pinedale Medical Clinic will be holding a Blood Draw for the upcoming Health Fair Monday through Friday, September 9th-13th, from 6:30-8:30 am. A 12-hour fast is required, but please continue to drink water. Diabetics should NOT fast, and follow normal regine. All medications should be taken normally as prescribed. Blood test results will be returned at the Health Fair which will be held on Saturday, September 21st during Pinedale Wellness Week. Call 367-2157 or 276-3575 to make an appointment. Cost for tests are as follows:
167 Chemscreen $22.00
PSA (Prostatic Specific Antigen) $24.00
CBC (Complete Blood Count) $16.00
Pinedale Snow Explorers Grass Drags, Saturday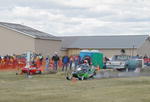 The Pinedale Snow Explorers Snowmobile Club is sponsoring their Snowmobile Grass Drag Races on Saturday, September 7th in Pinedale. The races begin at 9 am behind Rocky Mountain Home Center at the west end of Pinedale. There will be a Drivers' meeting at 8:30 am SHARP on Saturday morning. Pre-registration is recommended and will be at Stockman's in Pinedale on Friday night from 7:30 to 10 pm. A late fee will be assessed for registration the morning of the races. Classes include: Juniors, Stock, Modified Stock and Open Mod. Admission is FREE for spectators. Concessions will be sold at the track. For other race specific details, call Brad Winters 367-2805 or Pat 367-4967, or e-mail the Pinedale Snow Explorers Snowmobile Club at psnowexplorers@excite.com.
Increased Bear Activity
Several reports of black bear encounters and sitings have prompted the Bridger-Teton National Forest to caution the public for the need for food storage efforts when recreating in or living near forested areas. Recent bear activity observed over the past few weeks can be attributed to decreased natural food sources available to bears as they prepare for denning.
Black bears have been reported coming next to habited structures on area ranches, in summer homes in the Fremont Lake Sylvan Bay area, and at Red Cliff Bible Camp in the Upper Green area. Forest Service officials say that bears are trying to fulfill their need for calories before winter are ranging closer to human occupied areas, such as campgrounds and residences.
The status of late summer and all food sources, such as Whitebark pine nuts, are low in some areas of the ecosystem, which may drive bears into new areas as they search for food. Bears are expected to move to low elevation areas, especially river and stream corridors, where moisture and foods are more abundant. Hunters and outdoor recreationists are cautioned to be alert for bears when out hunting.
Boulder Events - Boulder Fire Company Open House & BBQ, Dance
The community of Boulder, 12 miles south of Pinedale, is sponsoring a fun filled day of events on Saturday, September 14th. The Boulder Volunteer Fire Company is sponsoring their 18th Anual Open House and Barbeque at the Boulder Fire Hall from noon until everyone is ready to go home, t. The event will include door prizes, videos for the kids, and horseshoes. They will also be holding a firewood raffle for 4 cords of firewood. The barbeque is by Lars Michnevich. Everyone is invited to bring the family for a day of fun and to support the Boulder Volunteer Fire Company.
Later the same evening, Boulder Community Center members and the fire company will be holding a "Summer's Almost Over" Dance from 7 pm until midnight. DJ music will be provided by Mad Hatters and everyone is welcome to come out for the fun.
Cooler and Wetter Weather Headed for Western Wyoming
Potential for Heavy Rain and Colder Temperatures
Weather forecasters for western Wyoming are advising outdoor recreationists that a very moist weather pattern is in the early development stages over the southwestern United States. A developing low pressure system off the west coast is expected to draw moisture from the remnants of Hurricane Hernan northward into Wyoming beginning Friday and continuing through the weekend. This disturbance is expected to bring scattered showers and thunderstorms with locally heavy rain possible. Showers and thunderstorms are expected to continue through Sunday, September 8th, and possibly into Monday before the associated upper level low pressure system moves east. Rainfall amounts at this time are still uncertain but early indications point to between one half and one inch across many lower elevation locations with 1 to 2 inches in the mountains between Friday and Monday. Ranchers and outdoor recreationists are urged to be prepared for this drastic change to cooler and wetter weather.
Grey's River Road Construction Closure Lifted
The Grey's River Ranger District of the Bridger-Teton National Forest announced that the temporary closures due to replacement of three bridges along the Grey's River Road will be lifted. As a result of temporary bypass fords, the road will be officially re-opened to passenger vehicles by September 5th, 2002. Graveled fords around the bridges, along with sediment trapping materials will be placed near bridges to provide visitor access during construction. The bypasses will be single lane only, and may cause some minor delays. Construction has begun on the Blind Bull Bridge, and the first bypass in place. Road closure signs will remain in place at Alpine, Smith's Fork Road, McDougal Gap, and Tri Basin, until "detour" signs are in place. While bypasses are being designed to accommodate 2WD passenger vehicles, as well as pickups with travel or stock trailers, it is not anticipated that the bypasses will be suitable for semi tractor/trailers. Completion of all construction is anticipated by October 5th, 2002. For more information regarding these projects, please contact the Grey's River Ranger District at (307) 885-3166.
The Search for Elizabeth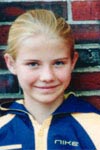 Wyoming Hunters: Please be alert for possible signs of the missing 14-year old Salt Lake City girl
Early in the morning of June 5th, 14-year old Elizabeth Smart was taken from her home at gunpoint in the Federal Heights area of Salt Lake City, Utah. To date, Elizabeth has not been found. Many searches have been conducted for Elizabeth throughout Utah, but still nothing has been found.
The remote countryside of Wyoming is not very far from Salt Lake City, and within the perimeter of the mileage put on a suspect's vehicle around the time Elizabeth disappeared. We ask that hunters and outdoor recreations who take to the remote country keep an eye out for any possible sign of the missing girl. While everyone is holding out hope that she will still be found alive, that hope wanes as more time passes. If you encounter anything unusual: abandoned structures, unusual smells, clothing, bones, please take the time to check it out. If you come to a structure, search in and around it for anything unusual, but please do not tresspass. Elizabeth is 5'6" tall and weighs approximately 100 pounds. She was wearing red pajamas when she was abducted. Elizabeth's sister, in the room at the time of her abduction, described the man as a Caucasian, approximately 30-40 years old, 5'8-5'10 inches tall, dark hair, with hair on his arms and back of his hands. He was wearing a light jacket, light golf hat or English Driving hat, and dark shoes at the time.
The Smart family has created a web site with information about the search for Elizabeth, www.elizabethsmart.com, as well as a special message to hunters asking them to be watchful for anything suspicious while they are outdoors. A $250,000 reward, created by family, friends and community, is being offered for the safe return of Elizabeth Smart. The Salt Lake City and FBI are offering a $25,000 reward for information that will lead police to the location of Elizabeth Smart, or information leading to the arrest and conviction of the person or persons responsible for Elizabeth Smart's disappearance. Anonymous tip line: 801-799-INFO (4636). If anonymity is desired, that can be arranged by calling: 801-799-INFO (4636).