National Brucellosis Symposium to be held September 17-18 in Jackson
Wyoming G&F news release
The Wyoming Game and Fish Department will host the second national symposium on brucellosis in bison and elk in the Greater Yellowstone Area at the Snow King Resort in Jackson Sept. 17-18. The two-day event is sponsored by the Greater Yellowstone Interagency Brucellosis Committee. The GYIBC was formed in 1995 with the purpose of protecting and sustaining the existing free-ranging elk and bison in the Yellowstone area and protecting public interests and the economic
viability of the livestock industry in Wyoming, Montana and Idaho. Brucellosis is a contagious bacterial disease infecting domestic animals, wildlife and humans worldwide.
"Although public and media attention is increasingly focused on chronic wasting disease, brucellosis is still a very significant disease in Wyoming elk and bison and in the rest of the Greater Yellowstone Area," said Tom Thorne, G&F acting director. "The recent case of an infected cattle herd in Idaho only highlights the importance of remaining vigilant in our efforts to eradicate the disease."
Full registration, including a copy of the proceedings, is $75 before Aug. 15 and $100 following. A $25 registration is available for individuals wishing only to attend the discussions, but do want the proceedings. For more information contact Becky Russell at (307) 766-5616 or rrussell@uwyo.edu.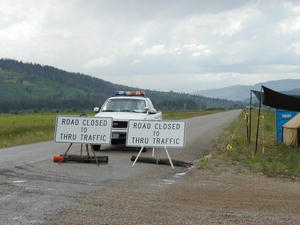 Sublette Country Sheriff's Office Deputies man the road block at the Merna Horse Creek Road junction due to the Mule Fire. Photo by Pinedale Online.
Mule Fire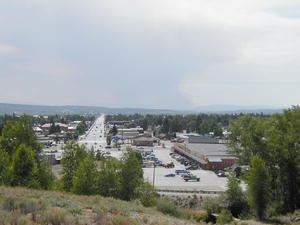 The Mule Fire has burned approximately 3,400 acres since it began last Thursday in north Horse Creek in the Wyoming Range. No structures are threatened by this fire. The Horse Creek/Merna road is closed to the public at the forest boundary. Fire danger has been raised to Very High and partial fire restrictions go into effect on Thursday, July 18th. Click on photo for a larger view. Photo by Pinedale Online.
Road and area closures (7/17/02)
The Forest Service has implemented road and area closures in the northern Wyoming Range due to the Mule fire which is burning in Horse and Dry Beaver Creek drainages. The Sublette County Sheriff's Office will be manning the road block at the Merna Junction allowing only local residents and people on fire business through. So far the fire, which has grown to approximately 3,400 acres, is not threatening any private structures. For public safety reasons, area closures are in effect for Horse Creek, North & South Beaver, Dry Beaver and Lead Creek, and their associated access routes.
Fires burning in western Wyoming (7/18/02)
Fire season is in full swing and the Bridger-Teton National Forest has already had several large fires to contend with. Fire restrictions will go into effect on the Bridger-Teton National Forest and Grand Teton National Park on Thursday, July 18th. Fire danger is Very High.
Two new small lightning-caused fires (less than 1 acre) are burning on the Bridger-Teton National Forest, one near Bondurant and the other in the upper Green River area 1 mile south of Whiskey Grove Campround. The latest fire, the Mule Fire, is burning in North Horse Creek in the Wyoming Range on the Big Piney Ranger District. Several fires are now also burning in Yellowstone National Park as well as on the east side of the Continental Divide. The Cow Camp fire, which began in late June in the Wind River Mountains, is completely contained. To keep you informed about the latest fire status, we post frequent updates on our Fire page. You can also get more information from the Teton Fires web site for wild fires in Grand Teton National Park and the northern portion of the Bridger-Teton National Park. These web sites also have links to other web sites that can provide more information about fires in our area. Please report any new smoke columns that you see to the Sublette County Sheriff's office or to the nearest Forest Service Ranger District office.
Counseling Sessions Scheduled (7/17/02)
A debriefing process will be held on Wednesday, July 17th, for children, teens and adults who were in the parade or sidelines on Saturday when the accident happened. The confidential sessions are open to all age groups and will be held at 3:00 pm and again at 4:30 pm at the Pinedale Elementary School. Please call the Counseling Center at 367-2111 for further information, or just plan on attending the meeting.
Memorial Service for Caroline Grassell (7/15/02)
Memorial services for 5-year old Caroline Grassell, who died Saturday during the Rendezvous Parade, will be held on Thursday, July 18th at 10:00 am at the Loomis Park Ranch. The family encourages children to attend, and suggests attendees "dress for outdoor Wyoming summer weather-ranch wear attire". People are also welcome to bring a blanket or lawn chair. Directions to the Loomis Park Ranch: Take Hwy 191 north of Daniel almost to the Rim. Turn east at the Flying A Ranch Road and follow the flowers approximately 5.5 miles from the mailboxes.
A Prayer Vigil for the Grassell family will be held at 7 pm Wednesday, July 17th at St. Andrew's in the Pines Episcopal Church in Pinedale. In lieu of flowers, donations may be made to the Caroline Lambert Grassell Memorial Scholarship Fund care of the Bank of Pinedale, Box 1510, Pinedale, Wyoming, 82941.
SCSO Deputy recovering from accident (7/15/02)
According to a Sublette County Sheriff's Office news release, Deputy Greg Garner was injured as the result of an accident during a suspicious persons call early Monday morning, July 15th. Deputy Garner responded to a call on 40 Rod Road north of Daniel. While responding to the call, he lost control of his Sheriff's vehicle. It traveled through a fence, hit a ditch, and traveled out into a field. His vehicle was totaled as a result of the accident and the Deputy was taken by ambulance to the Pinedale Clinic and then transported to Jackson Hospital for further treatment. The vehicle did not roll, but the air bags deployed. Garner is expected to fully recover.
Other officers responded to the call and took four juveniles into custody, three males and one female, who had been the object of the original call. The juveniles had pulled into a driveway, then took off with the reporting party following them. The matter is under investigation and criminal charges may be filed against the four juveniles.
Climbing fall kills man in Wind River Mountains (7/15/02)
A man was reportedly killed as the result of a climbing fall over the weekend in the Big Sandy area of the southern Wind River Mountains. The man had been doing a night climb of Pingora Peak with a companion when a rope became stuck. The victim was attempting to climb down and free the rope when he slipped and fell about 200 feet, landing in rocks below. Other climbers in the area heard the fall and went to assist the victim who had died as a result of the fall. The companion was taken to Big Sandy Lodge by other climbers and treated for shock and extreme dehydration. Fremont County Sheriff's Office was contacted about the accident and performed the recovery of the victim.
In the Sawtooths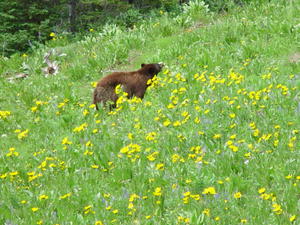 Dave Bell spotted this bear while hiking in the Sawtooths last weekend. Click on photo for a larger view. Photo by Dave Bell.
Tragic accident claims life of 5 year old during Rendezvous Parade in Pinedale (7/13/02)
The Rendezvous Parade turned tragic when a young child, 5-year old Caroline Grassell of Pinedale, came off a float during the parade and was struck by the float trailer. An ambulance quickly responded to the scene and took her to the Pinedale Clinic, but she was pronounced dead from massive head trauma. Caroline was the daughter of Chopper and Lynn Grassell of Pinedale. The Sublette County Sheriff's office and Wyoming Highway Patrol are conducting an investigation. See local papers on Thursday for more information.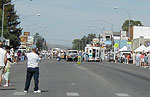 Pinedale Ambulance crews respond to an accident that resulted in the death of 5-year old Caroline Grassell during the Rendezvous Parade on Saturday.
Sublette County Sheriff's Office News Release:
On July 13th at 1031 am, Sheriff's deputies, Wyoming Highway Patrol and Pinedale ambulance service responded to the 100 block of East Pine Street in Pinedale during the Rendezvous pageant parade.
Five-year old Caroline Grassell of Pinedale came off a float in the parade and was struck by the float trailer. She was taken to the Pinedale Clinic by ambulance and pronounced dead. She appeard to have died of massive head trauma.
Sublette County Sheriff's office and Wyoming Highway Patrol are conducting an investigation. More information will be released on this matter later.
Authority
Hank Ruland
Sublette County Sheriff
Green River Rendezvous
July 11-14, 2002 Schedule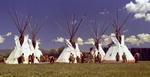 The Green River Rendezvous will be held Thursday-Sunday, July 11-14th in Pinedale. Visitors will once again be able to attend the Renezvous Pageant on Saturday at no charge due to a generous grant from the McMurry Foundation. This year's pageant will be the last one.
The Museum of the Mountain Man will be offering special Historian in Residence programs by Dr. Fred Gowans, professor of fur trade history, talking about "Hoback, Robinson & Reznor" on Thursday evening, and then hosting a field trip to Union Pass on Friday. Anyone wishing to attend the field trip must call the Museum at 307-367-4101 to reserve a seat (cost is $30/person). The 9th Annual Buffalo Feast will take place Friday evening at 5 pm at the Museum. Tickets are $12/adults and $5 for children under 12.
The Pinedale Fine Arts Council will be sponsoring Native American Historian Michael "Bad Hand" Terry for Living History presentations throughout the weekend. Art Historian Arthur Amiotte will be giving programs on Traditional Tribal Arts at the Sublette County Library on Thursday and Friday. Children's programs will be offered in the morning and afternoon on Friday. All programs are free to the public. See the schedule for exact times and locations of presentations.
The Pinedale Chamber of Commerce will once again be sponsoring the Mountain Man Traders Row set up next to the Chamber Hut in downtown Pinedale. Vendors will be offering many items for sale that are representative of goods used by mountain men and native americans who lived in this area in the early to mid-1800s. Typical items for sale include furs, knives, trade goods, beads and clothing. In addition, many vendor booths will be set up all along Pine Street offering many kinds of goods and refreshments for visitors.
Visitors are encouraged to make their motel room reservations well in advance if you plan to come for Rendezvous as rooms fill up quickly.
Green River Rendezvous Highlights
July 11-14, 2002 Full Schedule
Thursday, 11th:
Rodeo, Pinedale Rodeo Grounds, 7 pm
Traditional Tribal Arts as Inspiration for Modern Indian Art, Arthur Amiotte, 7-9 pm
Friday, 12th:
Bus Tour
Led by Dr. Fred Gowans, Museum of the Mountain Man
The Horse in Plains Indian Culture, Michael Terry, PFAC, 10 am-noon
Children's Programs, PFAC, 10 am - noon, 1-3 pm
Evolution of Traditional Tribal Art of the Plains, Arthur Amiotte, PFAC, 1-3 pm
Buffalo Hide Tipis, Michael Terry, PFAC, 3-5 pm
Pelt & Plew Social/Buffalo Feast, Museum of the Mountain Man, 5 pm
Quick Draw Live Auction, 7 pm
Rodeo, Pinedale Rodeo Grounds, 7 pm
Saturday, 13th:
Rendezvous Parade, downtown Pinedale, 10 am
Green River Rendezvous Pageant, Pinedale Rodeo Grounds, 1 pm
Variations in Tribal Clothing & Hair Styles, Michael Terry, PFAC, 2-3:30 pm
Women and Children: Their Roles & Importance, Michael Terry, PFAC, 4-5:30 pm
Beard Cutting FUNdraising Event
Rodeo, Pinedale Rodeo Grounds, 7 pm
Evening Tour of Plains Indian Village, Michael Terry & B. Gutierrez, PFAC, 8-10:30 pm
Sunday, 14th:
The Evolution of Weapons Amongst Plains Indians, Michael Terry, PFAC, 11 am-12:30 pm
DeSmet Mass, DeSmet Monument near Daniel
Golf Scramble, Rendezvous Meadows Golf Course
World View of the Plains Indians, Michael Terry, PFAC, 1-2:30 pm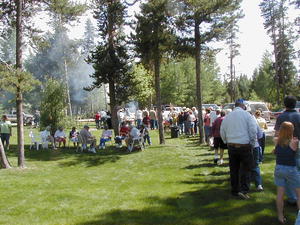 The annual Pinedale 4th of July Town Picnic at the Town Park drew a big crowd to enjoy the socializing and the free food. Live entertainment was provided by the Bearfoot and Bluegrass band. The Pinedale Volunteer Fire Department hosts the annual fireworks display at dusk. Click on photo for a larger view. Photo by Josh Wilson for Pinedale Online.
Elk, Deer, Antelope Lottery conducted; Licenses being mailed
Wyoming G&F
The toughest part of the hunt is over for some hunters –drawing the license. The 2002 resident and nonresident deer and antelope license drawings and the resident elk drawing were conducted June 22-23, and the Game and Fish Department started mailing the 93,300 licenses June 24. License Draw Manager Tom Rowe reports all 44,160 refund checks should be mailed by July 5.
Rowe credits the early drawing to his staff working 10-to 12-hour days since June 3. "We receive nearly 70 percent of the resident applications the last week of the month-long application period, which makes the drawing preparation tough because most of the work comes all at one time," he said. "To the extent practical, we contact applicants who submit invalid applications," Rowe said. "But with the increased number of late resident applications this year, to try and reach everyone we would have had to delay the draws several days. So, a greater number of applicants who submitted invalid applications did not have an opportunity to draw."
Eighty-seven different types of elk licenses are leftover in 67 areas. The majority of the licenses are for antlerless elk, although eight areas are offering "any elk tags" and 11 areas with archery-only antlered tags. Twelve areas and five nonresident regions (B, C, J, M and T) have left-over deer licenses. "Any antelope" licenses are available in 26 hunt areas.
Rowe alerts hunters that leftover licenses for both residents and nonresidents -- except doe/fawn deer and antelope, and cow/calf elk-- will be issued in a second drawing. The application period for the second drawing is July 10-20 and the drawing is scheduled for July 31.
Applications are being sent with refunds and are available at license agents and G&F offices. Any licenses remaining after the second drawing will be sold "as processed" through the G&F's Cheyenne office. Leftover doe/fawn antelope and deer, and cow/calf elk licenses will be sold first-come, first-served, at license agents in or near the respective hunt areas beginning Aug. 15.
For more information about 2002 big game licenses call the G&F at (800) 842-1934 or (307) 777-4600 outside Wyoming.
ATV & Motorcycle Operators:
All motor vehicles, including MOTORCYCLES and ATVs, operating on Bridger-Teton National Forest roads, must adhere to all Wyoming State motor vehicle statues as well as BTNF Travel Management Regulations (available at local District Ranger Stations. Wyoming statutes require motorcycle & ATV operators have:
A valid state driver's license with Class M Endorsement
Liability insurance
Registration
Valid license plate properly attached to the vehicle
Headlight, taillight, brake light, reflectors, left mirror, horn
Operators under 18 are required to wear a helmet.
Motorized vehicles allowed ONLY on numbered or white arrow roads on BTNF
Direct ingress and egress permitted to temporary campsites for firewood gathering or game retrieval, within 300 feet of open roads provided the ground is dry or rock, no vegetation is damaged or destroyed, and no streams or meadows are crossed.