Friday, April 26, 2002


Sleeping Beauty


Wyoming Deer Mortality Survey near Big Piney & Cokeville


Resident Elk, Deer & Antelope Application May 1-31


Museum of the Mountain Man celebrates Pinedale's 90th Birthday May 2nd


High School Jazz Concert


Pool to Close May 15th


Forest Service Open House
Sleeping Beauty
Don't miss the performance of Sleeping Beauty on Saturday, April 27th at the Pinedale Auditorium, featuring more than 50 local Pinedale children in the cast. Young Sleeping Beauty is played by Jayne Thompson, Older Sleeping Beauty is Valerie Stevens, the King is played by Logan Maclean, the Queen is May Huntley, Spot is played by Deidre Eversull and the Town Crier is being played by Mykal Jensen. The performance, presented by the Missoula Children's Theatre as part of a Pinedale Fine Arts Council performance, will be held at 3 pm and again at 7:30 pm. Tickets are $5 for adults, $3 for students, and $2 for a child seated with an adult. Tickets are available at Moosely Books, the Cowboy Shop, Office Outlet and Moose Creek Trading Company.
Wyoming Deer Mortality Survey near Big Piney & Cokeville
The Wyoming Game & Fish Department is looking for volunteers to assist with a survey to sample winter mortality on the Wyoming Range Mule Deer herd during the ninth annual deer mortality surveys May 4-5 near Big Piney and Cokeville. Survey coordinator Gary Fralick is seeking extra volunteers this May. "Because of the anticipated higher mule deer mortality this past winter, we need as many hikers and horseback riders as possible to cover the areas," said Fralick, the G&F's wildlife biologist in Thayne.
The goal of the surveys is to get a sample of winter mortality on the Wyoming Range Mule Deer Herd for an indication of overall loss and what age classes got hit the hardest by the winter conditions. "Based on this important survey, we can offer some predictions what the upcoming hunting season may offer to deer hunters in the Wyoming Range and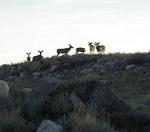 Greys and Smith's Fork rivers," he added. Fralick believes a considerable number of deer were lost this winter on the Cokeville ranges because of drought and severe winter conditions. He predicts the deer on the Kemmerer, Big Piney and Daniel winter ranges fared better, but still experienced higher mortality than recent years.
The Cokeville surveys will run Saturday, May 4. Volunteers will meet at 9 a.m. at the Stateline gravel pit, 4 miles southwest of Sage Junction on U.S. Highway 30/89. The Big Piney and La Barge surveys get underway Sunday, May 5 at 9:30 a.m. Volunteers should meet at the Big Piney High School at 9:30 a.m. Volunteers will be required to fill out a volunteer form on site before participating in the surveys.
To sign up or for more information contact Fralick at (307) 883-2998 or Doug McWhirter at (800) 367-4532 or (307) 367-4353 out of state.
Resident Elk, Deer and Antelope Application Period May 1-31
Wyoming Game & Fish news release
It's time for resident hunters to plan their fall. Applications for limited quota elk, deer and antelope licenses must be received at the Wyoming Game and Fish Department's Cheyenne office by 5 p.m. May 31. Tom Rowe, the G&F's license draw manager, encourages hunters to apply early in the application period. "That way if there's something missing or that needs clarified on your application, we have plenty time to contact you," he said. Applying early helps insure the application will reach Cheyenne on time in the event the mail is accidentally delivered to another location or if an emergency delays delivery. Rowe asks hunters to make sure applications are complete by signing the application, entering their date of birth on the top line and making sure proof of residency is completed on youth applications.
The resident elk, deer and antelope drawing is scheduled for July 3. Hunters can check season dates and quotas before applying by calling (800) 842-1934 or by picking up a "summary map" for deer, elk or antelope at license agents or G&F offices after May 1. Applications are available at the same outlets. Resident hunters can purchase general elk and deer licenses from license agents through the end of the season. There is no application fee when buying licenses over the counter.
The Museum of the Mountain Man celebrates Pinedale's 90th Birthday
May 2nd, free day, program by Ann Noble at 7 pm
The year 2002 marks the 90th anniversary of the date when the Town of Pinedale incorporated, and the Museum of the Mountain Man is holding a birthday celebration party on May 2nd to celebrate. The Museum will have free admission all day with a special Pinedale photo exhibit and Pinedale brochure available. Local Historian, Ann Noble, will give a lecture presentation at 7 pm. Refreshments of cake and punch will be on hand for the festivities. The Museum officially opens for the season on Wednesday, May 1st.
Pinedale has a unique and rich history. While this year marks the 90th anniversary of the town's incorporation, the town originally started out to become a real "town" in 1904. Pinedale didn't just happen, as most towns do. The original founders set out to make the town, laying out the streets and building the town from just a few shacks to over 10 businesses including a school, community hall, newspaper, store, blacksmith shop and a hotel between 1904 to 1905. Land was specifically given for the townsite and the 'townspeople' worked feverishly over a one year period to build the town centered around the 4 blocks of Franklin Street crossed by Pine Street. Some of the original buildings still remain, including McGregor's Pub. The Sublette County Hisotir Preservation Board and Museum of the Mountain Man are creating a brochure and detailed web site that tell the story of early Pinedale and many early Pinedale pictures. While we celebrate Pinedale's 90th birthday at the Museum on May 2nd, 2002, we may very well be celebrating Pinedale's 100th birthday in 2004. Which date should we use? 1899 the date when Pinedale was officially named when the Pinedale Post Office was created on a local ranch? 1904, the date the Pinedale Town Company formed, property was donated specifically for the townsite, and the streets were laid out. Or was it in 1912 when the town incorporated? Come to the birthday party on May 2nd and help celebrate Pinedale!
Pinedale High School Jazz Concert
Tuesday, April 30th, 7 pm
Don't miss the annual Jazz Concert put on by the Pinedale High School Music Department on Tuesday night, April 30th, at 7 pm in the Pinedale Auditorium. There will be no admission charged and there will be plenty of jazz standards, popular music and upbeat sounds presented by local high school musicians. The High School Jazz Choir ad HIgh School Jazz Band will be the featured performers. These students have won many awards throughout the jazz competitions this year. They also were stormed out of their last festival, so are anxious to show off their talents. The public is encouraged to attend this last home jazz concert of the year. Admission is free.
Pool to close Wednesday, May 15th
The last day of swimming this "pool year" will be Wednesday, May 15th, after which the pool will be closed for annual maintenance. Swimmers are advised that all personal belongings must be removed during the closed period so that a thorough cleaning can be done. Anything remaining in lockers will be placed in the general lost and found, with no guarantees of ever being "found" again. The pool will reopen sometime during the first week of June.
Forest Service Hosts Two Open Houses in Pinedale
Thursday, May 2nd and Wednesday May 22
The Pinedale Ranger District will be hosting two Open Houses in May. Come and meet the new Pinedale Ranger District Ranger, Craig Trulock, on Thursday, May 2nd from 6-8 pm at the Sublette County Library in Pinedale. On Wednesday, May 22nd from 6-8 pm, there will be another Open House at the Library to provide information on current topics such as the food storage order and to provide a forum for the public to discuss issues with the District Ranger of District Staff. For more information, contact the Pinedale Ranger District office at 307-367-4326.
"I've skipped that pond a half dozen times just fine. I went to turn to get off the pond and the left front ski hit and threw me off balance. I went one way and the sled went the other" said the rider about "water skipping" during a snowmobiling trip two weeks ago in the Wyoming Range. No one was hurt and, after recovering the sled and drying it out a bit, they continued on their way. Photo by Bill Lanning.
Saturday, April 20, 2002


Food Basket Rummage Sale


Summer Day Camp for Kids


Summer Jobs


Golf Tournaments
Food Basket Rummage Sale
April 25-27
The Pinedale Food Basket is holding a Rummage Sale Thursday-Saturday, April 25th-27th at 104 Bridger. They would appreciate any offers for help.
Summer Day Camp for Kids 3-7
Looking for something fun for your child to do this summer? The Children's Discovery Center is offering a Summer Day Camp for children 3-7 years old (ages 3 through 2nd grade) with all summer, full and half day programs available. There may also be 2 week block programs available, depending on availability. Activities will include hiking, fishing, biking, nature study, swimming, gardening, arts & crafts and more. Cost is $50, but scholarships are possible for those with financial hardships. For more information and registration, call the Children's Discovery Center at 307-367-6272.
Summer Jobs
Finding a job for the summer is not easy in our area, especially for kids. We don't have a local job service office and many jobs aren't advertised and you only hear about them through word of mouth. It is important to start looking early for a summer job and start putting feelers out and asking people if they know who might be hiring for the work you want to do. A good first place to start looking for any openings is in the local papers, the Pinedale Roundup and the Sublette Examiner. Both papers post listings in the classifieds, as well as sometimes in display ads in their papers. Both papers post their classified ads each week online here on Pinedale Online (Pinedale Roundup Classifieds) (Sublette Examiner Classifieds). Another place to look is on local bulletin boards, which are located at the First National Bank of Pinedale, Falers, the laundry mat, Office Outlet, the library and Country Lane.
Here are some of the jobs we know about right now:
Town of Big Piney Summer Help: Pick up an application at the Big Piney Town Hall, 401 Budd Ave, Monday-Friday from 8 am-noon and 1 pm-5 pm. Deadline for applying is Tuesday, May 7 at 5 pm.
Town of Marbleton Summer Help: You must be 16 years of age or older. Pick up applications at the Marbleton Town Hall at 11 E 2nd Street. Deadline is Friday, May 10th.
Boulder Store: Full-time Cook & Waitress. Call 307-537-5480 for more information.
Sweetwaters Soda Shop: Waiter and part-time Dishwasher needed, 34 N. Franklin in Pinedale. Call 307-367-7632.
Sugar Shack: Formerly Trapper's Tidbits at 310 E Pine, opens Wednesday April 24th. Check with them for openings for window and cook help. 307-367-6404.
Pinedale Roundup: Pinedale's oldest newspaper is looking for a full-time ad designer who is experienced in Mac computers using Quark and Photoshop. Call 307-367-2123 or e-mail editor@pinedaleroundup.com.
Local restaurants, guest lodges and motels often are looking for more help in the summer and it is often worth the effort to stop by in person and ask them about possible job openings.
To obtain a copy of our local newspapers, contact:
Pinedale Roundup, PO Box 100. Pinedale, WY 82941
(307) 367-2123, E-mail: roundup@pinedaleroundup.com. The Pinedale Roundup is published weekly (Thursdays) and has local news, upcoming events, classified ads, and job announcements for the Pinedale, Sublette County and Jackson Hole area. To get the Pinedale Roundup, send your name and address, along with $2.50 to cover the paper and postage, to the address above.
Sublette Examiner, PO Box 1539. Pinedale, WY 82941
(307) 367-3203, E-mail: examiner@wyoming.com The Sublette Examiner is published weekly (Thursdays) and has local community news and events, local schools and sports, with special focus on natural resources, public lands and the industries providing for the county's economic base. To get the Sublette Examiner, send your name and address, along with $2.50 to cover the paper and postage, to the address above.
Job information with the Bridger-Teton National Forest
Permanent Employment: When announcements are released they are posted on the USA JOBS web site, www.usajob.opm.gov. For additional information, please contact the BT-NF Personnel Office (208-524-7638).
Seasonal Employment: Hiring usually begins in March and is completed by the end of April. Government housing may be available in some locations. The Forest expects to fill seasonal positions at the GS-3 through GS-6 level. Pay rates for these levels range from $8.03 to $11.24 per hour.
Vacancy announcements and forms must be requested through the Automated Temporary Employment Office. Requests should be done via e-mail or telephone:
Email: fsjobs@fs.fed.us
Answering Machine: 1-877-813-3476
Fax: 208-373-4285
Please include in all application requests the person's name, full mailing address and daytime telephone number.
For more information you can also visit the Temporary Employment Office Website, (http://www.fs.fed.us/fsjobs).
The Big Piney Ranger District is recruiting seasonal trail crew members and recreation guards, contact John Haugh for more information. Telephone: (307) 276-3375 or e-mail: jhaugh@fs.fed.us.
Fire and Aviation Employment Opportunities with the Forest Service
The Bridger-Teton National Forest employs about 27 seasonal firefighters in fire and aviation management each summer. Positions are filled on the Forest's Helitack and Engine crews. Typical fire season runs from early June until the end of October. Firefighting is arduous work. All firefighters must be able to pass a work capacity test known as the "Step Test" and / or "Pack Test". The "Pack Test" consist of a 3-mile hike with a 45-pound pack and must be completed in under 45 minutes. Hiring usually begins in March and is completed by the end of April. Government housing may be available in some locations. The Forest expects to fill seasonal positions at the GS-3 through GS-6 level. Pay rates for these levels range from $8.03 to $11.24 per hour. Diversity candidates are encouraged to apply.
The Forest Service is undertaking a special hiring effort to increase the number of fire-fighting and fire-related positions they have, both permanent and temporary jobs. More information can be found on the national FIRE HIRE web site www.fs.fed.us/fsjobs/fire-hire.html. Job announcements will be posted on the USA JOBS web site www.usajobs.opm.gov.
Volunteer Opportunities with the Forest Service
With the personnel and funding shortfalls of recent years, the Bridger-Teton National Forest has become increasingly dependent upon volunteers. There are a wide variety of volunteer opportunities available during the summer season. Housing and living expenses are frequently covered. Contact the District(s) you are interested in for additional information:
Pinedale Ranger District, PO Box 220, Pinedale, WY 82941, 307-367-4326
Big Piney Ranger District, PO Box 218, Big Piney, WY 83113, 307-276-3375
Golf Tournaments
Rendezvous Meadows Golf Course is now open for the season. Hours are 7 days a week from daylight until dark. They will again have regular association play, with men's, ladies', juniors, and couples golf programs. The Junior golf program will begin on June 4th, with the Henry Wilkes' golfing clinic on June 18th. The Spring Fling fundraiser has been changed to a "July Fundraiser" to be held on July 14th, the same day as the Rendezvous Scramble. For more information, contact Course Manager Barb Lauger at 307-367-4252.
2002 TOURNAMENT SCHEDULE:
Saturday, June 8 Exxon Tournament
Saturday, June 22 Firemen's Fundraiser
Saturday, June 29 Wildwood Tournament
Sunday, July 14 Rendezvous Scramble
Saturday July 20 Tegeler Open
Thursday-Saturday, July 25-27 UGRB Oilfield
Saturday, August 3 Men's Association
Tuesday, August 6 Juniors Tournament
Saturday, August 10 Ladies Association
Saturday, August 17 Bondurant Fire Department
Tuesday, August 20 Seniors Tournament
Saturday, August 24 Clubhouse Classic
Monday, September 2 Cross Country
Saturday, September 14 One Last Time Scramble
Friday, April 19, 2002


Sage Grouse Working Group Meeting


Golf Course Opens
Sage Grouse Working Group Meets April 29 in Pinedale
The Wyoming Game & Fish invites interested citizens and the public to attend the Wyoming Sage Grouse Working Group meeting April 29 beginning at 8 a.m. at the Sublette County Library in Pinedale.
The group is developing a Wyoming management and conservation plan for sage grouse that includes "recommended management practices" to conserve and enhance sage grouse habitat and populations in Wyoming.
Eighteen Wyomingites representing agriculture, conservation groups, local governments, government agencies, the Wind River Indian Reservation and mining/energy serve on the group.
The G&F supports the Americans with Disabilities Act. Anyone needing auxiliary aids to attend the meeting should call (307) 777-4501. Every effort will be made for reasonable accommodations.

ASK THE GAME & FISH
Q. "Do I have to wear a life jacket if fishing from a float tube?"
A. No and yes. Float tubes are considered water sport toys in the boating regulations, and as such a life jacket is not required, but is certainly recommended. However, if your float tube has a motor, it becomes a motorized watercraft and a life jacket is then mandatory.
Wyoming Game & Fish news release
Golf Course Opens for the Season
Rendezvous Meadows Golf Course in Pinedale is now open for the season and they have a full schedule of tournaments on tap through mid-September. The first tourney is the Exxon Tournament on Saturday, June 8th. The golf course is open 7 days a week from daylight until dark. The annual Swing Into Spring fundraiser will be changed to a "July Fundraiser" to be held on Saturday, July 14th, the same day as the Rendezvous Scramble Tournament. Rendezvous Meadows offers a Juniors golfing program, golfing clinics and men's and ladies' association golfing. For more information, contact course manager Barb Lauger at 307-367-4252.
Tons of kids turned out for the Kid's Fun Day at the Pinedale Entertainment Center on Wednesday. The event was sponsored by the Veteran's of Foreign Wars Post 4801.
Friday, April 12, 2002


Lakeside Lodge Restaurant Under New Management


Vendors wanted for County Fair


Write Get-Well Notes to Shortie


Wind River Blues Festival


Game & Fish Conducting Hunter Survey
Lakeside Lodge Restaurant Under New Management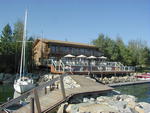 Lakeside Lodge restaurant will open in May this year under new management. Cloris Ellis and Ana Cuprill (Twisted Fork LLC) will be bringing back some of that old Lakeside spirit into the restaurant. "The concept of Twisted Fork is that we want to provide a warm, casual atmosphere, and cuisine with a flair! (or Twist) The menu will be familiar, with local favorites that are unique in presentation or ingredients, or as we like to put it "Twisted". We want our customers to enjoy re-invigorated traditional recipes, and to have a true dining experience in one of the most relaxing surroundings in Sublette county" said Ana.
Lakeside already has several weddings booked throughout the summer and will be busy with special events in addition to being open to the public for lodging and meals. Lakeside opens May 8th for dinner Wednesday through Sundays, closed Monday and Tuesday. On May 25th, Memorial Day, they will open for breakfast, lunch and dinner. Their season generally runs through the end of September. Anyone wishing to apply for a job at the restaurant should contact Ana Cuprill at 307-367-3555 (at the restaurant) or 307-231-9915.
Lakeside Lodge Resort and Marina is located on the west shore of 11-mile long Fremont Lake, approximately four miles from Pinedale in the Bridger-Teton National Forest. The resort offers the restaurant with meeting facilities, motel rooms, cabins, RV camping by the lake shore, and a marina. Lakeside's web site is: www.lakesidelodge.com.
Concession Vendors wanted for Sublette County Fair
The Sublette County Fair is just a couple of months away, and planners are already lining up the activities for the annual county event. Anyone interested in providing concessions for the Fair should contact organizers now to make arrangements. The Fair will be held July 27 and July 31-August 4. For more information, call 307-276-5373 and leave a message. More information about the Fair Schedule will be posted on their web page as details become available, www.sublette.com/countyfair.
Write Get-Well Notes to Shortie Cantlin
According to Mary Sour, Pinedale resident Shortie Cantlin has come through heart surgery to have a pace-maker inserted. Shortie was released from the hospital Wednesday, and Mary said get-well wishes would be appreciated.
Shortie's daughter, Doris Day, who has spent a great deal of time with her mother in the hospital, will act as 'post office' at her Red Lodge, Mont., home.
If you would like to send a card or letter, address it to: Shortie Cantlin, c/o Doris Day, Box 923, Red Lodge, MT, 59068.
Reprinted with permission from the Sublette Examiner, April 11, 2002
2nd Annual Wind River Mountains Blues Festival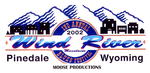 June 29-30, 2002
The second annual Wind River Mountains Blues Festival is being held on June 29th & 30th. The event, again being put on by Moose Productions of Pinedale, will feature 16 locally and nationally known entertainers featured at the two-day festival. Performing artists lined up include Charlie Musselwhite, Indigenous, Rod Piazza, Tab Benoit, Aynsley Lister,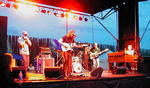 Blinddog Smokin' Chris Duarte, Miss Blues, Ford Brothers, Ian Moore, Curtis Selgado, Rory Block, Billy Branch & Sons of Blues, Carl Weathersby, Fatt Cat Freddie, and Zach Parrish.
The festival will again be held at the Sublette County Sporting Association Rodeo Grounds on the south end of Pinedale. Music will start at 10 am on Saturday and 12 noon on Sunday and run until dark. Tickets for this year's festival are $80 for the two-day weekend pass for adults. Children under 12 are free. Ticket information to be announced soon.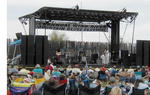 Camping will be available up at the rodeo grounds by advanced arrangement for tent camping or RVs. Organizers are trying to arrange as much nearby camping space as possible to allow people to stay close to minimize drinking and driving. Commercial RV campgrounds are located on the west end of Pinedale, at Lakeside Lodge on Fremont Lake (4 miles from town), and near the small town of Boulder, approximately 11 miles south of Pinedale. Nearby National Forest campgrounds are located on Fremont Lake (appx. 9 miles) and Half Moon Lake (approx. 15 miles out of town).

Wyoming Game & Fish Conducting Hunter Survey
Hunters are alerted that they could be getting a phone call from April 15 to May 15 asking their opinion on how hard-to-draw elk, deer and antelope licenses should be issued in Wyoming. The Game and Fish Department has commissioned the survey to contact around 1,200 hunters who applied in the drawing for these species. The survey is asking hunters their feelings about preference point, premium price, waiting periods or Internet application systems for hunt areas that are difficult to draw.
"We just want hunters to know if they get a phone call saying 'This is the Game and Fish. Would you answer a few questions about how elk, deer and antelope licenses are issued?' that it is legitimate," said Chris Burkett, G&F strategic management coordinator.
The survey will contact 600 residents and 600 nonresidents randomly selected from those who applied for licenses in 2001. Each group will be split equally between elk, deer and antelope applicants
"Structuring the survey like that lets us identify different preferences between the groups," Burkett said. "It could be nonresidents like something that residents don't. Or, changing the system could be more imperative to elk hunters than deer hunters. Those are the type of preferences we need to find out." Burkett says this survey is somewhat involved and will take 10-15 minutes, because considerable background about the benefits and costs of different proposals will be presented to help the hunter make a more informed opinion.
After receiving many suggestions to modify the license drawing for elk, deer and antelope the past few years, the G&F asked for hunter input on this topic at hunting season meetings in early April.
"The Game and Fish is still in the early stages of 'scoping' public opinion on this issue," Burkett said.
Even if public opinion was in favor of a change, the earliest modifications could be implemented would be 2004. Many of the changes would be new statutes, requiring legislation to be passed.
Wyoming Game & Fish news release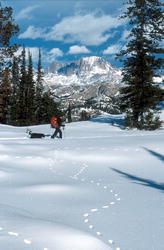 Skiing at Photographer's Point.
Photo by Ben Franklin. We've added a whole new page of Ben's photos to the Photo Gallery!Click on pictures for larger views
Monday, April 8, 2002


Fire at the Wrangler Cafe


Kids Fun Day April 10th


New Regional Forester Selected


Becoming an Outdoors Woman Workshop
Fire at the Wrangler Cafe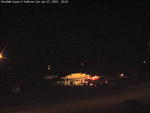 Sunday night around 9:30 pm, the Pinedale Volunteer Fire Department responded to a call of a fire at the Wranger Cafe on the west end of Pinedale. According to owner Tina Mulinix, an electrical fire broke out in the exhaust fan in the ceiling of the ladies' restroom. Fortunately, an employee and a customer were in the building at the time and attempted to put out the fire. They called the fire department who were there within minutes dousing the flames. "If the help had not been there and acted quickly, they said we could have lost the building. Flames were dripping down to the floor from the ceiling."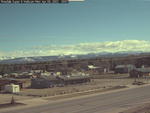 said Tina. "The firemen were absolutely wonderful and very professional."
The Super 8 Web Cam is pointed at the Wind River mountains and takes pictures throughout the day and night. The Wrangler Cafe is also in the Web Cam picture. The camera captured the firemen as they worked on the fire last night and the unusually empty parking lot this morning.
The fire burned up the exhaust fan in the restroom ceiling, but the damage didn't go further than the ladies' restroom. Employees are cleaning up the building today. They have contacted the insurance company and health department and have the go ahead to be open with only the men's restroom open. "We'll be open as usual on Tuesday morning for our regular hours" said Tina.
Kids Fun Day
Wednesday, April 10, 9 am - 5 pm
The Veteran's of Foreign Wars Post 4801 will be sponsoring a "Kids Fun Day" at the Pinedale Entertainment Center on Wednesday, April 10th, from 9 am until 5 pm. The event is smack in the middle of spring break for Pinedale students, so is a great chance to spend a day of fun at Pinedale's newest entertainment facility (not that the kids haven't already found it!). All kids between 5-18 are welcome for the day of fun. Many tickets have already been given out, but in case you missed getting one, kids can pick them up free at the front desk at the Center. The Pinedale Entertainment Center has two state-of-the-art movie theaters, an 8-lane bowling alley, billiards room, arcade room, concession area, and meeting room for dances and group functions. The VFW and Pinedale Entertainment Center have worked together to make this free fun day possible for local youth.
New Regional Forester Selected
Bridger-Teton National Forest news release
U.S. Department of Agriculture Forest Service Chief Dale Bosworth appointed Jack Troyer as regional forester for the intermountain region. The intermountain region with forests and grasslands in Idaho, Nevada, Utah and Wyoming is the largest region in the Forest Service with 32 million acres. "As deputy regional forester in the Intermountain Region since 1997 and acting regional forester since November Jack has demonstrated the necessary leadership skills and is intimately familiar with natural resource issues in the region," said Bosworth. Troyer replaces Jack Blackwell who moved to the Pacific Southwest regional forester position in California.
Troyer grew up in Western Colorado in the rural environment of a peach farm near the small town of Palisade. He attended Colorado State University and studied watershed management. He began his Forest Service career as a hydrologist and planner in California in 1969 and then moved to Colorado
where he served as District Ranger for nine years on the San Juan and White River National Forests. He was also a Forest Supervisor on the Chequamegon and Nicolet National Forests in Wisconsin before coming to the Intermountain Region. Troyer also worked as the Forest Service member of
an interagency coordination team for the Greater Yellowstone Area with the National Park Service.
Troyer's appointment as regional forester is effective immediately.
Becoming an Outdoors-Woman Workshop in Dubois
June 14-16
EMBRACE WILD SKILLS WITH A "BECOMING AN OUTDOORS-WOMAN" WORKSHOP, JUNE 14-16
If Wyoming's wilds beckon like a handsome stranger, but you're not sure how to be introduced, enroll in the "Becoming an Outdoors-Woman" workshop. The workshop is designed for women but open to anyone 18 and over yearning to be introduced to hunting, fishing, backpacking, shooting and campfire cooking.
It will be held June 14-16 at the foot of the Wind River Mountains at the Trail Lake Conservation Camp southeast of Dubois. The registration fee is $100.
"The workshop is a wonderful experience," said Karen Wilson, who attended the workshop in 1997 and 1999. "You get to experience a variety of exciting outdoor activities. I even caught my first fish."
BOW workshops are part of a national program conducted by the Game and Fish Department since 1996. Nearly 250 women have completed the workshop in Wyoming. "It is a comfortable, learning atmosphere that isn't competitive at all," Wilson said. "And the camp is in scenic, gorgeous country."
Applications are available at G&F offices or by calling (800) 842-1934. Applications must be received by 5 p.m., April 19.
View of Pinedale and the Wind River Mountains this past week from the Mesa Road south of town. Spring is getting closer. Snow has melted off to spotty patches down low, but still hangs on in higher elevations. Scroll down for more details about current conditions.
Sunday, April 7, 2002


Spring Thaw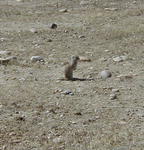 Spring Thaw - What's it like here right now?
Update for Snowbirds
All that lingers of the snow in town are patches on the shady sides of the buildings and where the snowplows piled up mounds when clearing the roads. Yards are showing hints of green grass blades and plants in the garden are beginning to put up tentative green leaves. Buds on the bushes are beginning to swell and the willow trees are starting to turn that telltale orange-yellow of the first trees to put on leaves in the spring. Real leaves are probably still a couple of weeks away, except for on the most protected places on the south side of buildings.
Gophers are out and remembering how to duck when trucks drive over the top of them on the cattle guards. Still haven't seen or heard a robin yet in town, but they'll no doubt be here soon. Antelope and deer herds are moving north and last seen just south of Daniel. Soon both deer and antelope will be doing their migration in force and crossing the highways in large numbers, scaring the wits out of unprepared drivers, so be especially alert for wildlife on the roads (day and night).
More and more of the locals are out riding bikes and starting to say "It's hot!" as they stroll around town wearing shorts. Early tourists give themselves away by still wearing their coats and the funny expressions on their faces when watching locals in shorts and t-shirts. Outside dogs can be seen panting and laying on the remaining snow piles instead of on the grass in order to cool off.
Some days morning temperatures are in the 40s by 7 am and reach highs in the 60s, while others still barely make it into 40s during the days. (see what I mean? "hot!") Weather reports have started to put in "chance of thunderstorms", which is a sure sign we're starting to switch over to the real spring/summer weather pattern and winter is finally losing its grip on Pinedale. Still, we will probably get a couple more good dustings of snow before it's really summer. Experienced gardeners still warn not to put out flowers until after Father's Day in June if you want to be sure they won't get wiped out by a spring storm or overnight freeze.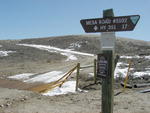 Snow still blocks the Skyline Drive Road just past the turn-around beyond the White Pine Ski Area road. The road to lower Fremont Lake is mostly bare with some patches of snow on it that a truck can get across, but a sedan might want to wait a week before attempting. Those with trucks can get around through the Fremont campground loop road, but summer home access is still marginal.
Roads on the Mesa are still closed through April 30th for wildlife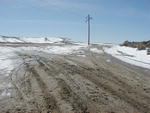 habitat protection. From what we could see they still have snow on them and are a muddy mess yet on the Pinedale access end. Many of the gravel roads down low are now mostly dry and passable, except for a few muddy patches. Expect ruts and rough spots, though, from people who tried to drive them when they were still wet and didn't make it very far. The Ryegrass and Cottonwood roads are bare and dry all around on the lower loops, but sideroads still have some drying up to do. The further south you go towards Piney, the side roads are dry and not a problem on the lower portions.
There still is some late season snowmobiling to be had up Horse Creek and higher up in the Wyoming Range, but the snow is a bit crusty and getting pretty used on the designated trails. Local snowmobile rental places can tell you the best places to go, so come on up if you're wanting to get some more sledding in.
We're looking forward to seeing all you Snowbirds again here soon! Bondurant folks, things are pretty much on schedule as usual for your melt off and ability to get into your places.
Watch the Super 8 web cam photos to keep tabs on how the snow is melting off in town and in the mountains! It's pointed northeast with a great view of Fremont Peak and the Wind River Range.
Tuesday, April 2, 2002


Bears starting to emerge


Interim Rule Proposed to Postpone Existing Snowmobile Regulations for Yellowstone and Grand Teton National Park


Bondurant Church enrolled in National Register of Historic Places


More Ben Franklin Scenic Photos
Bears starting to emerge
Outdoor recreationists are being advised to be alert for bear activity as bears begin emerging from their winter dens. After they emerge, bears will begin seeking food sources including wildlife or cattle carcases and winter weakened game. Recreationists are cautioned to be alert for possible bear encounters around dead animals that bears may be using for a food source.
Interim Rule Proposed to Postpone Existing Snowmobile Regulations for Yellowstone and Grand Teton National Parks
The National Park Service is proposing to postpone implementation of existing regulations which phase out the use of snowmobiles in Yellowstone and Grand Teton National Parks, and the John D. Rockefeller, Jr., Memorial Parkway. The postponement would be effective for one year. The existing regulations were published in the Federal Register on January 22, 2001, under the Final Environmental Impact Statement (FEIS) rule. Additional time is needed to complete a Supplemental Environmental Impact Statement (SEIS) that was initiated in response to a lawsuit brought by the International Snowmobile Manufacturers Association (ISMA) and others. The settlement required the National Park Service (NPS) to prepare the SEIS. The proposed rule is open for public comment until May 29, 2002.
The proposed rule delays phase out of snowmobiles until the winter use season of 2003-2004 because the SEIS process will not be completed until November 2002, and because the NPS has not had sufficient time to plan for and implement the NPS-managed, mass-transit, snowcoach-only system outlined in the existing Winter Use Plan. Under the proposed rule, snowmobile use will be extended until the end of the winter use season 2003-2004 at all three park units. Implementation of public use limits previously set to go into effect in the winter use season 2002-2003, will be delayed until the 2003-2004 winter use season.
The proposed rule, as published in the Federal Register, can be found for review online at web address: www.nps.gov/grte/winteruse/proposedrule.pdf. Written comments on the proposed rule may be mailed to: Robert J. Maguire, Winter Use Regulations, National Park Service, P.O. Box 124, Moose, Wyoming 83012. Fax: (307) 739-3504, or Email: grte_winter_regs@nps.gov. E-mail comments should be submitted as an ASCII file avoiding the use of special characters and any form of encryption, and include your name and return address in your Internet message. Your name and home address will become part of the public record, unless you specifically request that they be withheld. Electronic copies of the DSEIS are still posted online at www.nps.gov/grte.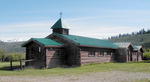 Bondurant Church enrolled in National Register of Historic Places
Church of St. Hubert the Hunter
The Wyoming State Historic Preservation Office notified the Sublette County Historic Preservation Board on Tuesday that the Church of St. Hubert the Hunter, also known as the Bondurant Protestant Episcopal Church, has been enrolled in the National Register of Historic Places. The enrollment actually occured on January 24, 2002, but the announcement was just made public by the state office this week. The National Register of Historic Places is the federal government's official list of historic properties worthy of preservation.
Before 1941, the town of Bondurant did not have a church in their community. The Church of St. Hubert the Hunter was built in 1941 as a memorial church with money obtained by the sale of a diamond. The church remains much the way it was in 1941. Originally a coal shed to the east was separate from the church, but they were connected by a log addition in 1980. Around 1970, a concrete foundation was poured to replace the original log piers. In 1976, a green metal roof was added to cover the original rolled asphalt roofing. In 1979, the plumbing was hooked up in the new kitchen and two restrooms were installed. Regular church services are still held today at the building by the Reverend from the Pinedale St. Andrews in the Pines church, who travels to Bondurant to hold services.
The Bondurant Barbecue is held each year at the church on the last Sunday in June following outdoor church services. The tradition started in 1941 with a lunch and dance after the consecreation service and has been held every year since. Local residents donate food and the money earned is used for maintenance of the building. This event brings the local community together and is also attended by many visitors from around the area. For more information and photos about the church, and other historic buildings in Sublette County, please visit: http://www.sublette.com/history/historicbuildings
---