Friday, April 27, 2001 Update - Spring?


Soda Lake opens May 10


Area lakes starting to melt off


Elk, Deer & Antelope Hunting


LOCAL FOCUS:


Forest Service Update


Jobs in Sublette County


Trudy's Take:The Feeding Frenzy is Here
The weather this week has swung from gorgeous blue skies with temperatures in the 60s, to dark clouds moving in with snow/lightning storms that deposit 3" of wet snow in just a couple of hours, back to blue skies and 'wear shorts weather'. Every bit of this late spring snow is very much needed in the high country right now. The Green River valley is only at 71% of the basin-wide average of maximum snowpack this year and we've already started to get some fires. So the kids are enjoying being able to make snowmen in the morning and put shorts on in the afternoon. The county ranchers are hoping fire season won't be too bad and trying to sneak in some spring burning. And a few die-hard souls are still at the gate up at White Pine at 7:30 am every morning so they can hike up the slopes and get in a few runs on great end of the season snow. Those less athletic are getting their thrills doing the Pinedale main street slalom through the ever-changing road construction orange lane markers.
Soda Lake opens May 10th
Avid fishermen are anxiously awaiting the opening of Soda Lake on May 10th. Presently the roads are all dry to get in and the gates on the main road are open, but the lake still has a thin skim of ice except for a thin strip just near the shoreline. The roads around the lake are still closed to unauthorized human presence until May 1st in order to protect wildlife, however the main road to Willow Lake is open to public travel. Hopefully the road construction will be mostly done on the west end of town by the time of the lake opening. For now, visitors have to take a couple of block detour from the main highway to get to the Soda Lake road. For more information and pictures of the lake, please visit our Soda Lake page.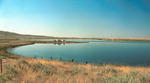 Area lakes starting to melt off
Spring is definitely making headway and many of the lower areas are opening up and access roads are clear and dry. The roads around the lower end of Fremont Lake and the CCC ponds are open, with some patches of snow in the campground area. The roads to Half Moon and Willow Lakes are also clear. The mesa roads are open with some muddy spots on lesser used roads. While we know folks are itching to get out and explore as the weather warms up, outdoor users are asked to not drive on roads that are still wet which can result in deep ruts and road damage that is expensive to repair. Below are pictures of Fremont, Half Moon, and Soda Lakes (archive photo). The lakes aren't quite ready yet, but now is a good time to get your boat in to have a spring tune up and get your boat license renewed.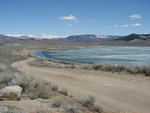 Sublette County lake & stream fishing:
Burnt Lake: Opens May 1st
Fall Creek: Opens July 1 (see regulations)
Green River Lakes: open year round
Half Moon Lake: open year round
Meadow Lake: opens July 1st
Fremont Lake: open year round
Soda Lake: opens May 10th
Resident Elk, Deer & Antelope Period May 1 - 31
Wyoming Game & Fish
As residents begin applying for 2001 elk, deer and antelope applications, they are alerted to the $3 application fee for each license and adult deer licenses going up to $25. Applications must be received at the Wyoming Game and Fish Department's Cheyenne office by 5 p.m. May 31.
Although this is the first year of a resident application fee, nonresidents have been paying $10 since 1997 and $5 for many years before that.
Tom Rowe, the G&F's license draw manager, encourages hunters to apply for doe/fawn deer and antelope licenses in the drawing. "With fewer doe/fawn antelope tags this year, there may not be any licenses available after the draw and the drawing may be your only shot in some areas," Rowe said.
The antelope quota was reduced by about 25 percent statewide. Hunters can check season dates and quotas before applying by calling (800) 842-1934 or by picking up a "summary map" for deer, elk or antelope at license agents or G&F offices.
Applications are available at the same outlets. Resident hunters can purchase general elk and deer licenses from license agents through the end of the season. There is no application fee when buying licenses over the counter. WY G&F Release
LOCAL FOCUS:
Forest Service Update
The Bridger-Teton National Forest reminds Forest users that soggy spring conditions leave land and water resources in a vulnerable condition. Vehicle use on saturated trails, roads and hillside areas can easily damage the land causing permanent ruts, bog holes and erosion. Erosion can impact water quality by increasing the amount of sediment in spring run-off, which can create unhealthy conditions for fish populations. Ruts and bogs create additional maintenance needs that are costly to repair. Specific activities that particularly contribute to this type of resource damage are vehicle or ATV use on wet or muddy roads, bicycle use on muddy trails, and crossing open muddy slopes by any means, even foot traffic. And while the scheduled May 1st re-opening of closed winter range has everyone thinking about the big antler hunt, the Forest urges visitors to the Bridger-Teton National Forest to be responsible by avoiding trails and roads that appear very wet and muddy. To prevent road damage, the Bridger-Teton will be closing Granite Road to vehicular access on April 24th. Road conditions will be checked weekly and the gate will be opened as soon as the road surface dries out enough to handle traffic. Limited access will be allowed to private landowners in the area.
Jobs in Sublette County
Anyone looking for a job in Sublette County long distance finds out pretty quickly that it just isn't easy to get information about who's hiring. Jobs with the state of Wyoming are listed on the State web site: http://personnel.state.wy.us/stjobs/index.htm. The Wyoming Job Bank, http://onestop.state.wy.us/appview/wjn_home.asp, lists jobs from the state Department of Employment. The Superintendent's office takes job applications on file for local school district positions. The best way to find out about local jobs available is to get a copy of the latest newspaper, either the Pinedale Roundup (307-367-2123) or the new Sublette Examiner (307-367-3203), and check the ads and classifieds. Here are jobs available we found listed this week:
Sublette School District #1 for 2001/2002 school year, open until filled, 307-367-2139:
Special Education Teachers (2), K-5th grade, and 6th-8th grades
Middle School Social Studies Teacher or Language Arts/Social Studies Teacher
Pinedale Preschool, Director/teacher, 307-367-2666 or 307-367-2875
Museum of the Mountain Man, Museum Director, 307-367-4101
Sublette Center, 307-367-4161: Afternoon shift dietary aide, PM dietary aide, Cold prep
Multi-purpose person, and Part-time receptionist
Centerfire 66, convenience store clerk, 307-367-6717
Wagon Wheel Motel, housekeeper, 307-367-2871
Pine Creek Inn, housekeeper, 307-367-2191
Patio Grill, 307-367-4611
Big Js, secretary, 307-367-4320
Davis Painting, painter, 307-367-6461
Sublette Co. Road & Bridge, summer roller operators & water truck drivers, 307-367-6390 or 307-367-3827
Sublette Co. Weed & Pest, summer help, 307-367-4728
7-Mile Ranch, assistant kitchen manager, 307-859-8854
T & J Plumbing, plumber, 307-367-7220
Rocky Mountain Home Center, sales & customer service, 307-367-6711
Children's Discovery Center, (2) camp counselor positions, 307-367-6272
Town of Pinedale, summer help, 307-367-4136
Big Piney Home Economics Teacher, high & middle school, 307-276-3322
Town of Big Piney, summer help, 307-276-3554
Town of Marbleton, Summer landscaping supervisor & high school age summer help, 307-276-3815
Snowbirds: Meadowlarks are back!

Trudy's Take - Feeding Frenzy
Trudy Fry
The feeding frenzy has started in Pinedale. Three restaurants are going to be opening up in the next couple of weeks. Lakeside Lodge will be open and kicking off their season with Prom Night. There are a couple of new things on the pasta menu but most of it is the same. The Patio Grill is opening back up after being closed for a while. Billy's arm is getting better and Annette is ready and rearin' to go. Their menu is the same tried and true food. King Kone/Trapper's Tidbits/Sugar Shack is opening this weekend. There are a few new things on the menu and a lot of the same from last year. Tommy is always being creative and trying to bring a bit of the unusual to our mundane exhistance. The real trick will be to see how close you can get to these establishments via the orange cones and the wet cement. Summer is almost here - bring on the tourists!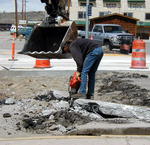 Road Construction Update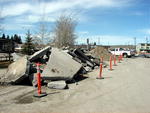 May 5: The Town is still replacing waterlines across the highway. WYDOT is moving to the south side of the highway working on redoing the 'dips'. Two-way traffic is being maintained through Pinedale during entire project with no significant delays. Some cross streets are blocked as road crews work on widening the cross dips and town crews replace water pipes.
---
Each year in early spring, sage grouse gather on breeding grounds, called leks, to perform their mating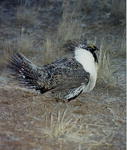 rituals. At first morning light, the males perform a magnificent strutting display, inflating their breast sacs, erecting their tails, and emitting a resonant plopping sound. Occasionally there is fighting between males as a pecking order is established to determine a master cock who then performs the majority of the breeding. Because of abundant habitat, Wyoming has some of the best sage grouse hunting in the world, with this year's season being September 22-October 7. Photos by Cris Paravicini.
Friday, April 20, 2001 Update - Fire Season Begins


Fire season begins


Colorado Children's Chorale


Ag Center has lots going on


Spring Boating Caution


LOCAL FOCUS:


Forest Service & BLM Update


Looking for Loons


Fire season begins
Fire season started early in Sublette County this year when several spring burns got out of control of local landowners who began their seasonal controlled burns earlier this week. A fire was reported in the Silver Creek area Monday. On Tuesday, one fire was reported south of Daniel, one on South Cottonwood Creek, and one near Cora. Landowners and ranchers typically do controlled burns in the early spring to get rid of debris and brush in irrigation ditches, to remove overgrown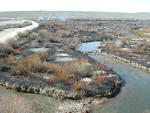 dead grass in fields that might pose a fire hazard later in the year, and to put nutrients back into the soil enhancing summer grass growth. This year the fuel moisture is extremely low and it only took a shift of the wind to turn these controlled burns into rapidly moving brush fires. Volunteer fire department personnel from all over the county were out responding to the calls. No injuries or damage to buildings were reported in any of these fires, but it served as an early warning of what may be to come this summer with extremely dry conditions already. Landowners are reminded to call the Sheriff's Office to notify them of a burn before beginning controlled burns.
Colorado Children's Chorale
On Wednesday, April 25th, the Pinedale Fine Arts Council presents the Colorado Children's Chorale. The 36-member chorale, ages 7 to 14, will be performing such works as "Getting to Know You" from The King and I, "It's the Hard-Knowck Life" from Annie, "Do Re Mi" from The Sound of Music, "The Baseball Game" from You're a Good Man, Charlie Brown, "Tales from the Vienna Woods" by Johann Strauss, "America the Beautiful" and much more. Tickets are $10 for adults, $7 for students, and $30 for families. Tickets are available in Pinedale at the Cowboy Shop, Moosely Books, Moose Creek Trading Company and Office Outlet. The performance will be at 7:30 pm at the Pinedale High School Auditorium.
Ag Center has lots going on
The Sublette County Ag Center has many activities on tap for the year. Earlier this month they held an Easter Egg hunt for the little ones and an Easter Team Roping event. On Saturday, April 28th, there will be a Horsemanship Clinic from 10 am-3 pm. Barrel races will be held on Sunday, April 29th. Events next month include a Horse Show on May 19, Cutting May 25-28, and the Pat Wyse Clinic May 30-June 2nd. The new Ag Center is located just north of Marbleton at the Fairgrounds. For more information about Sublette County Ag Center events, please visit their web site at: http://www.sublette.com/agcenter/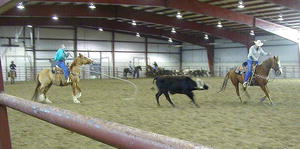 Spring Boating Caution
Wyoming Game & Fish
Spring afternoons may be warm and the outboard ready to roar -- but the water, which isn't much warmer than the ice that recently left, can be a subtle yet insidious killer of unprepared early season boaters.
Due to the frigid water and fewer boaters out, spring boaters are urged by Russ Pollard, Wyoming Game and Fish Department (G&F) boating safety officer, to use utmost caution.
"The frigid water of spring can quickly kill boaters who fall in the water," Pollard said. "Boaters can also easily be stricken with hypothermia just from the spray off the waves."
Pollard believes the 50 degree and colder water makes it doubly important to have your life jacket strapped on. "Cold water quickly zaps your body's motor skills and can make you disoriented, making it very difficult to find or even fasten a life vest after being thrown in the water," he said.
He also advises spring boaters to wear rain gear or waterproof garments to keep dry from waves spraying into the boat and to boat in "teams."
"With just some simple precaution we can avoid the tragedy of four years ago in Saratoga," said Pollard, of the accident that killed a 16-year-old boy.
On May 1, 1997, the canoe two Rawlins teenage boys were paddling capsized on Saratoga Lake. One boy was rescued by a G&F biologist and the other drowned in 40 degree water. No life jackets were worn or on board.
The G&F offers a free home study "Safe Boating Course." The course, which qualifies boaters for a discount with some insurance companies, is available by calling (800) 842-1934 or (307) 777-4600 in Cheyenne or out of state.
LOCAL FOCUS:
Forest Service & BLM Update
Access into the high country and all major trailheads is expected to be open by the 1st of July, reports Hank Williams of the Pinedale Ranger District. Right now Elkhart still has about 38"-40" of snow and isn't expected to be accessible until about mid-June. Green River Lakes road should open up around the 1st of June. While commenting that everything depends on the weather, Williams said "We expect all our campgrounds to be open by Memorial Day weekend at the end of May, except for Trails End at Elkhart and Big Sandy." Visitors are strongly encouraged to stop by the local District office before venturing into the high country to get the latest information on trail conditions, advisories, and updates on any bear activity for the areas in which they plan to go.
The BLM Warren Bridge/Upper Green campground will be open June 1st with a campground host on site. No reservations are required for this campground located on the Green River crossing of Hwy 191 between Pinedale and Bondurant. The BLM also reported that they had no news updates regarding the killing of the wild horses on the Mesa north of Rock Springs.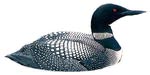 Looking for Loons
The Wyoming Game and Fish Department is interested in all observations of the Common Loon, especially new nesting sites in the Bridger-Teton, Shoshone and Targhee National Forests to determine breeding range, nesting status, and nesting success in Wyoming. Common Loons can occur across Wyoming during spring and autumn migration, but nesting loons are restricted to specific habitats, most often at elevations between 6,000 and 8,000 feet. Loons are typically found on secluded lakes that do not receive a lot of human activity. Their mournful call is symbolic of the backcountry away from the disturbances of man. Anyone observing a Common Loon nesting site on the Bridger-Teton National Forest is asked to contact the Wyoming Game and Fish Department in Lander, Wyoming at 1-800-654-7862 and ask for Bob Oakleaf, Nongame Coordinator, or Andrea Cerovski, Nongame Bird Biologist.
Snowbirds: Spring weather is keeping us on our toes. Today brought cooler temperatures and several squalls with lightning, thunder, snow/hail, and slushy rain. Got 3" of heavy, wet snow in about 2 hours. Later, blue skies. Enjoy your palm trees and basking on sunny beaches. We're getting our snowmachines and skis back out for the best spring fun ever!
New on Pinedale Online!
Pinedale Online welcomes GeoSource Heating and Cooling to Pinedale Online! GeoSource offers professional installation and service of energy efficient heating and cooling systems and is the local authorized York dealer, a leader in the heating and air conditioning industry. Bob Johnson, of GeoSource, offers sales and service of heating and cooling systems including air conditioners, high efficiency furnaces, oil furnaces, heat pumps and hydronics. For more information, please see our new Heating page in our business section.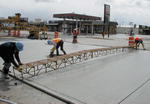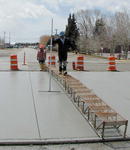 April 23-27: The Town is still replacing waterlines across the highway. WYDOT is working on redoing the 'dips'. Two-way traffic is being maintained through Pinedale during entire project with no significant delays. Some cross streets are blocked as road crews work on widening the cross dips and town crews replace water pipes.
WYDOT web site for more road construction info
---
Guess which lane you should be in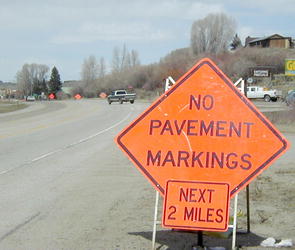 The road through Pinedale is under major construction, and the big challenge from day to day is figuring out which lane your supposed to be in as they move sections being worked on from place to place. But highway crews are doing a great job of keeping us on track with cones and lane markers with no delays.
Friday, April 13, 2001 Update - Where can we go now?


More on Road Construction


When can we get into the mountains?


Off the Paved Road


Wyoming Cowgirl


LOCAL FOCUS:


Trudy's Take: Help, Pat!


Hunting & Rendezvous
Folks who went up skiing at White Pine Ski Area this week said these spring snows have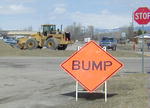 made the skiing the best all season. The ski area closes this weekend, so now is your last chance to go up! Also, the snowmobilers in-the-know report that the sledding up Horse Creek is fantastic with this fresh snow. What's better is that so many folks have put up their sleds thinking the season is done that you can drive right up to the parking lot and have it mostly to yourself. "Don't give up yet. There's still some great sledding to be had." according to Big J's Snowmobile Rentals and Performance Tech folks.
More on Road Construction
The Town is currently in the process of replacing waterlines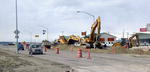 in four locations across Highway 191 which means tearing up the street two lanes at a time. Traffic flow will be maintained through town at all times. The challenge is just figuring out which two lanes at any given time will be the open ones. It's all going very smoothly considering the major equipment that is operating downtown and there is access to all streets and businesses.
Visitors should be aware that road construction will begin on Highway 191 between Pinedale and Jackson begining April 16th as the Wyoming Department of Transportation (WYDOT) replaces seven bridges. The work will be between milepost 127 at the Rim to milepost 157 at Stinking Springs at the north end of Hoback Canyon. Repair work will take place throughout the summer construction season. The bridges are being retrofitted to withstand seismic activity, have essential surface maintenance done, and be brought up to current safety standards. Visitors can expect one-lane traffic with possible delays of from 20-30 minutes in those areas. Current road construction information is available at the WYDOT homepage: http://wydotweb.state.wy.us.
When can we get into the mountains?
We're getting more inquiries from folks wanting to know the current conditions and whether or not the mountains will be open for trips they are planning for May and June. Of course, it's anyone's guess what the weather will do, but so far things are similar to last year. Snowpack in the mountains is about 68% of average, which means once it warms up more consistently, it won't take too long for the higher country to start melting off quickly. This month has been 'potluck' on weather, with the only guarantee being it will probably be different 30 minutes from what it is now. Snow squalls pass through bringing near white out conditions, then blue sky and sunshine melt it all off within the hour. Anyone planning outdoor recreation activities this time of year should bring warm clothing to layer for a variety of conditions, from rain to snow. To get a general idea of when things opened up last year by comparison, click to our archive pages of front page updates:
| April, 2000 | May, 2000 | June, 2000 | July, 2000 |
Last year's Update Archives
"Off the Paved Road"


James Rogers
Meet James Rogers: outdoorsman, rancher, cow dog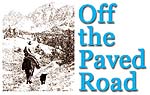 trainer, bull breeder, hunting guide, cowboy, real estate agent, husband and father. In this new column for Pinedale Online, James shares his insights into Sublette County outdoors, ranching in the Green River Valley, what is in Pinedale and what makes life here so great, and the ebbs and flows of real estate here in the real west. James offers wonderful glimpses into our Sublette County lifestyle, "off the paved road". Sponsored by Pinedale Online. www.offthepavedroad.com
Wyoming Cowgirl
Cris Paravicini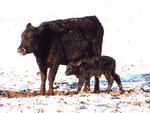 Some folks have written concerned that Cris didn't update her diary on Wyoming Cowgirl last week and wanted to know if everything is ok with her. Everything's fine! She has her hands full being in the middle of calving season and taking care of all the newborns at the ranch. Thanks to all of you who wrote. Keep those e-mails coming to Cris! See the pictures and read her latest update at www.wyomingcowgirl.com! (sponsored by Pinedale Online)
LOCAL FOCUS:
Hunting & Rendezvous
This is the time of year when we get a lot of folks inquiring about Outfitters & Guides for their fall hunting trips. Most of our local outfitters have their own web sites with lots of information about their services and fees. Visitors can link to many of these businesses from our Outfitters & Guides page.
We encourage anyone who is planning on coming up in July for the Green River Rendezvous to make their lodging reservations well in advance as things book up early for that time of year. Local lodging includes Bed & Breakfasts, motels, guest ranches, and cabins. All should be open in town by the beginning of May, and you can reserve now with the ones that are still closed for the season by e-mailing them. For additional lodging information, check with the Pinedale Area Chamber of Commerce.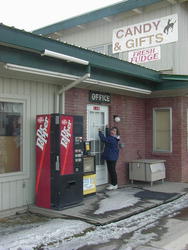 "TRUDY'S TAKE" - Trudy Fry
PAT, WE NEED FUDGE!

(For those of you who don't know what this is about, Pat Martin, owner of the Sun Dance motel, always has delicious, fresh, home-made fudge in her motel gift shop during the summer. She's just across the road from us here at Office Outlet. The motel is open May-October. We can't wait for our Snowbirds to get back...)
Snowbirds: Spring Break week means things have been pretty darned quiet around here. Sandhill cranes and robins are back. Prairie dogs are out and scampering about. Pat, see 'Trudy's Take' below for important information.
---
Friday, April 6, 2001 Update - Cabin Fever
Cabin Fever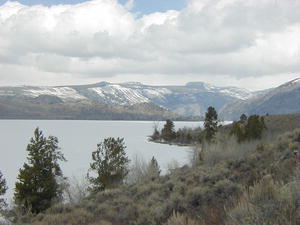 Lower Fremont Lake road is open to the Summer Home turnoff for those
who are itching to get out for an early spring drive.

Cabin Fever


Aniel Daniel Chili Cookoff this Weekend


G&F Seeks Volunteers for Eighth Annual Western Wyoming Deer Mortality Surveys


LOCAL FOCUS:


Changes at the Pinedale Post Office


Trudy's Take: High School Plays Were Great!
Cabin Fever
Spring is definitely on its way and for those of you who can't wait to get out of the house and go for a scenic drive, we have this report on what's open close to Pinedale. The road around the lower end of Fremont Lake to the boat dock is clear and dry. The water around the boat dock area is starting to melt. The road to the CCC ponds parking lot is completely open and dry. The path around the ponds has some small patches of snow around the far side, but is still a nice walk. The road to Sandy Beach and the Day Use area is open and you can get to the picnic tables. The lower Fremont Lake road is mostly open to the Summer Home and Forest Service Campground junction. The outbound lane still has some patches of snow, but nothing even a small car can't get around. The lake is still frozen over, but getting mushy. Scroll down for more early spring pictures.
Aniel Daniel Chili Cookoff this Weekend
Don't miss the 20th Aniel Daniel Chili Cookoff Saturday, April 7th, at the historic Daniel Schoolhouse! This event has grown each year, with local cooks vieing to win the award for the best chili in the Red and Green Chili categories. Admission is $5 per person. Chili entries must be checked in by 4 pm, and judging is at 5 pm. Dinner starts after the judging. Chili entry fee is $8 in advance and $10 at the door.The Cook-Off tradition began in 1982 when two Daniel locals got into a debate over who made the best chili. A bartender at the Green River Bar suggested they have a cook-off to decide the matter. No judges were used, bar patrons voted on which they liked best. This led to quite the competition as entrants encouraged all their friends and fans to come and "help" with the deciding and determining the winner. The event grew each year and in 1986 moved from the Green River Bar to the Daniel Community Center to accommodate the growing crowd. Still an annual event, proceeds from the event help raise money for maintenance costs of the Daniel Community Center throughout the year.
Game & Fish Seeks Volunteers for Eighth Annual Western Wyoming Deer Mortality Surveys
You can assist mule deer management, get a hands-on look at where Wyoming's largest deer herd endures winter, and get some exercise to boot, by helping the Wyoming Game and Fish Department with the eighth annual deer mortality surveys.
Survey coordinators Gary Fralick and Tom Christiansen are seeking extra volunteers this May. "Because the deer were widely dispersed due to a mild winter, we need as many hikers and horseback riders as possible to adequately cover an extremely large area of winter range," said Fralick, the G&F's wildlife biologist in Thayne.
The goal of the surveys is to get a sample of winter mortality on the Wyoming Range Mule Deer Herd for an indication of overall loss and what age classes got hit the hardest by the winter conditions.
"Based on this important survey, we can offer some predictions what the upcoming hunting season may offer to deer hunters who hunt in the Wyoming Range and Greys River," he added.
Volunteers are alerted that this year they must fill out and submit a volunteer form to the G&F by April 15 to participate in the surveys. Forms are available from the G&F. Unfortunately, volunteers can no longer participate by signing up on site the day of the survey.
The Big Piney and La Barge surveys follow the next day. Volunteers should meet at the Big Piney High School, 9:30 a.m.
To sign up or for more information contact Fralick at (307) 883-2998 or Doug McWhirter at (800) 367-4532 or (307) 367-4353 out of state.
The Big Sandy (Elk Mountain) mule deer mortality survey will be Friday April 27. Enrolled volunteers should show up at 7:30 a.m. at the Green River G&F office or 8:30 a.m. at the Farson Mercantile. -WGFD Press Release-
Snowbirds: It's Spring Break! Baseball field and skateboard park are clear of snow. Roads into the forest are opening up. Lots of cute little calves in the pastures.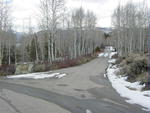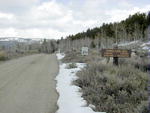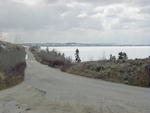 The lower Fremont Lake road is open to the junction
with the campground and summer homes.
"TRUDY'S TAKE"


"This last week my daughter and I had the opportunity to drive to Big Piney and experience the wow of the high school drama performance. It was appropriate for the area, it was entertaining, it was very funny, the acting was great and the improv was creative. It felt good to laugh so hard that your sides ached and afterward wondered what you had missed on the sidelines. Everyone in the production was a "ham" and did a great job. All the way home, in a rather intense snow storm, we were singing buck, buck, buck, buckaroo, roo, roo and quoting lines from Romeo and Juliet and reinacting parts of the fight scene amoung other things. My only complaint was that the advertising for these productions (and that includes Pinedale's play) didn't reach a lot of people that would have been delighted to attend. It you need help with this I am volunteering to help be a P.R. person for next years event. To all those that made us laugh for a while, thank you, thank you.....(buck, buck, buck, buckaroo, that song will be playing in my mind for quite some time to come). "
LOCAL FOCUS:
Changes at the Pinedale Post Office
Pinedale's Social Center, also known as the Pinedale Post Office, has undergone some changes lately. The biggest change is that all mail, including local Pinedale mail, now goes to Rock Springs and is sorted and cancelled there automatically. "It is more cost effective to run the mail through machines" said Danny Bennett, Postmaster for the Pinedale Post Office. Mr. Bennett added that anyone wanting to have mail with a local post mark can still request it and have it stamped with a Pinedale cancellation. "What took us 2-1/2 to 3 hours to do here takes 10 minutes by machine in Rock Springs. That means we can get the mail out to the boxes a little earlier every day and saves us 18 hours a week just sorting mail." Some mail still needs to be hand sorted, but it is considerably less volume than before. Now the mail comes from Rock Springs all in order and ready to go into each box, speeding the process up considerably. "Pinedale has grown. The boom is going on. We're getting new home growth, new people, and people coming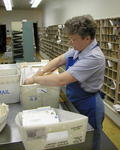 here to retire. We were almost full to the maximum on our boxes at the end of last year. When someone left we had to rent the box out the next day. We put in 300 new boxes in November and now we're ok again" explained Mr. Bennett. The new boxes brings their total to a little over 1700 rented boxes out of the Pinedale Post Office.
The Post Office is considered by many to be one of the main social centers for the town, where people go to visit with friends, some they don't ever see anywhere else but there. Because there is no in town mail delivery, everyone goes to the Post Office almost every day. People chat with their friends in the parking lot, while waiting in line, or collecting their mail, and it has become almost a daily social ritual for many.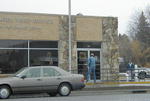 "The only ones here who want house delivery are the folks who move here who are used to it from other places" explained Mr. Bennett. "The people who live here don't want it. Jackson voted it down 2 to 1 there. In town, we don't meet the criteria for carrier delivery. We would have to install curbs and gutters everywhere and do snow removal to make it safe for the carriers. Then the Post Office would install clusters of boxes for sections of the street. We still wouldn't have individual house delivery. I don't think people would vote for it here either though. People like the social activity of going to the Post Office every day and seeing their friends."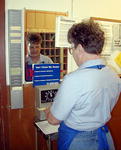 April marks the last month for Dorothy Davison who has worked for the US Postal Service for 26 years, counting the 7 months sick leave she has accumulated. Starting as a "Casual" at the Pinedale Post Office many years ago, she later moved to other towns and worked. But she came back to Pinedale and is finishing her career where she started. She said she is looking forward to retirement and they plan to move to Riverton where they have already bought a house and started the garden. "The rhubarb is already a foot high and the lilacs are leafing out" she said. Asked if she would be looking for work again, Ms. Davison joked about what her next job might be and that it would probably involve the words, "Welcome to K-Mart. Would you like a cart?" But her grandson told her she wasn't near old enough yet. For more information about changes, please read the article in the Pinedale Roundup this week. (article)
Upcoming Events
April 7 Aniel Daniel Chili Cookoff, Daniel Community Center
April 7 Friends of the Library Easter Egg Hunt and Pancake Breakfast, 10 am, Ag Center
April 14 Lions Club Easter Egg Hunt, Pinedale Town Park
April 14 Easter Team Roping, Ag Center, 1 pm
April 15 Last day of season for White Pine Ski Area
April 15 Rendezvous Meadows Golf Course opens
---
Monday, April 2, 2001 Update


April Fools!


Big Piney/Marbleton to get Wyoming.com


G&F Releases Grizzly Bear Draft Plan


LOCAL FOCUS:


Super 8 Motel to Open in Pinedale


Trudy's Take: Road Construction
April Fools!
Those of you who checked in on Pinedale Online yesterday and earlier this morning may have been a bit suprised to see Pinedale "OFFline!" instead of Pinedale Online! Started last year in conjunction with our ad in the April Fool's Day issue of The Sublette County Journal, the "Pinedale OFFline" web site is tongue in cheek, yet somewhat serious. The ad, which said, "Pay us NOT to advertise PInedale" had a link to the Pinedale OFFline web site. We certainly have folks who don't want us telling the world about the Pinedale area and let us know it. We kept the Pinedale OFFline site up all year and were surprised to have people still find it throughout the year by word of mouth. We updated the site this year and expect Pinedale OFFline to be an annual April Fool's Day tradition. Here are some of the comments we received about Pinedale OFFline this year:
"I'm not sure but what this shouldn't be "online" more than April Fools Day. Anyhow...great."
"What a hoot! We visit PinedaleOnline every week. Charge our vacation dollars for your use to: American Depress, 8888-7425-9888-2212.
"I think this is the best thing you could do if you insist on using the internet for luring tourists to Pinedale. (only a very few profit). It should only be used for local information to substitute the news paper we print. I agree to the comment you recieved; It will only spoil it for us and our children, there has to be somewhere left on this earth where we can enjoy a place where humans have not changed everything. Has some of the promoters realised why most people like it here or are the dollar signs just to big in their heads to see what they are doing to this great place of NATURTAL beauty."
"Good Job. Congratulations, your best page yet."
I'm looking at the site on April 2, but this is a great joke -- what a welcome laugh for a Monday morning.
just great you guys - enjoyed every nook and cranny of the site. please keep it up. so well said.
Greg, we apologize. Happy April Fools Day everyone. Thanks for visiting Pinedale Online! For those of you who missed it, Pinedale OFFline can be found at www.pinedaleoffline.com.
Big Piney/Marbleton Areas to get Wyoming.com Internet Service Soon
Wyoming.com, a Riverton, Wyoming based internet service provider, announced they would be extending their service to encompass the Big Piney and Marbleton areas. "Wyoming.com is pleased to announce that Big Piney and Marbleton will soon be joining our state wide Internet Network. We are excited to have the opportunity to serve these communities and provide them with a highly competitive option for internet service." said Heather Becker, Wyoming.com Director of Marketing. Currently only Trib.com provides internet access to that area. The new service will be available around mid-April and will be only their $19.95 Unlimited Plan which includes 2 free e-mail accounts and personal web space. Customers who need assistance can call a toll-free Technical

Support office 7-day a week until 10 pm.
Wyoming.com has offered internet service to Pinedale, Daniel, Boulder and the Cora areas for the past several years, but it wasn't economically feasible to offer service to the Big Piney/Marbleton areas until now. The service is being touted as true 56K digital lines which will tie into the Pinedale T-1 network. Subscribers will use a Big Piney local dial-up access number so calls will not be long distance. The limiting factor for a customer's access speed will be the phone lines to their home or business and the modem speed in their own computers. Anyone interested in more information can visit the Wyoming.com web site at www.wyoming.com, or call Wyoming.com at 1-800-996-4638. The local contact for flyers and more information about the new service is Office Outlet in Big Piney.
Game & Fish Releases Draft Grizzly Bear Plan for Review and Comment
The draft plan which would govern Wyoming grizzly bear management outside of Yellowstone and Grand Teton national parks after the animal is removed from the threatened species list, is now available for public review and comment, the Game and Fish Commission announced Tuesday at its meeting in Casper. The draft Grizzly Bear Management Plan can be reviewed at the G&F's internet website, Wyoming public libraries and G&F offices. Written and email comments about the plan will be accepted through July 20.
The G&F will host four open houses around the state the first week in May to explain and answer questions about the plan. G&F employees involved with grizzly bear management will be on hand to discuss the plan from 6-9 p.m. in Casper * G&F Office (May 1), Riverton * Holiday Inn (May 2), Jackson * Ranch Inn (May 3) and Cody * Holiday Inn (May 7).
Although the open houses are designed for attendees to have individual conversations with the grizzly bear personnel, written comments can also be submitted at the gatherings. Participants are welcome to visit the open houses any time between 6 and 9 p.m. as their schedule permits.
"Everyone interested in grizzly bears is invited to review the plan and provide comments," said Bill Wichers, G&F deputy director of external operations. "We hope to get lots of constructive criticism that will help us improve the plan." He adds the plan will be revised based on the public comments received. The revised plan will be presented to the G&F Commission by Sept. 1 and final approval may be considered at the Commission's Sept. 10 meeting in Riverton. The plan will then be submitted to the U.S. Fish and Wildlife Service who must approve it before it can be put into action.
The 21-member Grizzly Bear Working Group representing conservation groups, agriculture and a variety of other interests associated with grizzly bears began construction of the plan in September and presented it to the G&F Commission at their Feb. 12 meeting.
Revisions were made by commissioners and G&F personnel and the current version approved for release by the Commission on March 27. The plan can be reviewed on the G&F's website at http://gf.state.wy.us by clicking on the "hunting page." Written comments should be mailed to: Grizzly Bear Plan, Wyoming Game and Fish Department, 5400 Bishop Blvd., Cheyenne, WY 82006 or emailed to gfgrizzly@state.wy.us. Comments must be received by 5 p.m. July 20. -WGFD Press Release-
Snowbirds: Hockey is done for the season. The kids have turned to riding bikes now that the roads are clear. Old snowpile forts next to the roads are almost melted down to nothing now. Parents are finding the missing hats and gloves that were lost in them over the winter. Folks with greenhouses are thinking about putting starts out. Green leaves are braving an appearance in the flower gardens. Buds are beginning to swell on bushes.
"TRUDY'S TAKE"


"We are being totally entertained by the happenings on Pine Street. It is a new adventure each time you drive down the street. Sometimes the center lane is closed and sometimes the right lane is closed and sometimes the left lane is closed. The neat trick is to figure out which lane you are supposed to be in.
A general rule of thumb is if you are driving into oncoming traffic, they are in the wrong lane. The orange barrels and cones are added fun. Being in an area known for its barrel racers it is rather comical to see one of those big dully diesel pickup trucks making a turn around the barrels. Why let a little thing like a big orange barrel stand in the way of getting where you want to go? The next thing you know someone will be standing there with a stop watch trying to decide who can run the barrels the fastest. The "road constriction" is interesting to say the least. For now, anyway."

Super 8 Motel to Open in Pinedale
"This will be a locally owned motel," said Lisa Doorn, manager for the new Super 8 Lodge being built on the west end of Pinedale on Highway 191. "The official name is the Pinedale Super 8 Lodge. It will be 3 stories, have an indoor pool and a hot tub. There will be 43 rooms, and we will be open year round. It's going to be really nicely done."
Super 8 motels are located across the United States and in Canada and Poland. There are currently 31 Super 8 motels in 21 cities in the state of Wyoming. Each one is independently owned and operated. Ground work has already begun on the Pinedale lodge, located on the south side of Highway 191 across from Whaddya Want Rentals. "It's a great location near the hockey rink and soon-to-be-built Pinedale Entertainment Center, which will have a bowling alley and two movie theaters. People can see a movie, play hockey, and spend the night. Prices will be competitive. We will be friendly to oil & gas field workers, skiers, school groups & teams, tourists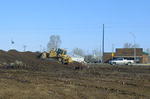 and just the salesman out passing through town."
Ms. Doorn commented that the local ownership was an important factor in their wanting to be a part of helping to bring the Super 8 motel to Pinedale. With the town's growth, the new White Pine Ski area, and the coming of the Entertainment Center, they felt the town needed another year-round motel that offered competitive rates and a pool. "The Entertainment Center will come. Some people doubt that because it is taking so long, but it takes a long time to put something like that together. You can't just call up and say 'Yah, I'd like to order a movie theater' and have it delivered to Pinedale the next day," laughed Ms. Doorn. "People ask me if we really think we can be open by the end of July, and I say, Absolutely!"
"We want to be good neighbors and good hosts. Last year we estimated that sports brought about 3,000 visitors to town between players and their families. We currently don't have enough rooms available to accommodate all that in Pinedale during the winter. During one weekend hockey tournament we had folks staying in Marbleton, Boulder, Big Piney and driving all the way from Rock Springs because there weren't enough rooms for everyone to stay in Pinedale."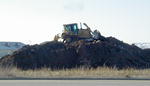 The owners are using local businesses and services as much as possible during the construction phase and will continue that philosophy after they open. "The contractor is out of Montana, but he has built other Super 8s before. He is hiring locally as much as possible for the different phases of the construction. We are interested in working with local businesses. For instance, we will be offering a continental breakfast, and if there is anyone who is interested in supplying baked goods, we will look at that. Come and talk with us. If someone comes to us looking for accommodations other than what we have, we will send them to other businesses in town that meet their needs, and I hope they will do the same for us. We will be friendly to visiting sports teams who stay here for the schools and for White Pine Ski Area" said Doorn.
The Pinedale Super 8 Lodge is scheduled to be completed in late July-early August. They will be hooked up to a central reservation system through Super 8 and will offer discounts through the Super 8 VIP membership card. Reservations can be made on their 1-800-800-8000 phone number or online at www.super8.com.