---
What's open? Lots! All trailheads are open except Big Sandy. The roads to Green River Lakes is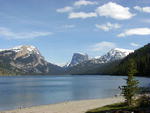 bare and dry. Campground spots are still easy to come by and are first come-first served. The water is turned on and the $7 fee is being assessed now. Some camping spots have bear-proof storage containers next to them. The fishing on the Green River is great and the water is still clear.
The Forest Services asked us to mention that the streams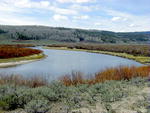 are high right now and some trail crossings are quite treacherous for both stock and hikers. Check with the local District office for current conditions for the area you are going to be in before you set out.
The road to New Fork Lakes is open and dry all the way to the Narrows Campground. The group area is dry and the access to the trailhead is good. The lake is completely clear of ice.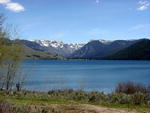 The Skyline Drive road to Elkhart Park and the trailhead is open. We ran into a couple of patches of snow into the campground at the top, but the parking lots are clear. Hikers will hit snow very quickly on the trail though. Be prepared for wet and muddy trail conditions down lower and snow up above 9,000 feet.
The road to Big Sandy isn't open all the way up yet. If you're familiar with the road, it's clear to about a mile up past the beaver ponds. The road is washed out just before the summer homes, so they aren't accessible yet. The Forest Service crews hope to have the road repaired as soon as possible.
Boulder Lake campground is open and fees are not being charged yet.
Fire danger is still low, but if we don't get any rain soon expect that to change. There's lots of wildlife out and they're easy to see if you're not up to a hike and just wanting to get out for a day drive. Even the elk are pretty mellow right now and can be found in the meadows near the road or grazing on the new grass on the mountain sideslopes. Bring your binoculars for a better view. We saw 7 elk, 2 moose and tons of deer right from the car on a drive to Green River Lakes last weekend. Saw 4 more elk and lots of deer and antelope on an evening drive up Skyline Drive to Elkhart Park last week.
If you're planning on coming for Rendezvous Days, July 7-9, we recommend making your room reservations right away. We're told rooms are being booked up fast.
We are pleased to bring you these photos of the area by free-lance photographer Ben Franklin. Enjoy his scenes of flyfishing the New Fork River in a drift boat, hikers on the Skyline Trail, Fremont Peak, and 7 other great pictures from the area.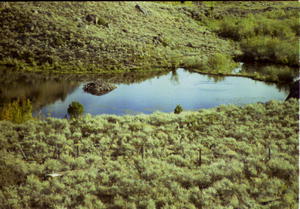 Beavers are abundant in the area. This time of year they are busy fixing their lodges and repairing their dams.
Photo by Pinedale Online!
May 18th - Mid May
The snow is gone again, but it definitely isn't as warm & toasty as it was just a couple of weeks ago. Some die-hard snowmobiling enthusiasts are still finding snow to play on up Horse Creek, but they say its on its last leg. We're ready to give up on winter-just wish Ma Nature would let it go too. For those of you who are itching to get up in the mountains, contact the Forest Service for current conditions in the high country before you go. Trails are beginning to open up down lower. Higher elevation trailheads have a ways to go before the snow comes off.
Fishing enthusiasts will be happy to know that the cooler weather means that the river water levels have dropped some and the water is clear and quite fishable. The Green and New Fork Rivers are good fishing right now, but expect things to get high again when warm weather starts melting off the high country snow. New Fork and Boulder Lakes are accessible. Reports from Soda Lake are that the fishing has been good and the water isn't as crowded as years past. 14-year old Josh was quite surprised to pull a 17" cutthroat trout on the second cast on South Cottonwood Creek last week.
The Daniel Community Center received a $7,500 WCH (Wyoming Council for Humanities) grant for the research and development of 3 slide presentations exploring the history of Daniel, Wyoming. For more information about Daniel and the new 2-volume book covering 100 years of Daniel history, click here.
The new Pinedale Skateboard Park is under construction. Some of the ramps are onsite and workers are busily putting it all together.
The Wind River Archers will hold their 2nd Annual Bennett Shoot Saturday and Sunday with 25 3D targets. Food concessions will be available. Call J.D. Bennett at 307-537-5481 for more information.
Pinedale High School graduation will be June 2nd at 7 pm in the Wrangler gymnasium. School gets out June 9th for the rest of the students.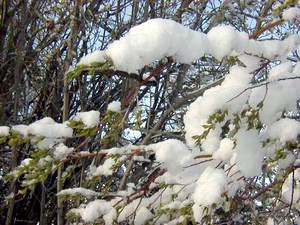 Photo by Pinedale Online!
May 14th - It's baaaaack!
We left off last week by saying "spring is definitely here"...but winter decided to remind us that it really is only May and we shouldn't forget we live in the high country. Mother Nature started snowing early Wednesday and didn't stop until Thursday, depositing about 4" of a fresh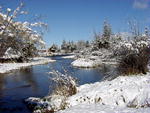 blanket of snow all over. It has mostly melted off now, so Mother's Day has seen lots of folks back out working in their yards and going on as if the taste of winter was just a quirk of nature, mostly to be ignored as much as possible.
One of the articles in The Sublette County Journal at left raises concerns about the low water levels in Pine Creek this year and how much is needed to sustain fish. The pictures below show the water levels of Pine Creek as it flowed through the Pinedale Town Park last week.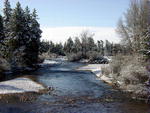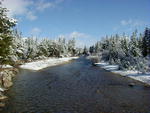 Views down & upstream from Harmony footbridge in the Pinedale Town Park
Anyone who has ventured out into the backcountry can tell you there are a lot of critters out now. Grouse and sage chickens are doing their courting dances, deer seem to be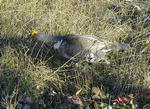 everywhere, moose are in velvet. If you're out for an afternoon drive, the Fremont Lake Road is always good to see deer and antelope. You can't get all the way to Elkhart yet, so take the turnoff to Half Moon Lake and enjoy the drive past the campground to the day use area on the end. Have a picnic by lake's edge or hike a ways down the trail around the lake. Half Moon Lake Resort is a great place to enjoy lunch or dinner.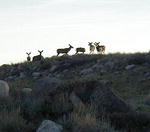 ---

Photo by Pinedale Ranger District, USFS
The Green River and Square Top Mountain
May 6th - It's dry
We've already had a number of fires across the county due to the unseasonably dry weather conditions for this time of the year. Local firemen were called out on four separate calls in one day alone last week. Officials are urging outdoor recreationists to be especially careful with fire.
The Pinedale airport will be undergoing much needed renovations and upgrading this summer, to the tune of $3.1 million. Improvements will involve resurfacing the existing runway, building a new taxiway, installing a new lighting system, and fencing the runway and two 1000-foot "obstacle free zones" on either end of the runway. The improvements will result in an upgrade in the Pinedale airport's category, allowing small commuter flights to land. That could mean an increase in business and executive jet flights into Pinedale, as well as some Jackson airport overflow traffic.
Tuesday's Pinedale Municipal election results retain Rose Skinner as Mayor for two more years and Town Council incumbents Bob Maxam and Barbara Boyce for the next four years.
May brings the opening of the Museum of the Mountain Man and Rendezvous Meadows Golf Course. On the 10th is the much-awaited opening of Soda Lake for fishing. Road closures for big game wildlife protection have been lifted off the Mesa. Cattle are beginning to be moved onto desert allotments on Bureau of Land Management lands. Spring is definitely here.
Upcoming Events:
May 10th Soda Lake opens for fishing
May 27th-29th Cutting at the Ag Center in Big Piney
June 3rd Kid's Fishing Day in Pinedale
June 19th County Assessors Golf Tournament
June 24th Firemen's Fundraiser Golf Tournament
June 25th Bondurant Barbecue
---