---
The IRMSSSDR started yesterday in Jackson Hole and will be coming through Pinedale January 31st - February 2nd. Founded in 1996, and now in its 5th year, the IRMSSSDR race attracts mushers from around the world competing for the $100,000 purse as it travels through 14 Wyoming communities to end in Jackson Hole on February 9th. A qualifying event for the Iditarod, the 2000 IRMSSSDR race is the largest sled dog race in the lower 48 states, attracting the world's best and most competitive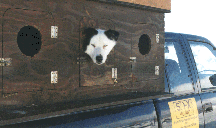 sled dog racing teams from places as far away as Japan and as close to home as Pinedale. The town of Pinedale will again be a host community, with three start/finish lines in Sublette County. On January 31st the mushers arrive at Elk Ridge Lodge for their Green River camp out. The next morning, Tuesday, February 1st, the teams leave for Pinedale, arriving in town between 11:30 am - 1:30 pm or so. After spending the night with their host families and attending the Musher Reception/Dessert Social in Pinedale Tuesday evening, the teams depart Sublette County from Irish Canyon on February 2nd.
Regional Science Fair Results. 7th Grade Pinedale student Casey Dean takes Best of Fair Award! The Southwest Wyoming District Science Fair was held yesterday at Western Wyoming Community College in Rock Springs. 49 Pinedale Middle School students, who placed 1st-3rd here in Pinedale last week, participated competing against local winners from Jackson Hole, Rock Springs, Kemmerer, Baggs, and Evanston. Pinedale students brought home twenty 1st - 3rd place awards including the prestigious Best of Fair award! Pinedale Middle School students earned 6-1st Place, 9-2nd Place and 5-3rd Place Awards. Pinedale 7th grader Casey Dean won the "Best of Fair" award for her project "Vaccination for Cereus Food Poisoning Found " in which she created a vaccine for Bacillus cereus, a bacterium that is found in non-refrigerated rice, and a common source of food poisoning in Asia. The 21 Pinedale students who placed at Regionals will be going on to State Science Fair to be held at the University of Wyoming in Laramie March 5th -7th.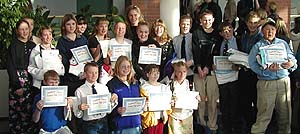 Read the stories at left from The Sublette County Journal for the latest news on what's happening in Pinedale and Sublette County!
This has to be one of the most mild winters Pinedale as seen in many years. Daytime highs have been in the 20s and 30s and some teenage locals have even been seen wearing shorts! The SNO-Tel Report for the Upper Green River Basin puts the Basinwide % of average now at 83%, an increase of 12% over last week's report. White Pine Ski Area has 36"+ base now and reports we've heard are that the skiing is great!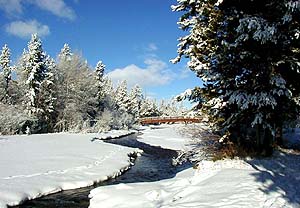 Science Fair. The Pinedale Middle School held their Science Fair this past week, an annual event for 6th-8th graders. This year 82 projects were entered. The public viewing and judging were Thursday night, and we were impressed as always with the high quality research projects the students presented. We commend the local schools, teachers, administration and all the volunteers for the support and funding they give to science fair every year! This year 49 Pinedale students placed, representing 15 categories, and will be going on to the Southwest Wyoming Science Fair Regionals to be held in Rock Springs January 28th.
Local School Sports:
Pinedale Lady Wrangler Basketball team won their last three conference games bringing their overall record to 5-5, taking a 4-0 lead in conference.
Pinedale Wranglers have an overall score of 1-9, standing 0-4 for Conference.
Sublette County Skiers placed 4th at the double slalom last weekend at the Casper competition.
The Sublette County Pinedale/Big Piney Swim Team went to their first competitive swim meet of the season at the Rawlins Pentathlon Invitational last week, placing 6th.
Good Samaritan News: The winter's snowplows brought some surprising good news last week for a Pinedale resident. Snowbird Locals might remember last spring when our very own Trudy lost her wallet after a baseball game at the ballfields, causing considerable distress and work cancelling credit cards and getting her driver's license renewed. Last week Gary Shriver called to tell her that his snow removal equipment had tossed the missing wallet up onto a snowdrift on Ehman Lane. The money was gone, and the wallet was wet and tattered, but credit cards, pictures and other contents were intact. The mystery remains how the wallet traveled from the ballfields to Ehman Lane, but Trudy is very grateful to Gary for being a Good Samaritan and letting her know he found it!
Read the stories at left from The Sublette County Journal for the latest news on what's happening in Pinedale and Sublette County!
Continental Divide Snowmobile Trail Report
Irish Canyon to Pinedale:
Ungroomed, 0' Base, 2"-3" new snow
Pinedale to The Place:
Ungroomed, 0-1" Base, 4"-10" new snow
Upper Green River:
Groomed, 12"-24" Base, 12"-20" new snow
Winter fun Businesses & Services:
Equipment Rentals
Snowmobiles & Rentals
Snowmobile Guides
Motels
Bed & Breakfasts
Cabin Lodging
---
New on Pinedale Online!
Meet the folks at High Wild & Lonesome, Open Range Horseback Adventures!
Update as of Saturday, January 22, 2000
We have SNOW!
Maybe the weather gods got embarassed from all the bad press about not doing their job because they decided to make up for lost time over the past week. We got between 1'-2' here in town and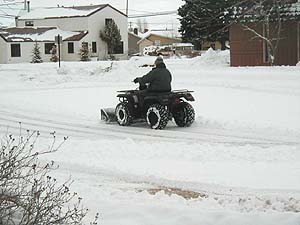 outlying areas got several feet. Some of us had to FIND our snow shovels to do the first driveway shoveling of the winter. Skiers will be delighted to know that White Pine Ski Area has more than 32" of new snow with more coming!
The Pinedale Snow Explorers Snowmobile Club is having their annual Poker Run on Sunday, January 23rd, starting at Elk Ridge Lodge and ending at The Place in the Upper Green. Call 307-367-4395 for more information.
Continental Divide Snowmobile Trail Report
Irish Canyon to Pinedale: 0' Base, 4"-6" new snow
Pinedale to The Place: 0-1" Base, 4"-8" new snow
Upper Green River: 1'-2.5' Base, 8"-10" new snow
Mountain Lion Update. Pinedale Mayor Rose Skinner woke up Wednesday morning to find mountain lion tracks in her driveway and around her garage on west Magnolia street, one block north of Pine Street/Hwy 191. Pinedale Animal Control Officer Julie Early says they think this is one of a couple of lions frequenting the area. Another lion was last spotted in October around Canal Street and the Sublette Center. No human/lion confrontations have been reported, but some pets have been reported missing.
Sports Illustrated magazine named four people from Sublette County in their list of among the top 50 Wyoming sports figures of the century. The winners were listed not by hometown, but by where they first "showed flashes of the greatness to come". Joe Alexander of Cora is a five-time world bareback rodeo champion, ranked 14th in the state. Alexander has been named twice as the Professional Rodeo Cowboys Association Champion. Todd Skinner of Lander/Pinedale, completed the first 3,000-foot free ascent of El Capitan's Salathe Wall in 1988 and was named the world's top free rock climber, ranked 23rd. (See Todd on our Rock Climbing page!). Latner Straley of Pinedale was Junior National X-Country Ski Champion in 1980 and 1981, and part of the US National Team from 1979-1983. Straley placed 31st in Sports Illustrated's list. John Burrough of Pinedale was second-team All-WAC defensive tackle at Wyoming, and joined the Atlanta Falcons in 1995 playing in the 1998 Superbowl. Burrough was listed as 45th in the state.
New on Pinedale Online!
Meet the folks at High Wild & Lonesome, Open Range Horseback Adventures!
Life in the High Country (abridged)
Dec. 8: 5 pm. Started to snow, the first of the season. Wife & I took our hot buttered rum and sat by the window, watching the soft flakes drift down. It was beautiful!
Dec. 9: Awoke to beautiful blanket of white snow covering the landscape. I shoveled snow for the first time in years. Loved it! Did driveway & sidewalks. Snowplow came along later and covered end of driveway with 4' of compact snow from street. He smiled and waved. I waved back. Shoveled it again.
Dec. 14: Snowed another 8" last night and temperature dropped to 0. Shoveled driveway and walks again. Snowplow came by and did his trick again.
Dec. 15: Sold car and bought 4x4 with snow tires so we could get around town.
Dec. 18: Slipped in driveway, $57.00 Chiropractor bill. Sky getting dark again.
Dec. 19: 5 below this morning. Icy roads. Slid into guardrail with wife's car. $500.
Dec. 20: Another 14" of white #*$#@ this morning. More shoveling. Snowplow came by twice.
Dec. 22: Assured a White Christmas, another 7" fell today. If I catch the snowplow driver, I'm going to kill him. I think he hides around the corner and waits for me to finish shoveling.
Dec. 25: Another 12" fell. Does anyone know how many shovels-full 12" is? Snowplow driver came by asking for a donation. I hit him with my snow shovel. Doctors say he is in intensive care but will live.
Dec. 29: Another 11". Toilet froze up and roof is beginning to sag. Wife is beginning to look good to me.
Dec. 31: Torched the house and am moving back to the valley. Happy New Year!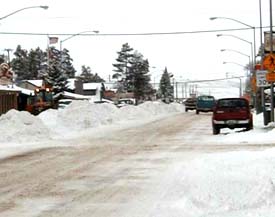 Snow on Pine Street earlier this week
---
Update as of Saturday, January 8, 2000
The Winter of 1999/2000 is shaping up to be a bit of a strange one. Where's the snow? Fall hung on through late November, and we still haven't had a big winter storm or any significant amount of snowfall yet this season. Visit our Photo Gallery for pictures taken around Pinedale the other day. If you're familiar with what Pinedale is usually like around here in the winter, you'll see what we mean by calling it our 'un-winter'. Pinedale Winter 1999/2000
The folks over at the Natural Resources Conservation Service (NRCS) tell us that it would only take a couple of good storms to change things in a hurry here and bring the basin wide percent of average up from the current 55%. Last year in January things changed from 58% to 92% in just one week. Two other basins in the state of Wyoming are in even worse shape than the Upper Green River Basin - the Wind River Basin, and the Upper Bear River Basin to the west.
The Pinedale Town Council awarded a certificate of completion for the $4 million Pinedale waterline project, almost a year later than its original completion date of January 26, 1999. A new 36" pipeline now replaces the 16" line that was installed in the early 1970s. The new pipe feeds water from a depth of 100 feet below the surface of Fremont Lake. A $407,500 chlorination system has also been installed on the line to bring Pinedale's drinking water supply into compliance with EPA water quality standards.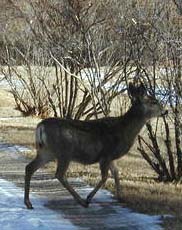 The Wyoming Game & Fish Department has begun processing damage claims for livestock losses due to grizzly bear predation in the Upper Green River region in 1999. In all 14 calves, 2 yearlings, and 8 sheep were killed last year. By law, the WG&F must compensate property owners for losses caused by grizzly bear, black bear and mountain lion predation. Last year's losses were less than in 1998 and 1997. In 1998 13 calves, 1 yearling and 63 sheep were killed by bears in the Upper Green. In 1997, losses were 20 calves 1 yearling and 53 sheep. We love the hat one of our local Upper Green River ranchers now wears proclaiming that his cattle are, "Grizzly Tested and Approved".
Y2K wasn't the big calamity that so many people predicted it would be. Here in Sublette County we only heard of a couple of minor problems. The new year started with a bang at midnight as the Pinedale Volunteer Fire Department sent up a spectacular continuous fireworks display that lasted about 15 minutes above town.
White Pine Ski Area has their temporary ski rental shop open with all new Rossignol shaped skis, boots and poles. Hours are 8 am - 5 pm. They are located at 31 S. Sublette Avenue, next to Office Outlet.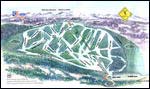 White Pine Trail Map
Snowmobiling in Pinedale
Snowmobiling Business Links
Wyoming State Snowmobile Trail Conditions
The Continental Divide Snowmobile Trail is still closed from Irish Canyon to The Place due to loack of snow. Above The Place the Trail is groomed with 4"-24" base and 8" of new snow. The weatherman says next week looks great for chances of snow all week!