---
February 26th - Winter Not Ready to Give Up Yet
After a week of melting temperatures, winter decided to make a comback with a series of snow storms and then -5 below overnight temperatures. The freezing temperatures came just in time to reset the ice on the hockey rink for the day-long series of games against hockey teams from Vernal, Utah.
The Moms among the spectators commented that it seems a bit ironic that they spend years trying to teach their children to be polite and not beat up on other kids. Then they get into hockey, put a pair of skates on the kid, and send them on the ice with, "Now forget everything I taught you and go get em!" The Pinedale Hockey Association is affiliated with USA Hockey and has teams for ages 5 through 17, as well as an adult men's team. Local teams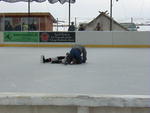 compete with other hockey teams from around the state of Wyoming, as well as from Colorado, Idaho and Utah. Every once in a while, a player will get checked just wrong and instead of popping right up to charge back into play again, lies still on the ice. Every Mother in the crowd feels her heart stop. Players, officials and spectators silently watch on, praying it isn't something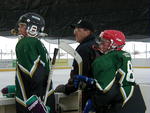 serious. The risk of injury is a part of every game, and is never too far from everyone's mind. Even spectators, and the cars parked nearby in the parking lot, are at risk from speeding, airpborne pucks. Most of the time a player is down it's not too serious, but sometimes it is. We've had our times sitting in the emergency room of the hospital on away games waiting to hear how an injured teammate is doing. When the player finally gets up on his own power off the ice, the whole crowd lets out a whoop, and breaths a big sigh of relief. Players beat the ice in unison with their hockey sticks as the injured player is led off the ice helped by his teammates. Assured that he is going to be fine and is only just shaken, the game goes on...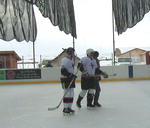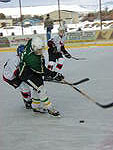 Winter, kinda. So how much snow do we have on the ground right now? In town it's between 1-3 feet. In protected areas there's 3-5'+, and of course as you get higher in elevation it gets considerably deeper. White Pine Ski Area has a 3-4' base now. This is not our normal snowpack, folks! It has been an easy year for the county snowplow crews, wildlife, and anyone who has to hand shovel their own driveway! Winter hung on clear into July last year in the high country, so we hope this means an early melt this year. Still, we know we probably have a lot more winter to deal with here yet since it is just February in the Rocky Mountains. To those of you who couldn't resist telling us that your tulips are coming up already, we don't want to hear it!
Continental Divide Snowmobile Trail Report
Irish Canyon to Pinedale:
Ungroomed, 4" Base, 3" new snow
Pinedale to The Place:
Some grooming, 6-12" Base, 5-8" new snow
Upper Green River:
Grooming, 24-36" Base, 12-20" new snow
The Official Wyoming Snowmobiling Page
February 18th - Mountain Lion Killed by Game & Fish Officials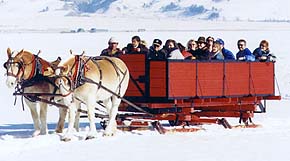 6 year old Rachael drives the horse-drawn sleigh at the National Elk Refuge
You can read the article in The Sublette County Journal for all the details, but the big news right now is that Wyoming Game & Fish officials tracked down and killed a mountain lion early Sunday morning just north of Pinedale. The young male showed no fear of people or dogs and was observed by a resident in his backyard along Pine Creek north of town. Wyoming Game & Fish Game Warden Dennis Almquist said he assumed this was the only lion in the area, but Pinedale Animal Control officials said they believe there is still another, larger mountain lion roaming within the town of Pinedale.
We've had numerous small storms pass through this week dropping several inches of new snow. White Pine Ski Area reports a 36" base with 8" of new snow. Runs are packed powder and powder. The day lodge is still under construction, but they do have food service available. White Pine is normally open weekends & holidays, but this weekend they will be open Friday, Saturday, Sunday and Monday from 9 am - 4 pm.
So why did we put up a picture of the sleigh wagon at the National Elk Refuge? The area all around Pinedale area offers many fun things to do. Within a 1-1/2 hour's drive in any direction you can do things like see hundreds of trophy size elk at the National Elk Refuge in Jackson Hole, visit a recreated gold town at South Pass, soak in Granite Hot Springs, whitewater raft down the Snake River Canyon, see hundreds of bird species at the Seedskadee Wildlife Refuge by LaBarge, or discover an ancient sea filled with fish fossils around Farson. Day trips are a big part of life for the folks who live here. Earlier this month, 6 year-old Rachael got the biggest thrill when the sleigh driver offered her the chance to drive the wagon among the elk herd at the National Elk Refuge. Sleigh rides are offered throughout the winter. Visit our Regional Attractions page for more information and links to other interesting sites around our area. Visit our Travel Guide page for information about how to get there.
Continental Divide Snowmobile Trail Report
Irish Canyon to Pinedale:
Ungroomed, 6" Base, 0-2" new snow
Pinedale to The Place:
Some grooming, 6-12" Base, 4-8" new snow
Upper Green River:
Grooming, 18-24" Base, 12-20" new snow
The Official Wyoming Snowmobiling Page
February 12th - Still Some Winter Left
We're not sure whether to believe it or not, but the weather sure is beginning to resemble March more than February around here, but there's still some winter left. We got several inches of the light fluffy stuff overnight making for a great snowmobiling and skiing weekend! Temperatures have been above freezing almost all week and the willows are starting to redden up. The clincher making us think winter is losing its grip is that both Faler's and the Post Office parking lots have completely lost their solid layer of ice. Aren't we supposed to have another 3 months of winter yet? Last spring the high country didn't start to melt until very late. Maybe this year we'll be able to get up there early!
The IRMSSSDR is over for another year with Hans Gatt of British Columbia winning with an overall time of 34:02:15. For the past 5 years, numerous volunteers have spent countless hours in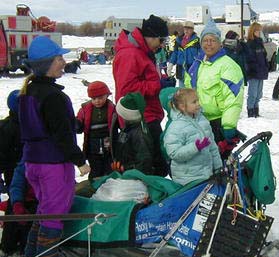 preparation for the Pinedale Stage of the International Rocky Mountain Stage Stop Sled Dog Race. We enjoy having the mushers and handlers every year and many have become good friends. See you all again next year!
We're not done with sled dog races here yet! The Green River Rondy Sled Dog Race will take place up the Green River on March 4th & 5th.
Sports News: The Big Piney Punchers and Pinedale Wranglers Basketball teams faced off last Friday with Big Piney taking the win, 73-60. Pinedale Lady Wranglers beat the Big Piney Lady Punchers, 75-38. Pinedale High School Junior Kristen Boroff won the individual race at the Nordic Ski Meet last Saturday at White Pine Ski Area.
Upcoming Events:
Daniel Old Fashioned Box Social & Dance, Feb 12
Green River Rondy Sled Dog Race, March 4-5
Green River Rendezvous, July 7-9

Continental Divide Snowmobile Trail Report
Irish Canyon to Pinedale:
Ungroomed, 6" Base, 0" new snow
Pinedale to The Place:
Ungroomed, 6"-12" " Base, 0" new snow
Upper Green River:
Groomed, 18"-30" Base, 1" new snow
February 4, 2000 Daniel Plans Old Fashioned Box Supper & Dance Feb 12th!
Next weekend the folks in the little town of Daniel, Wyoming, some 12 or so miles west of Pinedale, are having an old-fashioned Box Supper and Dance at the old Daniel Schoolhouse beginning at 5 pm. In 1920, when the Schoolhouse was under construction, a Box Social was held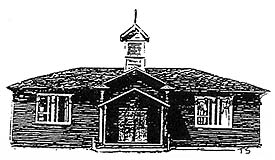 to raise money for new desks. The Schoolhouse is now on the National Register of Historic Places, and a central meeting place for the town of Daniel. The money raised at the Supper next weekend will be used for the ongoing maintenance and improvement of the historic Scoolhouse and to help publish the epic book, "Daniel, Wyoming - The First 100 Years, 1900-2000".
To preserve the spirit of yesteryear, today's ladies are encouraged to cook up a picnic-style supper (anything from bologna or peanut butter sandwiches to beef steak, fish or chicken menus) - then pack it into the box of your choice, decorated or not, for all the gentlemen to bid upon. There will be easy-listening music, perfect for teaching kids the old dances of yesterday, as well as today's stomp, swing and sway tunes. A guest fiddle player and saxophonist will be sitting in with the band. There will also be a live and silent auction with collector's items made and donated by the talented friends and neighbors of Daniel. Everyone in Daniel has been working very hard toward this historic occasion and is excited to share Daniel's old-time heart and nostalgia.
Summer Vacation Information. If you spend any time at all here on Pinedale Online, you'll discover that we have tons of information about the Pinedale area here on our web site! You'll find area attractions, outdoor recreation, specific campground and trailhead information, a photo gallery and much more. In our business directory you'll find links to many local businesses and their web sites where you'll be able to get more information about our area. If you have a specific question about our area that isn't answered on the web, don't hesitate to send us, or any of the businesses listed on our site, an e-mail!
Women's Hockey Team Started! It's all for fun right now, and you can join in on practices every Wednesday night at 7 at the Pinedale Hockey Rink. No skating experience required. Lucky for Gwen, the pictures we took with the digital camera at one of their early practices on the ice got accidentally erased. Otherwise you'd be looking at lots of pictures of the various team members with captions like "Gwen tripping and sliding across the ice on her...", "Gwen completely missing the puck", "Gwen trying to stay upright on new hockey skates because she hasn't skated in 20 years", "Gwen wearing her 15-year old son's hockey pads"... Gwen didn't know this, but the other ladies on the team made us promise not to use their names, so Gwen was going to get named in all the pictures whether it was really her or not!! Stay tuned, we're planning on going out again for a reshoot of the team on the ice.
Continental Divide Snowmobile Trail Report
Irish Canyon to Pinedale:
Ungroomed, 3"-6" Base, 1" new snow
Pinedale to The Place:
Ungroomed, 6"-12" " Base, 1" new snow
Upper Green River:
Groomed, 18"-24" Base, 1" new snow